You are here
October 18, 2018
NIH to develop uniform standards, seek independent input for relocation of at-risk chimpanzees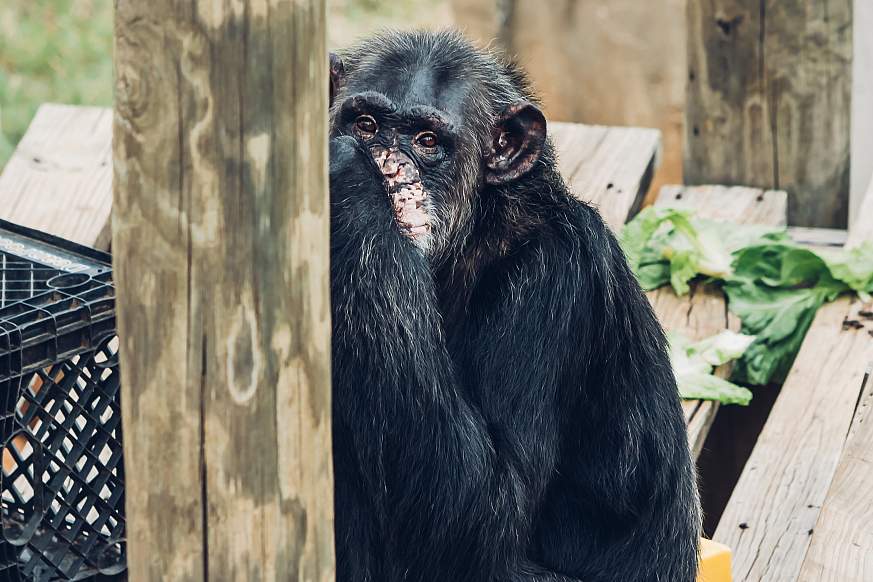 Chimp Haven
It's been five years since I made the decision to significantly reduce the use of chimpanzees in research and three since I ended the use of chimpanzees in NIH-supported biomedical research altogether. Over that time, NIH has been fully committed to relocating all the chimpanzees it owns or supports to the Federal sanctuary system operated by Chimp Haven, Inc., Keithville, Louisiana. Working in close coordination, the research facilities have relocated 375 chimpanzees to the Federal sanctuary since it opened its doors in 2005. Today, there are more NIH chimpanzees in sanctuary than in any other NIH-supported location. But arranging the transfers safely is challenging. Given the extensive logistic support needed for each transfer of animals, there is still more work to be done. As of October 1, 2018, the date of our last annual census, 180 chimpanzees owned by NIH are still housed in research facilities.
Like humans, chimpanzees develop chronic diseases such as heart disease and diabetes as they age. Many of the chimpanzees remaining in research facilities are elderly.  Health and welfare considerations must be considered in the decision to relocate a specific chimpanzee to the Federal sanctuary, based on a plan developed in 2016, where health status is second only to space availability. In close collaboration with veterinarians at the facilities, NIH has prioritized the transfer of its healthier chimpanzees to the Federal sanctuary as space permits. The point is coming soon, however, when NIH will need to decide on transfer of the final population of the frailest chimpanzees. There is a concern that these animals may not tolerate the transfer process and may therefore benefit from remaining at their current facilities, where they receive high-quality care and have longstanding relationships with their caretakers. Contrary to what is often portrayed in the media, chimpanzees at research facilities do not live individually in cages or in laboratories. In fact, chimpanzees at all NIH-supported facilities have long been housed in social groups with the ability to roam indoors and outdoors, with access to large structures that allow for species-specific behavior such as climbing and swinging.
We must find a path forward that is consistent with existing laws and regulations, but in some instances those are conflicting. The Chimpanzee Health Improvement, Maintenance and Protection Act (CHIMP Act) requires that chimpanzees no longer used in research be retired to the Federal sanctuary system. Animal welfare laws and regulations, however, prohibit the transport of obviously ill, injured, or physically distressed chimpanzees. Given the complexity of this issue, in February 2018 I tasked a working group of my Council of Councils (CoC) to provide recommendations on factors to be considered by attending veterinarian staff when deciding to relocate at-risk chimpanzees. Members of the working group included experts in non-human primates, veterinary medicine, anesthesiology, and regulatory oversight. The working group's report was accepted by the CoC in May 2018 and issued for public comment; more than 4,000 comments were received.
Based on the CoC recommendations and the public comments, NIH will oversee the development and implementation of standardized approaches for assessing each chimpanzee based on its health, behavior, social, and environmental requirements. All four of the NIH-supported facilities housing NIH-owned or -supported chimpanzees, which includes the Federal sanctuary, will use these standardized approaches to assess chimpanzees for relocation. If a situation arises in which either the sending or receiving facility declines to approve a transfer, NIH will enlist the advice of a panel of independent veterinarians to inform the final decision. NIH remains fully committed to retiring all chimpanzees it owns or supports to the Federal sanctuary unless relocation would severely or irreversibly accelerate deterioration of the chimpanzee's physical or behavioral health. These and other actions announced today provide an objective path forward.
Francis S. Collins, M.D., Ph.D.
Director, National Institutes of Health