You are here
NIH Opioid Initiative to Help End the Opioid Crisis
On this page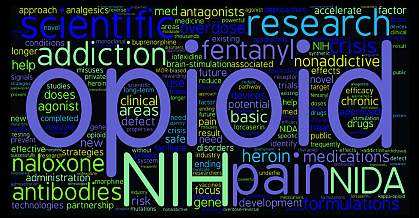 Opioid addiction, misuse and overdose is an ongoing and rapidly evolving public health crisis.  An estimated 2 million Americans are addicted to opioids, and approximately 25 million suffer daily from chronic pain. Following a rapid increase in rates of opioid pain reliever prescribing, widespread use and misuse of these medications has risen at an alarming rate, giving way to a nation-wide crisis.  Heroin use and addiction are now on the rise as some people shift from prescription opioids to their cheaper street relative. For Americans under 50 years of age, drug overdose is the leading cause of death.
To provide scientific solutions to help end the opioid crisis, NIH is supporting a wide range of research on pain and addiction, from basic science of the complex neurological pathways involved in pain and addiction, to services and implementation science to develop and test treatment models, to integrating behavioral interventions with medication-assisted therapy, to forging strategic partnerships to advance safer, non-addictive treatments for pain.
NIH also is pursuing an Opioid Initiative with public and private organizations to identify areas of opportunity where the NIH, academia, and biopharmaceutical companies could combine efforts and resources to accelerate the development of better pharmacological treatments for pain and opioid use disorder.  
Public-Private Partnership
As part of the Opioid Initiative, NIH is working with FDA and private sector experts to draft a plan for a formal partnership to advance specific pharmacological treatments for pain and addiction.  In 2017, NIH convened a series of meetings  with experts from across government, industry and academia to determine the pharmacological areas that could be best addressed through a public-private partnership. Two high priority goals emerged:
Short Term: Enhance the range of medication options to treat opioid use disorders, prevent and reverse overdoses, and support long term recovery in patients
Develop new formulations and combinations of existing medications to treat opioid use disorder, and to prevent and/or reverse overdose;
Identify potential new uses for existing or abandoned medications that may be useful in treating addiction, overdose, or pain;
Longer Term: Develop new alternatives for pain relief, including safe, more effective, and non-addictive pain relievers or non-opioid analgesics
Facilitate sharing data to focus future resources and research and spur innovation in developing new pain medications;
Establish new clinical trial networks with innovative study design to accelerate drug development for patients with high unmet needs for treatment;
Develop methods to objectively measure pain in patients, and to identify biomarkers for more rapid discovery, development and approval of new medications.
NIH will support additional research to facilitate and augment these goals.
News and Announcements
October 26, 2017
Statement from the NIH Director on Combating the Opioid Crisis with Scientific Solutions
July 27, 2017
The Role of Science in Addressing the Opioid Crisis
May 31, 2017
NIH Director's Blog: All Scientific Hands on Deck to End the Opioid Crisis
Events
Upcoming Events
December 11, 2017
Using Science to Inform Practice and Policy: A Coordinated Approach to Research Priority Setting
8:30 a.m.-4:30 p.m. ET
National Institutes of Health Campus
Building 1, Wilson Hall
Past Events
June 5, 2017
Medications Development for Opioid Use Disorders and for Overdose Prevention and Reversal
Discussion: Stimulate innovative directions in preventing and treating opioid use disorders and overdoses.
June 16, 2017
Development of Safe, Effective, Non-Addictive Pain Treatments
Discussion: Expedite the screening and development of promising agents to treat chronic pain with little or no potential for misuse or addiction.
July 7, 2017
Understanding the Neurobiological Mechanisms of Pain
Discussion: Enhance our understanding of the complex neurobiological mechanisms of pain and accelerate the development of novel pain treatments.
Resources
NIH
FDA
HHS
White House
This page last reviewed on December 8, 2017