You are here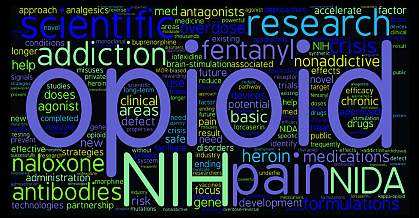 Opioid addiction, misuse and overdose is an ongoing and rapidly evolving public health crisis.  An estimated 2 million Americans are addicted to opioids, and approximately 25 million suffer daily from chronic pain. Following a rapid increase in rates of opioid pain reliever prescribing, widespread use and misuse of these medications has risen at an alarming rate, giving way to a nation-wide crisis.  Heroin use and addiction are now on the rise as some people shift from prescription opioids to their cheaper street relative. For Americans under 50 years of age, drug overdose is the leading cause of death.
To provide scientific solutions to help end the opioid crisis, NIH is supporting a wide range of research on pain and addiction, from basic science of the complex neurological pathways involved in pain and addiction, to services and implementation science to develop and test treatment models, to integrating behavioral interventions with medication-assisted therapy, to forging strategic partnerships to advance safer, non-addictive treatments for pain.
NIH also is pursuing an Opioid Initiative with public and private organizations to identify areas of opportunity where the NIH, academia, and biopharmaceutical companies could combine efforts and resources to accelerate the development of better pharmacological treatments for pain and opioid use disorder.