You are here
National Library of Medicine (NLM)
Mission
The National Library of Medicine (NLM), in Bethesda, Maryland, is a part of the National Institutes of Health, U.S. Department of Health and Human Services (HHS). Since its founding in 1836 as the library of the U.S. Army Surgeon General, NLM has played a pivotal role in translating biomedical research into practice. It is the world's largest biomedical library and the developer of electronic information services that deliver trillions of bytes of data to millions of users every day. Scientists, health professionals, and the public in the United States and around the globe search the Library's online information resources more than 1 billion times each year.
The Library is open to all and has many services and resources—for scientists, health professionals, historians, and the general public. NLM has nearly 22 million books, journals, manuscripts, audiovisuals, and other forms of medical information on its shelves, making it the largest health-science library in the world.
In today's increasingly digital world, NLM carries out its mission of enabling biomedical research, supporting health care and public health, and promoting healthy behavior by:
Acquiring, organizing, and preserving the world's scholarly biomedical literature;
Providing access to biomedical and health information across the country in partnership with the over 5,000 members of the National Network of Libraries of Medicine (NN/LM®);
Serving as a leading global resource for building, curating and providing sophisticated access to molecular biology and genomic information, including those from the Human Genome Project and the NIH Common Fund;
Creating high-quality information services relevant to toxicology and environmental health, health services research, and public health;
Conducting research and development on biomedical communications systems, methods, technologies, and networks and information dissemination and utilization among health professionals, patients, and the general public;
Funding advanced biomedical informatics research and serving as the primary supporter of pre- and post-doctoral research training in biomedical informatics at 18 U.S. universities.
Important Events in NLM History
1836—Library of the Office of the Surgeon General of the Army (the present National Library of Medicine) established.
1865—John Shaw Billings, M.D., appointed to supervise Surgeon General's Library, which he developed into a national resource of biomedical literature. He served as director until 1895.
1879—First volume of Index Medicus published.
1880—First volume of Index-Catalogue published.
1922—Library of the Office of the Surgeon General (Army) renamed Army Medical Library.
1952—Army Medical Library renamed Armed Forces Medical Library.
1956—Act of Congress moved Armed Forces Medical Library to U.S. Public Health Service (PHS) and rechristened it the National Library of Medicine (NLM).
1961—New Library building, #38 (at 8600 Rockville Pike, Bethesda, Maryland, on the NIH campus), dedicated.
1964—Medical Literature Analysis and Retrieval System (MEDLARS) became operational at NLM.
1965—Medical Library Assistance Act gave NLM responsibility of helping the nation's medical libraries through a grant program, and created the Regional Medical Library Network (now the National Network of Libraries of Medicine).
1967—Toxicology Information Program established at NLM in response to recommendations of the President's science advisory committee.
1968—NLM became a component of NIH. The Lister Hill National Center for Biomedical Communications, NLM's research and development component, was created by Congress.
1971—MEDLINE ("MEDLARS Online") was initiated to provide online access to a subset of references in the MEDLARS database.
1972—TOXLINE, an online bibliographic service covering pharmacology and toxicology, became operational.
1980—NLM's Lister Hill National Center for Biomedical Communications building, #38A, was dedicated. The new structure, adjacent to the Library, houses NLM's research and development components.
1986—Grateful Med—PC-based, user-friendly software for accessing MEDLARS—was introduced to the health community.
1988—The National Center for Biotechnology Information (NCBI) was created by Congress as a national resource for molecular biology information.
1993—National Information Center on Health Services Research and Health Care Technology was created by Congress as a national resource for health services research and evidence-based practice guidelines.
1993—NLM's Internet World Wide Web site (www.nlm.nih.gov) appeared.
1994—The Visible Human Male, a large computer dataset of images based on a cadaver, was introduced. The Visible Human Female appeared 1 year later.
1997—Web-based access to NLM's MEDLINE became available free of charge.
1998—MedlinePlus created to provide access to consumer health information.
2000—ClinicalTrials.gov, an online resource designed to give the public easy access to information about research studies, was launched.
2000—PubMed Central, a free archive of biomedical and life sciences journal literature, launched. In keeping with NLM's legislative mandate to collect and preserve the biomedical literature, PMC serves as a digital counterpart to NLM's extensive print journal collection.
2006—NIH MedlinePlus magazine launched, to provide Americans with reliable, up-to-date health information in a consumer-friendly format. The Spanish-English version, Salud, followed two years later.
2010—Mobile MedlinePlus released. The new service provides authoritative health information for the growing audience of mobile Internet users by optimizing MedlinePlus and MedlinePlus en español for display on mobile devices.
2010—Emergency Access Initiative (EAI) launched. This collection of over 200 biomedical journals and more than 65 reference books was provided free of charge for persons responding to the January earthquake in Haiti. A partnership of the National Network of Libraries of Medicine and members of the Professional & Scholarly Publishing division of the Association of American  Publishers and other publishers. The EAI would be activated again later in the year, in response to severe flooding in Pakistan and the cholera outbreak in Haiti.
2010—Vocabulary standards supported or developed by NLM (LOINC, RxNorm, SNOMED CT) included in rule specifying certification criteria for electronic health record systems that Medicare and Medicaid providers must use to be eligible for "meaningful use" incentives included in the American Recovery and Revitalization Act of 2009.
2011—NLM celebrates 175 years of information innovation. View Image.
NLM Legislative Chronology
August 3, 1956—An amendment to Title III of the Public Health Service Act, the National Library of Medicine Act, placed the Armed Forces Medical Library under the PHS, and renamed it the National Library of Medicine (Public Law 84-941).
October 22, 1965—The Medical Library Assistance Act of 1965 (Public Law 89-291) was signed into law, authorizing NLM's extramural programs of grant assistance to help expand and improve the nation's medical library and health communications resources, technology, and professional staff for service to the health community.
August 3, 1968—Public Law 90-456 authorized the designation of the Lister Hill National Center for Biomedical Communications.
November 4, 1988—Public Law 100-607 authorized the establishment of the National Center for Biotechnology Information at NLM.
June 10, 1993—Public Law 103-43 authorized the establishment of the National Information Center on Health Services Research and Health Care Technology at NLM.
November 21, 1997—The Food and Drug Administration Modernization Act (Public Law 105-115) called for the creation of the centralized, consumer-friendly online listing of clinical trials that would become ClinicalTrials.gov.
Biographical Sketch of NLM Director Patricia Flatley Brennan, RN, PhD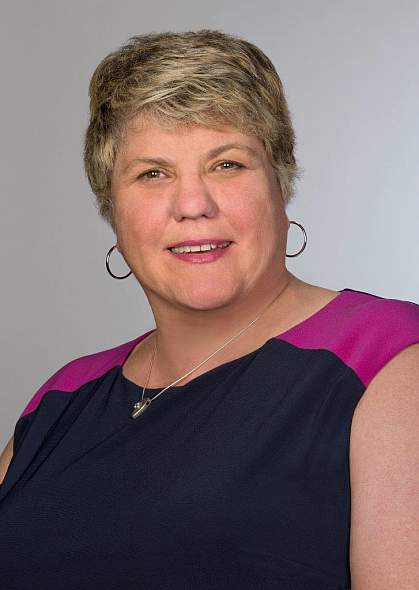 NLM/NIH
Patricia Flatley Brennan, RN, PhD, is the Director of the National Library of Medicine (NLM). The NLM is the world's largest biomedical library and the producer of digital information services used by scientists, health professionals and members of the public worldwide. She assumed the directorship in August 2016.
Dr. Brennan came to NIH from the University of Wisconsin-Madison, where she was the Lillian L. Moehlman Bascom Professor at the School of Nursing and College of Engineering. She also led the Living Environments Laboratory at the Wisconsin Institutes for Discovery, which develops new ways for effective visualization of high dimensional data.
Dr. Brennan is a pioneer in the development of information systems for patients. She developed ComputerLink, an electronic network designed to reduce isolation and improve self-care among home care patients. She directed HeartCare, a web-based information and communication service that helps home-dwelling cardiac patients recover faster, and with fewer symptoms. She also directed Project HealthDesign, an initiative designed to stimulate the next generation of personal health records. Dr. Brennan has also conducted external evaluations of health information technology architectures and worked to repurpose engineering methods for health care.
She received a master of science in nursing from the University of Pennsylvania and a PhD in industrial engineering from the University of Wisconsin-Madison. Following seven years of clinical practice in critical care nursing and psychiatric nursing, Dr. Brennan held several academic positions at Marquette University, Milwaukee; Case Western Reserve University, Cleveland; and the University of Wisconsin-Madison.
A past president of the American Medical Informatics Association, Dr. Brennan was elected to the Institute of Medicine of the National Academy of Sciences (now the National Academy of Medicine) in 2001. She is a fellow of the American Academy of Nursing, the American College of Medical Informatics, and the New York Academy of Medicine.
NLM Directors
| Name | In Office from | To |
| --- | --- | --- |
| Leon Lloyd Gardner | 1945 | 1946 |
| Joseph Hamilton McNinch | 1946 | 1949 |
| Frank Bradway Rogers | 1949 | 1963 |
| Martin Marc Cummings | 1964 | 1984 |
| Donald A.B. Lindberg | 1984 | March 31, 2015 |
| Betsy L. Humphreys | April 1, 2015 | August 2016 |
| Patricia Flatley Brennan | August 2016 | Present |
Major Divisions
Division of Extramural Programs
The Extramural Programs (EP) Division provides grants to organizations and individuals for applying computers and telecommunications for improving storage, retrieval, access and use of biomedical information.
EP provides research support via grants on a wide range of basic and applied biomedical informatics research topics.
It awards resource grants to support improved dissemination, managements, and use of biomedical information in real settings.
The Extramural Programs Division also offers career development support in the form of early career transition awards, to assist recent Ph.D.s and M.D.s who are establishing their initial research careers in informatics.
To ensure an adequate national pool of informaticians and health information scientists, NLM supports research training in biomedical informatics at 18 educational institutions throughout the U.S. These programs offer graduate education and postdoctoral research experiences in a wide range of areas, including health care informatics, bioinformatics, and computational biology.
Grants are also made to U.S. small businesses that seek to undertake informatics research and development leading to commercialization. Critical research areas include: representation of medical knowledge in computers; organization and retrieval issues for image databases; and enhancement of human intellectual capacities through virtual reality, dynamic modeling, artificial intelligence, and machine learning.
Division of Library Operations
http://www.nlm.nih.gov/bsd/bsdhome.html
Library Operations traces its roots to 1836 — the founding year of NLM — when the Library of the Office of the Surgeon General of the Army was established in Washington, D.C. Library Operations hosts access to the physical library and to its online counterpart, creating places where users can discover and gain access to the world's medical literature.
Largest medical library in the world with more than 20 million books, journals, manuscripts, audiovisuals, and other forms of medical information and within this collection one of the world's largest and most treasured history of medicine collections.
MEDLINE: the world's premier biomedical database, searchable through the PubMed interface.
National Network of Libraries of Medicine (NN/LM): a network of nearly 6,000 health and public libraries nationwide, dedicated to advancing the progress of medicine and improving the public health by providing all U.S. health professionals equal access to medical information.
MeSH: a controlled medical vocabulary presented in a hierarchical structure that enhances specified searching within databases.
Unified Medical Language Systems (UMLS) facilitates the development of computer systems that behave as if they "understand" the meaning of the language of biomedicine and health.
MedlinePlus: an authoritative, up-to-date health information resource for patients, families and health care providers. Links to over 900 health topics, a medical encyclopedia, medical dictionary, drug and supplements database and over 165 interactive tutorials.
Mobile MedlinePlus: a non-platform specific version of MedlinePlus that offers a subset of English and Spanish content from the full Web site.
MedlinePlus Connect: allows electronic health record (EHR) system to easily link users to MedlinePlus.
DailyMed: high-quality information about marketed drugs.
Preservation: microfilming began in 1986 in an effort to preserve the collection; currently Library Operations has moved to a program of Digitization
Digitization: Digital Collections at NLM uses a suite of open source and NLM-created software to make available public domain content of NLM's historical resources.
Exhibitions: Library Operations connects its collection to users in a variety of dynamic and imaginative ways. Through on-site and traveling displays, its award-winning Exhibitions Program develops and mounts exhibitions about the history of science and medicine.
DOCLINE: the automated interlibrary loan (ILL) request routing and referral system.
National Information Center on Health Services Research and Health Care Technology (NICHSR): created by the 1993 NIH Revitalization Act, NICHSR focuses on the collection, storage, analysis, retrieval, and dissemination of information on health services research, clinical practice guidelines, and on health care technology, including the assessment of such technology.
Division of Specialized Information Services (SIS)
SIS creates information resources and services in toxicology, environmental health, chemistry, and HIV/AIDS. Another component of SIS, the Outreach and Special Populations Branch (OSPB), seeks to improve access to quality and accurate health information by underserved and special populations.
SIS's Toxicology and Environmental Health Information Program produces TOXNET®, a collection of toxicology and environmental health databases. TOXNET includes the Hazardous Substances Data Bank (HSDB®), a database of potentially hazardous chemicals, TOXLINE® (containing references to the world's toxicology literature), and ChemIDplus® (a chemical dictionary and structure database).
TOXMAP® is a resource that uses maps of the United States to show the amount and location of certain toxic chemicals released into the environment. WISER® is a system designed to assist first responders in hazardous material incidents. Haz-Map® links jobs and hazardous tasks with occupational diseases and their symptoms.
SIS also produces DIRLINE®, a directory of organizations and other resources in health and biomedicine and Health Hotlines®, a database of health-related organizations operating toll-free telephone services.
Some SIS products help to address the toxicology and environmental health information needs of the general public. One such resource is Tox Town®, an interactive guide to toxic chemicals and environmental health issues in everyday locations. It is a companion to the extensive information in the TOXNET collection of databases. Tox Town also offers some resources in Spanish. The Household Products Database (http://hpd.nlm.nih.gov) is a consumer's guide that provides information on the potential health effects of chemicals contained in more than 13,000 common household products used inside and around the home. This database allows consumers, scientists, and health professionals to investigate ingredients in brand-name products.
SIS coordinates many of NLM's HIV/AIDS information activities and its Web site provides access to a comprehensive list of resources within and outside of NLM. SIS collaborates with other agencies to produce AIDSinfo, the primary Department of Health and Human Services Web site for federally approved treatment guidelines, clinical trials, drug, and vaccine information.
The Outreach and Special Populations Branch manages and develops programs in an effort to eliminate disparities in accessing health information by providing community outreach support, training of health professionals to use NLM's health information databases, and designing special population Web sites that address specific concerns in various racial and ethnic groups. SIS is also taking the lead in NLM's disaster preparedness efforts, through its Disaster Information Management Research Center. DIMRC was created to aid the nation's disaster management efforts and is tasked with the effective collection, organization, and dissemination of health information for natural, accidental, or deliberate disasters.
Lister Hill National Center for Biomedical Communications
http://www.lhncbc.nlm.nih.gov/
The Lister Hill Center performs research in developing Next Generation electronic health records to facilitate patient-centered care and advancing clinical decision support systems. It conducts and supports research in natural language processing to extract usable and meaningful information from biomedical text. It also performs extensive research and development in the capture, storage, processing, retrieval, transmission, and display of biomedical documents and medical imagery. Areas of active investigation include image compression, image enhancement, image recognition and understanding, image transmission, and user interface design. LHC conducts extensive research in developing advanced computer technologies to facilitate the access, storage, and retrieval of biomedical information. In addition, it performs extensive research in developing and advancing infrastructure capabilities such as high-speed networks, nomadic computing, network management, and improving the quality of service, security, and data privacy. This research center also performs extensive research and development in the capture, storage, processing, retrieval, transmission, and display of multimedia biomedical data. Multimedia products include high quality-video, audio, imaging, and graphics materials.
National Center for Biotechnology Information (NCBI)
NCBI conducts research on fundamental biomedical problems at the molecular level using mathematical and computational methods.
It maintains collaborations with several NIH Institutes, academia, industry, and other governmental agencies.
NCBI also fosters scientific communication by sponsoring meetings, workshops, and lecture series. In addition, it supports training on basic and applied research in computational biology for postdoctoral fellows through the NIH Intramural Research Program.
NCBI engages members of the international scientific community in informatics research and training through the Scientific Visitors Program.
It develops, distributes, supports, and coordinates access to a variety of databases and software for the scientific and medical communities. Finally, NCBI develops and promotes standards for databases, data deposition and exchange, and biological nomenclature.
Office of Computer & Communications Systems (OCCS)
http://www.nlm.nih.gov/occs/occs.html
OCCS provides efficient, cost-effective computing and networking services, technical advice, and collaboration in informational sciences in support of the research and management programs offered through NLM.
OCCS develops and provides the NLM backbone computer networking facilities, and supports, guides, and assists other NLM components in local area networking. The Division provides professional programming services and computational and data processing facilities to meet NLM program needs; operates and maintains the NLM Computer Center; designs and develops software; and provides extensive customer support, training courses and seminars, and documentation for computer and network users.
OCCS helps to coordinate, integrate, and standardize the vast array of computer services available throughout all of the organizations comprising NLM. The Division also serves as a technological resource for other parts of the NLM and for other Federal organizations with biomedical, statistical, and administrative computing needs.
The Division promotes the application of High Performance Computing and Communication to biomedical problems, including image processing.
The OCCS staff develops computer-based systems for information retrieval applications, conducts computer science and engineering research and development, and consults and collaborates in the area of advanced electronic office automation facilities. They support software systems to perform these services, and conduct research and evaluations for best fit solutions to information access needs.
This page last reviewed on June 14, 2018