You are here
July 21, 2020
Experimental coronavirus vaccine is safe and produces immune response
At a Glance
Early results from the first COVID-19 vaccine candidate tested in people showed that it triggered an immune response against the virus with no serious side effects.
Researchers continue to test the vaccine for safety and effectiveness in larger groups of volunteers.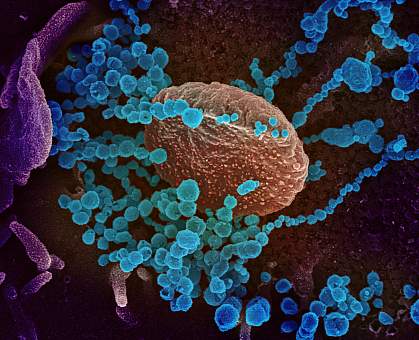 NIAID Rocky Mountain Laboratories
Researchers are working to develop a safe and effective vaccine against SARS-CoV-2, the novel coronavirus that causes COVID-19. Before a vaccine is available to the public, it must go through several stages of testing. The first stage is a Phase 1 clinical trial. In Phase 1, the vaccine is given to healthy volunteers to test if it's safe and induces an immune response against the virus.
Scientists began Phase 1 trials of an experimental vaccine for COVID-19 in mid-March. The vaccine, called mRNA-1273, is being co-developed by researchers at NIH's National Institute of Allergy and Infectious Diseases (NIAID) and the biotech company Moderna, Inc. 
The two-dose vaccine is designed to prompt the immune system to produce antibodies against a portion of the coronavirus "spike" protein, which the virus uses to bind to and enter human cells. The vaccine uses messenger RNA (mRNA), a molecule critical for the virus to produce protein.
The researchers, led by Dr. Lisa A. Jackson of Kaiser Permanente Washington Health Research Institute, Seattle, published an interim report of the trial findings in the New England Journal of Medicine on July 14, 2020.
The team tested the vaccine in 45 healthy adults, ages 18 to 55. Participants were enrolled at study sites in Seattle and Atlanta. The volunteers were divided into three groups. Each group received different doses of the vaccine (25, 100, or 250 micrograms). Participants received two injections, 28 days apart.
After the second injection, the team evaluated how well the vaccine provoked an immune response against SARS-CoV-2. They also tested whether the antibodies could neutralize the virus in the laboratory. Safety was assessed throughout the trial as well.
The investigational vaccine induced a strong immune response and was generally well tolerated. Antibody levels were higher with higher doses of the vaccine. In both the middle and high dose groups, the researchers observed high levels of neutralizing antibody activity through day 43 after the second injection. These levels were similar to the upper range found in patients who had recovered from COVID-19.
None of the participants experienced serious side effects from the vaccine. However, more than half reported fatigue, headache, chills, or pain at the injection site. These symptoms were most common following the second vaccination and in those who received the highest vaccine dose. Based on side effects and immune response, the 100 microgram dose was chosen for an upcoming Phase 3 trial.
The phase 1 trial is ongoing and currently has 120 participants. In April, researchers enrolled adults ages 55 years and older. A larger phase 2 clinical trial of mRNA-1273, sponsored by Moderna, began enrollment in late May. During this phase, researchers will continue to evaluate vaccine dosing and immune response. Plans are underway to launch a Phase 3 trial later this month to test the vaccine's effectiveness in thousands of people.
"Finding a safe and effective vaccine to prevent infection with SARS-CoV-2 is an urgent public health priority," says NIAID Director Dr. Anthony S. Fauci. "The preliminary result of this trial is an important milestone toward this goal."
Related Links
References: An mRNA Vaccine against SARS-CoV-2 - Preliminary Report. Jackson LA, Anderson EJ, Rouphael NG, Roberts PC, Makhene M, Coler RN, McCullough MP, Chappell JD, Denison MR, Stevens LJ, Pruijssers AJ, McDermott A, Flach B, Doria-Rose NA, Corbett KS, Morabito KM, O'Dell S, Schmidt SD, Swanson PA 2nd, Padilla M, Mascola JR, Neuzil KM, Bennett H, Sun W, Peters E, Makowski M, Albert J, Cross K, Buchanan W, Pikaart-Tautges R, Ledgerwood JE, Graham BS, Beigel JH; mRNA-1273 Study Group. N Engl J Med. 2020 Jul 14. doi: 10.1056/NEJMoa2022483. Online ahead of print. PMID: 32663912.
Funding: NIH's National Institute of Allergy and Infectious Diseases (NIAID) and National Center for Advancing Translational Sciences (NCATS); Dolly Parton COVID-19 Research Fund; Coalition for Epidemic Preparedness Innovation (CEPI).