You are here
November 24, 2020
Life support machine helps cardiac arrest patients survive
At a Glance
Using a life support machine called ECMO shortly after cardiac arrest outside of a hospital improved patients' chances of survival.
The findings may lead to new emergency care treatment interventions and improved outcomes for this common health condition.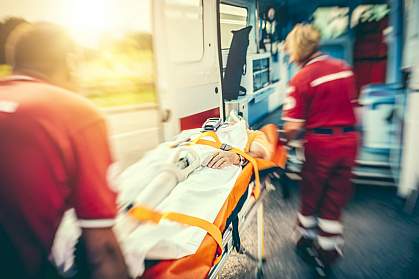 kaisersosa67 / iStock / Getty Images Plus
More than 350,000 people die of cardiac arrest each year in the United States. The condition occurs when the heart suddenly stops beating. This stops blood flow to the body, including the heart and brain. Cardiac arrest usually causes death if it's not treated immediately, and the standard treatments are not very effective.
Some cardiac arrest patients who receive the standard care treatment do not respond. This treatment usually includes cardiopulmonary resuscitation (CPR), defibrillation (quickly shocking the heart), intubation (inserting a tube down into the airways to assist with breathing), and IV medications. One reason a patient may not respond is if the arteries to their heart have severe blockages, preventing blood flow getting around the body.
Life support machines called extracorporeal membrane oxygenation (ECMO) machines support blood circulation by bypassing a blockage. ECMO machines pull blood out of a patient's body, reoxygenate it, and then return the blood back to the body.
To investigate whether using ECMO can benefit cardiac arrest patients, researchers enrolled 30 people who had a cardiac arrest into a clinical trial. The research team, led by Dr. Demetris Yannopoulos at the University of Minnesota, compared the standard treatment with using ECMO as soon as possible. The study was funded by NIH's National Heart, Lung, and Blood Institute (NHLBI). Results were published on November 13, 2020, in the Lancet.
Most of the study participants were men who were, on average, 61 years old. Of 14 patients who received ECMO as part of their assigned care for cardiac arrest, six survived to hospital discharge. In contrast, only one of 15 patients who received the standard treatment survived to hospital release.
At three and six months after hospital discharge, all six people who received ECMO were alive and well. The patient who received standard treatment did not survive following release from the hospital. Because of the notable improvement in survival of patients receiving ECMO, the study was halted before enrolling the expected 165 patients.
The investigators note that ECMO improved survival because it allowed time for a full team-based program of care to be implemented. The program included protocols for emergency medical services to identify patients who might benefit most from it. It also involved rapid transport to a hospital, communication with an ECMO center to mobilize experienced operators who do a high volume of ECMO procedures, and protocols for care after the patient is resuscitated.
"The findings from the trial make an important statement that early implementation of ECMO is the enabling and necessary condition that allows further advanced targeted therapies to be delivered in those critical patients. In its absence, the life-saving treatment that follows is just not possible," says Yannopoulos.
While the results of this small trial are very encouraging, the use of ECMO will need to be tested in a larger, multicenter trial.
Related Links
References: Advanced reperfusion strategies for patients with out-of-hospital cardiac arrest and refractory ventricular fibrillation (ARREST): a phase 2, single centre, open-label, randomised controlled trial. Yannopoulos D, Bartos J, Raveendran G, Walser E, Connett J, Murray TA, Collins G, Zhang L, Kalra R, Kosmopoulos M, John R, Shaffer A, Frascone RJ, Wesley K, Conterato M, Biros M, Tolar J, Aufderheide TP. Lancet. 2020 Nov 12:S0140-6736(20)32338-2. doi: 10.1016/S0140-6736(20)32338-2. Online ahead of print. PMID: 33197396.
Funding: NIH'S National Heart, Lung, and Blood Institute (NHLBI).