You are here
February 4, 2020
New strategies drive HIV from cellular hiding places
At a Glance
Experimental treatments in animal models of HIV led to the viruses emerging from their hiding places, a first step needed to make HIV vulnerable to the immune system.
These proof-of-concept studies could potentially lead to strategies for eliminating HIV from the body.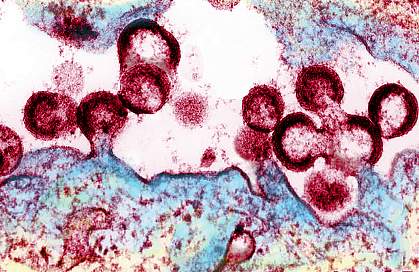 NIAID
Current antiviral drugs that are prescribed for people living with HIV can suppress the virus to undetectable levels in the blood for decades and eliminate the risk of person-to-person transmission. But these treatments are not a cure.
HIV hides inside certain immune cells, a phenomenon called viral latency. These immune cells can reside in tissues throughout the body. If the drugs are stopped for any reason, the suppressed viruses can reproduce again and enter the bloodstream. That is why people living with HIV must take antiviral drugs for life.
Researchers have been exploring ways of using drugs to wake up and flush latent viruses from their hiding places. This strategy is called "shock and kill" or "kick and kill." To date, experimental drug regimens to reverse HIV latency have proved either ineffective or toxic.
In new research funded in part by NIH's National Institute of Allergy and Infectious Diseases (NIAID), scientists tested two new strategies for reversing HIV latency. Results from the two research teams were published side by side on January 22, 2020, in Nature.
In one study, a team led by Dr. J. Victor Garcia from the University of North Carolina at Chapel Hill tested a compound called AZD5582, which belongs to a class of molecules that have proven safe as experimental cancer therapeutics. It targets a cell-signaling pathway in the immune cells that HIV hides in. They first tested AZD5582 in HIV-infected mice that carried human immune cells.
The researchers found evidence of viral reproduction after treatment in the blood of 50-75% of mice on antiviral drugs. This showed that latent viruses were waking up. Further experiments found viral reproduction in the bone marrow, spleen, liver, lung, and other organs.
The team next tested the drug in 21 monkeys that were infected with SIV, the primate equivalent of HIV, and that had received antiviral drugs for over a year. About half experienced reactivation of latent SIV. The researchers did not see serious toxic effects of the drug in either mice or monkeys.
In the second study, a team led by Dr. Guido Silvestri from Emory University tested a two-part strategy to activate the virus. They used an engineered immune-activating protein paired with an antibody to suppress specific immune cells that may contribute to HIV latency. This two-drug regimen was tested in monkeys with SIV and mice with HIV.
Monkeys with SIV received standard antiviral drugs for a year. The 35 animals were then split into three groups to receive either one of the two anti-latency drugs alone or a combination of the two. All monkeys that received the combination had substantially more SIV in their blood than those that received only one of the drugs. Similar results were seen in mice.
These results suggest that a "shock" approach to reversing HIV latency might be achieved without dangerous side effects. The activated viruses could potentially be neutralized with anti-HIV drugs. However, more work will be needed to improve these techniques and understand whether they would be safe to test in people.
"A simple, safe and scalable cure for HIV is an aspirational goal that, if achieved, would accelerate progress toward ending the HIV pandemic," says NIAID Director Dr. Anthony S. Fauci. "These new findings help sustain our cautious optimism that an HIV cure is possible."
Related Links
References: Systemic HIV and SIV latency reversal via non-canonical NF-κB signalling in vivo. Nixon CC, Mavigner M, Sampey GC, Brooks AD, Spagnuolo RA, Irlbeck DM, Mattingly C, Ho PT, Schoof N, Cammon CG, Tharp GK, Kanke M, Wang Z, Cleary RA, Upadhyay AA, De C, Wills SR, Falcinelli SD, Galardi C, Walum H, Schramm NJ, Deutsch J, Lifson JD, Fennessey CM, Keele BF, Jean S, Maguire S, Liao B, Browne EP, Ferris RG, Brehm JH, Favre D, Vanderford TH, Bosinger SE, Jones CD, Routy JP, Archin NM, Margolis DM, Wahl A, Dunham RM, Silvestri G, Chahroudi A, Garcia JV. Nature. 2020 Jan 22. doi: 10.1038/s41586-020-1951-3. [Epub ahead of print]. PMID: 31969707.

Robust and persistent reactivation of SIV and HIV by N-803 and depletion of CD8+ cells. McBrien JB, Mavigner M, Franchitti L, Smith SA, White E, Tharp GK, Walum H, Busman-Suhay K, Aguilera-Sandoval CR, Thayer WO, Spagnuolo RA, Kovarova M, Wahl A, Cervasi B, Margolis DM, Vanderford TH, Carnathan DG, Paiardini M, Lifson JD, Lee JH, Safrit JT, Bosinger SE, Estes JD, Derdeyn CA, Garcia JV, Kulpa DA, Chahroudi A, Silvestri G. Nature. 2020 Jan 22. doi: 10.1038/s41586-020-1946-0. [Epub ahead of print]. PMID: 31969705.
Funding: NIH's National Institute of Allergy and Infectious Diseases (NIAID), Office of the Director (OD), National Cancer Institute (NCI), National Institute of Mental Health (NIMH), National Institute of Neurological Disorders and Stroke (NINDS), National Institute on Drug Abuse (NIDA), and Fogarty International Center (FIC); amfAR; Qura Therapeutics; Natural Science Foundation of Guangdong Province, China; Chinese National Key Technologies R&D Program for the 13th Five-year Plan.