You are here
December 4, 2018
Probiotics not helpful for young children with diarrhea
At a Glance
A probiotic treatment did not show any benefit for young children brought to the hospital with acute gastroenteritis, which involves diarrhea and other symptoms.
The results may change guidelines from some medical groups, which have recommended probiotic use in children with acute gastroenteritis.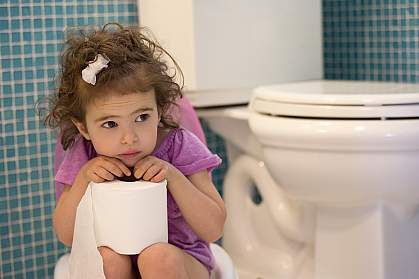 CareyHope/iStock/Thinkstock
Acute gastroenteritis can cause diarrhea, pain and cramping in the abdomen, nausea, vomiting, and sometimes fever. It may also lead to dehydration, which can become dangerous. Most cases can be treated by replacing lost fluids and electrolytes to prevent dehydration. But the disease can sometimes lead to visits to the emergency department and hospitalization, particularly in young children.
Acute gastroenteritis may be caused by bacteria, viruses, or parasites. Some studies have suggested that probiotics—"good" bacteria naturally found in the gut—might help treat the disease. As a result, some medical groups currently recommend probiotics for children with diarrhea and other gut problems.
Researchers led by Dr. David Schnadower at the Washington University School of Medicine in St. Louis (now at Cincinnati Children's Hospital Medical Center) tested whether probiotics can benefit young children with acute gastroenteritis. They ran a large study at 10 children's emergency rooms across the U.S. The team enrolled more than 900 children from 3 months to 4 years of age with a diagnosis of acute gastroenteritis, which was defined as three or more episodes of watery stools per day, with or without vomiting, for fewer than 7 days.
The children were randomly assigned to receive 5 days (10 doses) of either a probiotic called Lactobacillus rhamnosus GG or an identical-looking placebo. They received their first dose in the hospital. Their caregivers then gave the rest of the treatment at home. The team checked in with the families over the following weeks to see how quickly symptoms had gone away.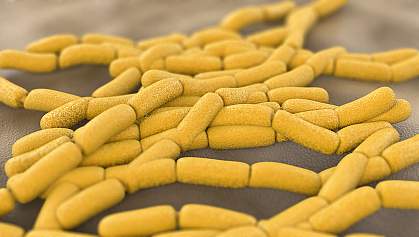 Luismmolina/iStock/Getty Images Plus
The study was funded by NIH's Eunice Kennedy Shriver National Institute of Child Health and Human Development (NICHD) and National Institute of Diabetes and Digestive and Kidney Diseases (NIDDK). Results were published on November 22, 2018, in the New England Journal of Medicine.
Tests showed that almost all children who received the probiotics received the expected dose of the bacteria. About 85% of children in both groups received at least 7 out of their prescribed 10 doses.
The researchers found no difference in length of vomiting or diarrhea with or without probiotic use. Similar numbers of children in both groups had moderate to severe symptoms in the two weeks after the start of treatment. No differences were seen in the number of doctor visits, household transmission rates, days of day care missed, or hours of work missed by caregivers.
There were no differences whether patients were younger than a year or older, had symptoms for more or less than 48 hours, were taking antibiotics, or were infected with a virus, bacteria, or had no pathogen identified. For every outcome, in every subgroup of patients, the probiotic made no difference.
A second study, run in Canada and published in the same issue, had matching results. That trial tested L. rhamnosus plus another probiotic strain. It also showed no effect on length of illness or other outcomes with probiotic use.
"Because of the popularity of probiotics, it was important to make sure their use is worth the cost," Schnadower says. "In this instance, probiotics added no measurable benefit."
—by Sharon Reynolds
Related Links
References:
Lactobacillus rhamnosus GG versus Placebo for Acute Gastroenteritis in Children. Schnadower D, Tarr PI, Casper TC, Gorelick MH, Dean JM, O'Connell KJ, Mahajan P, Levine AC, Bhatt SR, Roskind CG, Powell EC, Rogers AJ, Vance C, Sapien RE, Olsen CS, Metheney M, Dickey VP, Hall-Moore C, Freedman SB. N Engl J Med. 2018 Nov 22;379(21):2002-2014. doi: 10.1056/NEJMoa1802598. PMID: 30462938.

Multicenter Trial of a Combination Probiotic for Children with Gastroenteritis. Freedman SB, Williamson-Urquhart S, Farion KJ, Gouin S, Willan AR, Poonai N, Hurley K, Sherman PM, Finkelstein Y, Lee BE, Pang XL, Chui L, Schnadower D, Xie J, Gorelick M, Schuh S; PERC PROGUT Trial Group. N Engl J Med. 2018 Nov 22;379(21):2015-2026. doi: 10.1056/NEJMoa1802597. PMID: 30462939.
Funding: NIH's Eunice Kennedy Shriver National Institute of Child Health and Human Development (NICHD) and National Institute of Diabetes and Digestive and Kidney Diseases (NIDDK); Maternal and Child Health Bureau of the Health Resources & Services Administration; Washington University Biobank Core; and Alberta Children's Hospital Foundation. The probiotic and placebo were provided by iHealth.