You are here
July 10, 2018
Treatment for depression in young children
At a Glance
Researchers found that a therapy-based approach focused on emotional development may be an effective option for treating early childhood depression.
This study suggests that improving the parent-child relationship along with their emotional coping skills is an effective, low-risk approach to treating depression.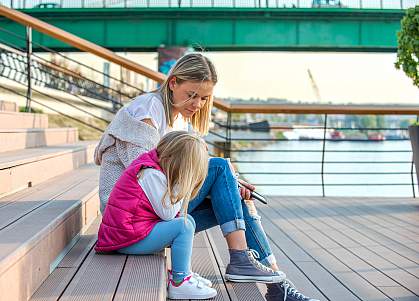 Renato Arap/iStock/Thinkstock
Everyone feels sad or low sometimes. These feelings usually pass with a little time. Depression—also called "clinical depression" or "depressive disorder"—is a mood disorder that causes distressing symptoms that last for at least two weeks. These affect how you feel, think, and handle daily activities, such as sleeping, eating, or working.
Children as young as 3-years-old can be diagnosed with clinical depression. However, the therapy used to treat depression in teens and adults isn't appropriate for young children. Alternatives that are more suitable for working with young children and their parents are needed.
One type of therapy, called Parent-Child Interaction Therapy (PCIT), has been shown to help treat disruptive behavioral disorders in young children. In PCIT treatment, parents are taught techniques for successfully interacting with their kids. They practice these techniques in controlled situations while being coached by a clinician.
To test whether PCIT could be adapted to treat childhood depression, a team led by Dr. Joan Luby at Washington University School of Medicine in St. Louis enrolled 229 children (ages 3–6) with early childhood depression and their parents. Over an 18-week period, they tested PCIT with an added emotional development (ED) component. The therapy used the basic techniques of PCIT for 12 treatment sessions, but added eight sessions that train parents to be more effective at helping their children regulate emotions. The study was supported by NIH's National Institute of Mental Health (NIMH). Results appeared online in American Journal of Psychiatry on June 20, 2018.
The children and their parents were randomly assigned to either the PCIT-ED treatment or a waitlist group. There are currently no proven treatments for early childhood depression, so children in the waitlist group were monitored but received no active intervention during the study period.
Before and after the treatment period, the researchers assessed the children's psychiatric symptoms, emotional self-regulation abilities, level of impairment and functioning, and tendency to experience guilt. Parents were assessed for depression, their coping styles in response to their child's negative emotions, and parenting stress.
At the completion of the study period, children in the PCIT-ED group were less likely to meet criteria for depression and scored lower on depression severity than children in the waitlist group. Children in the treatment group also had improved functioning, greater emotional regulation skills and greater "guilt reparation" (e.g., spontaneously saying ''sorry'' after having done something wrong).
Parents in the PCIT-ED group also showed many improvements. Families in the waitlist group were offered PCIT-ED treatment after completion of the study.
"The study provides very promising evidence that an early and brief psychotherapeutic intervention that focuses on the parent-child relationship and on enhancing emotion development may be a powerful and low-risk approach to the treatment of depression," Luby says. "It will be very important to determine if gains made in this early treatment are sustained over time and whether early intervention can change the course of the disorder."
Related Links
References: A Randomized Controlled Trial of Parent-Child Psychotherapy Targeting Emotion Development for Early Childhood Depression. Luby JL, Barch DM, Whalen D, Tillman R, Freedland KE. Am J Psychiatry. 2018 Jun 20:appiajp201818030321. doi: 10.1176/appi.ajp.2018.18030321. [Epub ahead of print]. PMID: 29921144.
Funding: National Institute of Mental Health (NIMH)