You are here
May 2, 2023
How boosters produce broad protection against COVID-19
At a Glance
A booster shot targeting the Omicron variant of SARS-CoV-2 produced a broader immune response than one targeting variants more similar to the original strain.
Booster shots targeting new, diverse variants could help maintain immunity against COVID-19 in the future.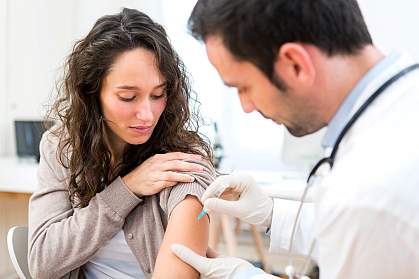 Production Perig / Adobe Stock
Vaccines developed early in the COVID-19 pandemic continue to provide substantial protection against severe disease and death from the disease. The SARS-CoV-2 virus has mutated significantly since late 2019. But, in many cases, the immune system can recognize later variants such as Omicron.
This ability comes in part from features of the immune system called germinal centers. Germinal centers are structures in lymph nodes that form temporarily in response to infection or vaccination. Antibody-producing immune cells, called B cells, in these areas develop and learn to produce more varied and effective antibodies. These improved antibodies provide a better chance for the immune system to recognize variants of pathogens. The process also creates trained memory B cells that help protect against future infections.
Due to a combination of vaccination and infection, the U.S. population now has a high level of immunity to SARS-CoV-2. But how this immunity will be affected as the virus continues to change isn't clear. Researchers want to learn how to optimize the process in germinal centers to better protect against future variants.
In a new study, a team of NIH-funded researchers led by Dr. Ali Ellebedy at Washington University in St. Louis looked at how different booster shots affected the ability of the immune system to recognize a range of COVID-19 variants.
One of the experimental vaccines they tested targeted the Beta and Delta variants, which are relatively similar to the original strain of the virus. They also tested a booster targeting the Omicron variant, which is less similar to earlier variants. Their results were published on April 3, 2023, in Nature.
All study volunteers had previously received the two-dose Moderna mRNA vaccine and had no record of being infected with SARS-CoV-2. Thirty-nine participants received a booster targeting Beta and Delta. Eight received the booster targeting the Omicron subvariant BA.1. Seven received a booster targeting the original SARS-CoV-2.
Those receiving boosters targeting Beta and Delta or the original strain showed strong production of antibodies. However, these antibodies recognized the original strain of the virus as well as the Beta or Delta variants. This shows that the booster activated the immune system's memory from the original vaccine. It hadn't caused novel cells to develop in germinal centers to recognize the newer variants.
In people who received the Omicron booster, most of the antibodies recognized both the original virus and the Omicron variant. But some could only recognize the Omicron variant. This finding suggests that the Omicron booster triggered the production of novel cells in germinal centers. One of the new antibodies even neutralized a subvariant of Omicron—BA.5—that emerged after the shot was developed. Notably, the Omicron booster used a virus strain similar to that in the currently available bivalent booster.
"It's not that the vaccines don't elicit a lasting antibody response. They do. The problem is that the virus changes and the existing antibodies become irrelevant," Ellebedy says. "Here we showed that it's possible to design a variant-specific booster that doesn't just strengthen the antibodies people already have but elicits new antibodies. This means that periodically giving boosters targeting new variants would allow population-level protection to be maintained even as the virus evolves."
—by Sharon Reynolds
Related Links
References: SARS-CoV-2 Omicron boosting induces de novo B cell response in humans. Alsoussi WB, Malladi SK, Zhou JQ, Liu Z, Ying B, Kim W, Schmitz AJ, Lei T, Horvath SC, Sturtz AJ, McIntire KM, Evavold B, Han F, Scheaffer SM, Fox IF, Mirza SF, Parra-Rodriguez L, Nachbagauer R, Nestorova B, Chalkias S, Farnsworth CW, Klebert MK, Pusic I, Strnad BS, Middleton WD, Teefey SA, Whelan SPJ, Diamond MS, Paris R, O'Halloran JA, Presti RM, Turner JS, Ellebedy AH. Nature. 2023 Apr 3. doi: 10.1038/s41586-023-06025-4. Online ahead of print. PMID: 37011668
Funding: NIH's National Institute of Allergy and Infectious Diseases (NIAID); Moderna, Inc.