You are here
July 12, 2022
Cyberbullying linked with suicidal thoughts and attempts in young adolescents
At a Glance
Young adolescents who experienced cyberbullying had an increased risk of suicidal thoughts or attempts.
Screening for cyberbullying may help identify more young people at risk of suicide.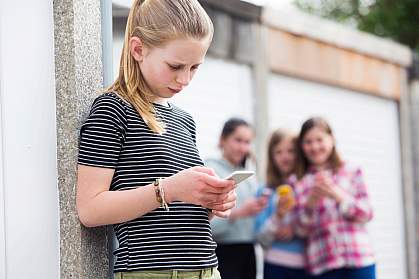 Daisy Daisy / Shutterstock
Suicide is the second leading cause of death for adolescents and young adults in the United States. In-person bullying is known to raise the risk of thoughts of suicide and attempts for both victims and perpetrators.
Cyberbullying—bullying that happens online—has been on the rise in this age range. Increased use of the internet during the COVID-19 pandemic has further boosted this trend. But the links between cyberbullying and thoughts of suicide and attempts are less well understood than the effects of in-person bullying.
To help fill in this gap, NIH-funded researchers led by Dr. Ran Barzilay from the Children's Hospital of Philadelphia used data from more than 10,000 young adolescents with an average age of 12. The participants were enrolled in a long-term study tracking brain development and child health.
As part of a survey for the study, adolescents reported if they'd experienced or perpetrated cyberbullying. This was defined as "purposefully trying to harm another person or be mean to them online, in texts or group texts, or on social media (like Instagram or Snapchat)."
The participants also answered questions about in-person bullying, including physical, relational (being left out or ostracized), or reputational (such as gossip) harm. Another study questionnaire asked whether they had experienced thoughts of suicide or attempted suicide.
The team explored the associations between the types of bullying and thoughts of suicide and attempts. Results were published on June 27, 2022, in JAMA Network Open.
Almost 9% of the young adolescents reported being a target of cyberbullying. Less than 1% reported perpetrating cyberbullying, but most of those who did also experienced cyberbullying. Female and Black participants were more likely to be bullied online.
The participants who experienced cyberbullying were more than 4 times as likely to report thoughts of suicide and attempts as those who didn't. This association diminished but remained significant when the researchers adjusted for other factors known to affect thoughts of suicide and attempts. These include family conflict, racial discrimination, parental monitoring, and being supported at school.
The researchers also found that experiencing cyberbullying increased the risk of thoughts of suicide and attempts independent of in-person bullying.
Unlike the trends seen with in-person bullying, perpetrating cyberbullying wasn't linked with an increased risk of suicidal thoughts and attempts. The study was not designed to understand why this might be the case. The researchers suggest it may be due to the fact that cyberbullies often don't observe and understand the effects of their bullying on the victims.
"At a time when young adolescents are spending more time online than ever before, this study underscores the negative impact that bullying in the virtual space can have on its targets," Barzilay says. "It may be prudent for primary care providers to screen for cyberbullying routinely in the same way that they might screen for other suicide risk factors like depression. Parents and educators should also be aware of this risk factor."
—by Sharon Reynolds
Related Links
References: Association of Cyberbullying Experiences and Perpetration With Suicidality in Early Adolescence. Arnon S, Brunstein Klomek A, Visoki E, Moore TM, Argabright ST, DiDomenico GE, Benton TD, Barzilay R. JAMA Netw Open. 2022 Jun 1;5(6):e2218746. doi: 10.1001/jamanetworkopen.2022.18746. PMID: 35759263.
Funding: NIH's National Institute of Mental Health (NIMH) and National Institute on Drug Abuse (NIDA); Lifespan Brain Institute.