You are here
June 18, 2019
Drug may slow development of type 1 diabetes
At a Glance
An experimental drug called teplizumab may delay development of type 1 diabetes in people at high risk. 
Further research is needed to better understand the effects of this drug.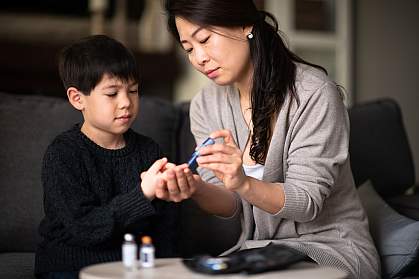 FatCamera / E+ via Getty Images
Diabetes is a disease in which the body has trouble using glucose, a sugar that serves as the body's fuel. In type 1 diabetes, the body doesn't make enough insulin, the hormone that triggers cells to take in glucose from the blood.
In healthy people, insulin is made by beta cells in the pancreas. In type 1 diabetes, T cells from the body's own immune system mistakenly attack and destroy beta cells. As a result, people with this disease need lifelong injections of insulin.
Previous research has shown that experimental drugs like teplizumab can suppress this unwanted immune system attack. The drug binds to the surface of T cells known as CD8+ and interfere with their activity. The loss of activity may protect beta cells that would otherwise be killed.
Teplizumab has been studied as a treatment for people recently diagnosed with type 1 diabetes. To test a possible prevention method, a team led by Dr. Kevan C. Herold at Yale University investigated whether teplizumab could delay the development of type 1 diabetes in people at high risk for the disease. The work was supported mainly by NIH's National Institute of Diabetes and Digestive and Kidney Diseases (NIDDK). Results were published on June 9, 2019, in the New England Journal of Medicine.
Between 2011 and 2018, 76 people between 8 and 49 years old took part in the study at sites in the U.S., Canada, Australia, and Germany. The participants all had relatives with type 1 diabetes. Although they didn't have the disease themselves, they were at extremely high risk of developing type 1 diabetes within a few years. They had abnormal test results for at least two diabetes-related antibodies, and their ability to use glucose was impaired.
The research team randomly assigned participants to receive IV infusions of either teplizumab or salt water (placebo) for 14 days. Most participants were then monitored for several years. The team found a substantially lower proportion of people diagnosed with type 1 diabetes in the teplizumab group (43%) than in the placebo group (72%). The effects of the drug were greatest in the first year after it was given. The average delay in diagnosis for those receiving teplizumab was 2 years.
The drug caused temporary side effects, such as a rash and low immune cell levels during the first month after treatment. Another side effect was reactivation of certain dormant viruses, which eventually returned to undetectable levels and didn't generally cause illness.
"Previous clinical research funded by the NIH found that teplizumab effectively slows the loss of beta cells in people with recent onset clinical type 1 diabetes, but the drug had never been tested in people who did not have clinical disease," Herold says. "We wanted to see whether early intervention would have a benefit for people who are at high risk but do not yet have symptoms of type 1 diabetes."
The findings of this small study provide the first evidence that type 1 diabetes can be delayed with early preventive treatment. More research is needed to better understand how long to give the drug, as well as its safety and effectiveness.
Related Links
References: An Anti-CD3 Antibody, Teplizumab, in Relatives at Risk for Type 1 Diabetes. Herold KC, Bundy BN, Long SA, Bluestone JA, DiMeglio LA, Dufort MJ, Gitelman SE, Gottlieb PA, Krischer JP, Linsley PS, Marks JB, Moore W, Moran A, Rodriguez H, Russell WE, Schatz D, Skyler JS, Tsalikian E, Wherrett DK, Ziegler AG, Greenbaum CJ; Type 1 Diabetes TrialNet Study Group. N Engl J Med. 2019 Jun 9. doi: 10.1056/NEJMoa1902226. [Epub ahead of print]. PMID: 31180194.
Funding: NIH's National Institute of Diabetes and Digestive and Kidney Diseases (NIDDK), National Institute of Allergy and Infectious Diseases (NIAID), Eunice Kennedy Shriver National Institute of Child Health and Human Development (NICHD), and National Center for Research Resources (NCRR); Juvenile Diabetes Research Foundation; American Diabetes Association; MacroGenics/Provention Bio.