You are here
May 16, 2023
Earlier smoking cessation may improve lung cancer survival
At a Glance
Lung cancer patients who quit smoking before diagnosis had significantly better survival rates than smokers—and the longer without smoking, the better the odds of survival.
The findings suggest that smoking cessation can have lasting health benefits, even for those who develop lung cancer.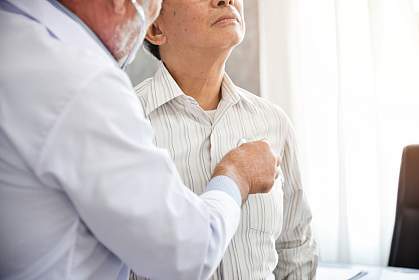 eggeegg / Shutterstock
Lung cancer is the leading cause of cancer-related death nationwide, and smoking is a major contributor. Lung cancer rates have been declining in recent years, along with a drop in the number of smokers. Survival rates, however, remain low, with about 75% of patients dying within five years of diagnosis.
Several studies have found that quitting smoking can help to lengthen life. But less is known about how the timing and length of smoking cessation might affect survival after the development of lung cancer.
Dr. David C. Christiani and colleagues at the Harvard T.H. Chan School of Public Health set out to learn more about the links between pre-diagnosis smoking behaviors and survival among patients with lung cancer. They enrolled more than 5,500 patients who had been diagnosed with non-small cell lung cancer, the most common type of lung cancer, at Massachusetts General Hospital between 1992 and 2022.
Participants were asked detailed information about their history of smoking behaviors. This included the age when they started smoking, how much they smoked, and if and when they stopped. Check-ins every 12 to 18 months monitored patient survival. Results appeared in JAMA Network Open on May 5, 2023.
At enrollment, the majority of patients were former smokers (3,308), followed by current smokers (1,491), and people who had never smoked (795). During the course of the study, nearly 70% of patients died. This included 79% of current smokers, 67% of former smokers, and 60% of never smokers.
Overall, the researchers found that former smokers had a 26% higher death rate, and current smokers a 68% higher death rate, compared with patients who had never smoked.
The researchers calculated the estimated number of cigarette packs the participants had smoked over their lifetimes (called smoking pack years). Among those who had ever smoked, a doubling of smoking pack years was linked to shorter survival.
The odds of survival were significantly increased among participants who had ever smoked if there was a longer time period between quitting and diagnosis.
The researchers note that many studies of smoking and cancer tend to compare smokers with nonsmokers. Since most of their study participants were former smokers, they were able to take a closer look at the potential impact that quitting has on survival.
"Our participants' smoking histories varied, with some having stopped smoking a few years before their diagnosis and others having stopped several decades before," Christiani says. "This wide range gave us confidence in our results—that the benefit of pre-diagnosis smoking cessation persists even after lung cancer is diagnosed."
—by Vicki Contie
Related Links
References: Prediagnosis Smoking Cessation and Overall Survival Among Patients With Non-Small Cell Lung Cancer. Wang X, Romero-Gutierrez CW, Kothari J, Shafer A, Li Y, Christiani DC. JAMA Netw Open. 2023 May 1; 6(5):e2311966. doi: 10.1001/jamanetworkopen.2023.11966. PMID: 37145597.
Funding: NIH's National Cancer Institute (NCI).