You are here
May 8, 2018
Healthy habits can lengthen life
At a Glance
Researchers found that people who maintained five healthy lifestyle factors lived more than a decade longer than those who didn't maintain any of the five.
The results suggest that Americans can increase the length of their lives and lower their disease risk by adopting a healthier lifestyle.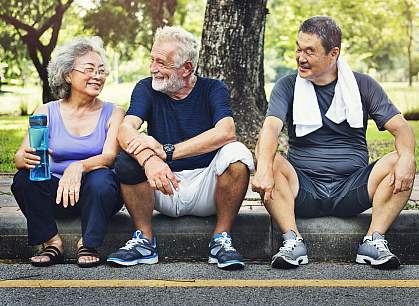 Rawpixel/iStock/Thinkstock
American don't live as long as people in most other high-income countries. Heart disease and cancer are two of the most common preventable chronic diseases in the United States. An unhealthy lifestyle increases your risk for these and other chronic diseases that can lead to an early death.
To explore the effects of healthy habits on Americans' health and lifespan, a team of scientists led by Frank Hu at the Harvard T.H. Chan School of Public Health analyzed data from more than 78,000 women and 44,000 men who participated in two nationwide surveys: the Nurses' Health Study (NHS) and the Health Professionals Follow-up Study (HPFS). They used other data from the Centers for Disease Control and Prevention to estimate the distribution of lifestyle choices and death rates across the U.S. population. The research was supported in part by NIH's National Heart Lung and Blood Institute (NHLBI) and National Cancer Institute (NCI). Results were published online in Circulation on April 30, 2018.
The team collected data on five different low-risk lifestyle factors and compared health outcomes for those who adopted all five with those who didn't adopt any. The five factors included maintaining a healthy eating pattern (getting the daily recommended amounts of vegetables, fruit, nuts, whole grains, polyunsaturated fatty acids, and omega-3 fatty acids and limiting red and processed meats, beverages with added sugar, trans fat, and sodium); not smoking; getting at least 3.5 hours of moderate to vigorous physical activity each week; drinking only moderate amounts of alcohol (one drink or less per day for women or two drinks or less per day for men); and maintaining a normal weight (body mass index between 18.5 and 24.9). The researchers also collected information about the participants' medical history, such as heart disease, cancer, and diabetes, as well as when they died.
At age 50, women who didn't adopt any of the five healthy habits were estimated to live on average until they were 79 years old and men until they were 75.5 years. In contrast, women who adopted all five healthy lifestyle habits lived 93.1 years and men lived 87.6 years.
Independently, each of the five healthy lifestyle factors significantly lowered the risk of total death, death from cancer, and death from heart disease.
"This study underscores the importance of following healthy lifestyle habits for improving longevity in the U.S. population," Hu says. "However, adherence to healthy lifestyle habits is very low. Therefore, public policies should put more emphasis on creating healthy food, built, and social environments to support and promote healthy diet and lifestyles."
—by Tianna Hicklin, Ph.D.
Related Links
References: Impact of Healthy Lifestyle Factors on Life Expectancies in the US Population. Li Y, Pan A, Wang DD, Liu X, Dhana K, Franco OH, Kaptoge S, Di Angelantonio E, Stampfer M, Willett WC, Hu FB. Circulation. 2018 Apr 30. pii: CIRCULATIONAHA.117.032047. doi: 10.1161/CIRCULATIONAHA.117.032047. [Epub ahead of print] PMID: 29712712.
Funding: NIH's National Heart, Lung and Blood Institute (NHLBI) and National Cancer Institute (NCI); British Heart Foundation; UK Medical Research Council; National Key Research and Development Program of China; and American Heart Association.