You are here
January 10, 2023
Paxlovid reduces serious risks from Omicron variants
At a Glance
The antiviral treatment Paxlovid reduced the risk of hospitalization or death from SARS-CoV-2 Omicron variants in older adults by 44%.
Wider use of Paxlovid may help temper a winter surge of COVID-19, as some other treatments are no longer effective.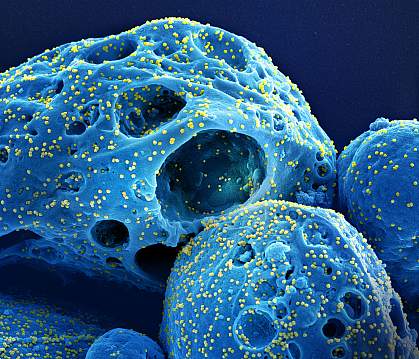 NIAID Integrated Research Facility
Antiviral treatments can help reduce the risk of serious illness and death from SARS-CoV-2, the virus that causes COVID-19. This is particularly true for those who aren't fully vaccinated. In 2021, a clinical trial found that a combination of the antiviral drugs nirmatrelvir and ritonavir reduced the risk of severe COVID-19 by almost 90% for unvaccinated people. The combination is sold under the name Paxlovid.
Today, most of the U.S. population is vaccinated against SARS-CoV-2. The previous trial was also done when the Delta variant predominated. Now, Omicron variants dominate. The effectiveness of Paxlovid in the current phase of the pandemic hasn't been clear.
To help answer this question, a research team led by Dr. Scott Dryden-Peterson from Brigham & Women's Hospital examined medical records from almost 45,000 people diagnosed with COVID-19. The study covered people seen during the first six months of 2022. During this time, a mix of Omicron variants was circulating in the U.S. Results were published on December 13, 2022, in the Annals of Internal Medicine.
The team searched their hospital system's medical records for people aged 50 and older who received a new diagnosis of COVID-19 during the time studied. They excluded people who had medical conditions that make Paxlovid unsafe.
The researchers identified about 12,500 people who received a prescription for Paxlovid and just over 32,000 who did not. They used mathematical techniques to account for potential differences between the groups. These included vaccination status, age, medical history, access to health care, and other factors that could influence how patients fared.
Overall, the rates of hospitalization and death from COVID-19 were low, less than 1%, during the period studied. However, people who received Paxlovid still had a 44% reduced risk of hospitalization or death from COVID-19. People who weren't vaccinated had an 81% lower risk of hospitalization or death if they received Paxlovid.
The likelihood of being prescribed Paxlovid was the same across groups with different social and economic factors. But people who identified as Hispanic, Latinx, or Black were less likely to get a prescription for the drug. This result highlights the differences in care that need to be addressed to reduce disparities seen in COVID-19 outcomes.
"Our findings suggest that Paxlovid can save lives, and it can have a real impact on keeping hospital beds available for the treatment of other conditions," Dryden-Peterson says. The results also reinforce the need for continued testing programs and education about available treatments for COVID-19.
—by Sharon Reynolds
Related Links
References: Nirmatrelvir Plus Ritonavir for Early COVID-19 in a Large U.S. Health System: A Population-Based Cohort Study. Dryden-Peterson S, Kim A, Kim AY, Caniglia EC, Lennes IT, Patel R, Gainer L, Dutton L, Donahue E, Gandhi RT, Baden LR, Woolley AE. Ann Intern Med. 2022 Dec 13:M22-2141. doi: 10.7326/M22-2141. Online ahead of print. PMID: 36508742.
Funding: NIH's National Institute of Allergy and Infectious Diseases (NIAID) and National Cancer Institute (NCI).