You are here
December 10, 2019
Two drugs reduce risk of death from Ebola
At a Glance
Two experimental drugs each reduced the risk of death from Ebola.
Importantly, people who sought medical help early after their symptoms developed were less likely to die than those who waited.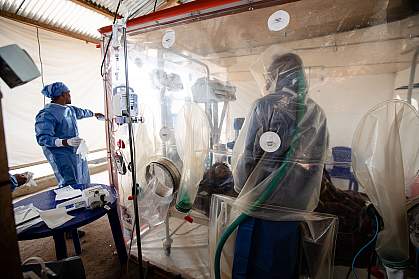 What Took You So Long / ALIMA (November 2019)
The Ebola virus spreads through direct contact with broken skin or mucous membranes in the eyes, nose, or mouth. The World Health Organization estimates that the virus kills about half of the people who contract it. Researchers have been working to develop treatments as well as vaccines to prevent Ebola infection.
During the 2014-16 Ebola outbreak in West Africa, an experimental drug called ZMapp was tested in people. Although the results suggested that ZMapp was beneficial, not enough people could be treated during that outbreak to prove that ZMapp is more effective than supportive care. Since then, several other experimental drugs to treat Ebola have been developed.
In August 2018, another Ebola outbreak began in the Democratic Republic of Congo. Researchers led by Drs. Jean-Jacques Muyembe-Tamfum at the National Institute of Biomedical Research of the Democratic Republic of Congo and Richard T. Davey, Jr. at NIH's National Institute of Allergy and Infectious Diseases (NIAID) performed a randomized clinical trial of four experimental Ebola treatments.
Between November 2018 and August 2019, the team enrolled 681 people with confirmed Ebola infection into the trial. Participants could be any age, and included infants and pregnant women. The researchers randomly assigned participants to receive one of four experimental drugs: ZMapp, Mab114, REGN-EB3, or remdesivir.
ZMapp, Mab114, and REGN-EB3 are all monoclonal antibody products. Monoclonal antibodies are derived from immune system molecules that bind to a specific substance, such as an invading virus. Remdesivir is a type of antiviral drug.
All participants also received supportive care. This included fluid and electrolyte replacement, blood pressure and oxygen level monitoring, blood transfusions, pain management, and antibiotic and antimalarial drugs as needed. The trial, called Pamoja Tulinde Maisha (PALM), was funded in part by NIAID. Results were published on November 27, 2019, in the New England Journal of Medicine.
After results from the first 499 participants had been reviewed, the trial's safety monitors recommended that two drugs—ZMapp and remdesivir—be dropped from the remainder of the trial. These two drugs were much less effective at preventing death.
Overall, about 50% of people who received either Zmapp or remdesivir died during the trial. In contrast, only about 35% of people who received either Mab114 or REGN-EB3 died. Three participants died of side effects thought to be related to treatment—two in the ZMapp group and one in the remdesivir group.
People who sought treatment early were much less likely to die during the month after joining the trial. Overall, only 19% of people who came to a treatment center within one day of symptom onset died. In contrast, almost half of people who had symptoms for five days before seeking treatment died.  The researchers found an 11% increase in the odds of death for every day a person had symptoms before joining the trial.
"Despite unprecedented challenges—including an unstable electrical power grid and evacuations of staff and patients from treatment centers due to violent attacks—the PALM trial demonstrates that scientifically rigorous and ethically sound clinical research can be conducted during disease outbreaks," says Dr. H. Clifford Lane, the NIAID deputy director for Clinical Research and Special Projects.
"Although effective treatments alone will not end this outbreak, the PALM study findings identify the first efficacious treatments for Ebola virus disease and therefore mark a significant step forward in improving care for Ebola patients," says NIAID Director Dr. Anthony S. Fauci.
Related Links
References: Randomized, Controlled Trial of Ebola Virus Disease Therapeutics. Mulangu S, Dodd LE, Davey RT Jr, Tshiani Mbaya O, Proschan M, Mukadi D, Lusakibanza Manzo M, Nzolo D, Tshomba Oloma A, Ibanda A, Ali R, Coulibaly S, Levine AC, Grais R, Diaz J, Lane HC, Muyembe-Tamfum JJ; PALM Writing Group; PALM Consortium Study Team, Sivahera B, Camara M, Kojan R, Walker R, Dighero-Kemp B, Cao H, Mukumbayi P, Mbala-Kingebeni P, Ahuka S, Albert S, Bonnett T, Crozier I, Duvenhage M, Proffitt C, Teitelbaum M, Moench T, Aboulhab J, Barrett K, Cahill K, Cone K, Eckes R, Hensley L, Herpin B, Higgs E, Ledgerwood J, Pierson J, Smolskis M, Sow Y, Tierney J, Sivapalasingam S, Holman W, Gettinger N, Vallée D, Nordwall J. N Engl J Med. 2019 Nov 27. doi: 10.1056/NEJMoa1910993. [Epub ahead of print]. PMID: 31774950.
Funding: NIH's National Institute of Allergy and Infectious Diseases (NIAID); Democratic Republic of Congo; African Coalition for Epidemic Research, Response, and Training; World Health Organization; Biomedical and Advanced Research and Development Authority; Defense Advanced Research Projects Agency; Mapp Biopharmaceutical; Gilead Sciences; Regeneron Pharmaceuticals.