You are here
May 3, 2022
Blood marker shows potential for tracking frontotemporal dementia
At a Glance
Blood levels of a protein called NfL could help identify people with a brain disease called frontotemporal dementia, or FTD, even in its early stages.
Having a biomarker to help detect and track FTD may help researchers in developing new treatments, which will likely work best when used early.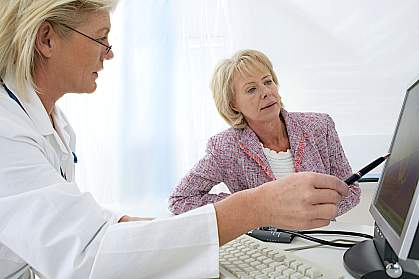 JPC-PROD / Shutterstock
Although Alzheimer's disease is a household name, there are many other, lesser-known kinds of dementia. A rare type called frontotemporal dementia (FTD) occurs most often in people under the age of 65.
FTD can cause unusual behaviors, emotional problems, and trouble communicating, among other symptoms. About a third of cases of FTD are caused by inherited gene changes, although not everyone who carries such a change will develop the disease.
No treatments currently exist to slow or stop FTD. It's also difficult to diagnose. Research into new therapies has been slowed by a lack of simple tests to diagnose the disease at an early stage and track its progression.
A protein called neurofilament light chain (NfL) gets released when nerve cells are damaged by FTD and other dementias. Studies have shown that NfL in the cerebrospinal fluid may be useful for tracking FTD. But taking repeated cerebrospinal samples is costly and difficult for patients.
Researchers led by Drs. Tania Gendron and Leonard Petrucelli from the Mayo Clinic tested whether NfL found in blood could be used to diagnose and follow FTD and related dementias. The team used samples taken from almost a thousand volunteers enrolled in a study of frontotemporal diseases. The study included people with inherited FTD and people with FTD that developed sporadically. It also included participants with cognitive impairments caused by other diseases for comparison.
The study was funded in part by NIH's National Institute on Aging (NIA), National Institute of Neurological Disorders and Stroke (NINDS), and National Center for Advancing Translational Sciences (NCATS). Results were published on April 19, 2022, in Cell Reports Medicine.
In all people with FTD, blood levels of NfL were higher than in people who had cognitive impairments caused by other conditions. Among people who carried a genetic risk factor for FTD, NfL levels in the blood were higher in those who later developed symptoms compared with those who didn't.
The team next looked at whether NfL levels correlated with the severity of dementia symptoms. Overall, higher NfL levels in the blood were associated with worse performance on all tests of cognitive function used in the study. Higher levels of NfL in blood samples taken at the start of the study were also associated with faster cognitive decline.
Finally, the researchers looked at the changes in NfL levels over time for participants who had blood samples taken at least a year after they joined the study. Rates of change in NfL levels were higher in people who later developed symptoms.
"There is at present no truly effective treatment for patients with FTD," Gendron says. "It's believed that potential treatments will be most beneficial to individuals when administered early in the disease course—soon after symptom onset or ideally even before symptom onset."
NfL and other potential biomarkers of FTD progression may allow researchers to enroll people in treatment trials early, before symptoms appear, and track the effectiveness of new drugs over time.
—by Sharon Reynolds
Related Links
References: Comprehensive cross-sectional and longitudinal analyses of plasma neurofilament light across FTD spectrum disorders. Gendron TF, Heckman MG, White LJ, Veire AM, Pedraza O, Burch AR, Bozoki AC, Dickerson BC, Domoto-Reilly K, Foroud T, Forsberg LK, Galasko DR, Ghoshal N, Graff-Radford NR, Grossman M, Heuer HW, Huey ED, Hsiung GR, Irwin DJ, Kaufer DI, Leger GC, Litvan I, Masdeu JC, Mendez MF, Onyike CU, Pascual B, Ritter A, Roberson ED, Rojas JC, Tartaglia MC, Wszolek ZK, Rosen H, Boeve BF, Boxer AL; ALLFTD consortium, Petrucelli L. Cell Reports Medicine. 2022 Apr 19;3(4):100607. doi: 10.1016/j.xcrm.2022.100607. eCollection 2022 Apr 19. PMID: 35492244.
Funding: NIH's National Institute on Aging (NIA), National Institute of Neurological Diseases and Stroke (NINDS), and National Center for Advancing Translational Sciences (NCATS); Association for Frontotemporal Degeneration.