You are here
June 28, 2022
Brain cells that control sickness symptoms
At a Glance
Researchers identified a group of neurons in mice that trigger sickness symptoms, such as fever and loss of appetite, in response to infections.
The findings could lead to better ways to reverse these symptoms.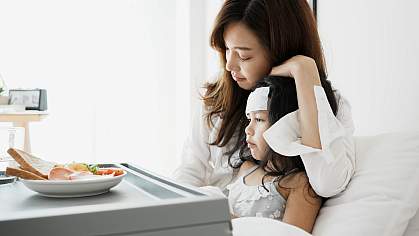 1st footage / Shutterstock
When you get an infection, many changes happen in your body. Aside from the activity of the immune system, physiological and behavioral changes occur that help to get rid of the infection. These include fever, loss of appetite, warmth-seeking, and fatigue. These symptoms are governed by the brain, rather than the immune system. But it hasn't been clear which neurons in the brain control these changes and how they know when the body has become infected.
A team of NIH-funded researchers led by Dr. Catherine Dulac at Harvard University set out to identify which neurons in mice brains are involved in responding to infections. Their findings appeared in Nature on June 8, 2022.
To induce sickness, the researchers injected mice with an inflammatory agent that mimics an infection. Doing so activated cells in a part of the hypothalamus called the ventral medial preoptic area (VMPO). The hypothalamus is the brain region responsible for regulating functions such as temperature, hunger, and circadian rhythms. The cells that were activated included both neurons and non-neuronal cells. They were located at the base of the brain, near an area where molecules can cross the blood-brain barrier. The neurons had receptors for various immune signals that nearby non-neuronal cells produce.
The team engineered these neurons in mice so that they could be turned on with a chemical signal. Activating the neurons increased the mice's body temperature and caused them to eat less and seek warmer environments, as though they had an infection. The researchers also tried selectively killing these neurons. This prevented the mice from developing fevers or seeking warmer environments in response to infection.
The team then identified brain regions to which the VMPO neurons sent signals. They engineered these connections in mice to activate when illuminated by a particular color of light. Activating the connections to one part of the hypothalamus increased body temperature. Activating those to a different part of the hypothalamus reduced the amount the mice ate.
The results suggest that these VMPO neurons act as a hub to coordinate diverse physiological responses to infection. The researchers propose that when an infection generates immune signals in the blood, these trigger the release of signals into the brain by the cells lining the blood-brain barrier. The signals from these cells activate nearby neurons in the VMPO. The activated neurons raise body temperature, drive warmth-seeking, and reduce appetite. 
The findings could potentially lead to ways to reverse sickness symptoms when they become dangerous to a person's health. "If we know how it works, perhaps we can help patients who have difficulty with these kinds of symptoms, like chemo patients or cancer patients, for example, who have a very low appetite but there's really nothing we can do for them," says lead author Dr. Jessica Osterhout.
The researchers plan to further explore where these neurons connect to in the brain. They also hope to explore how the neurons might affect other physiological or behavioral changes associated with sickness.
—by Brian Doctrow, Ph.D.
Related Links
References: A preoptic neuronal population controls fever and appetite during sickness. Osterhout JA, Kapoor V, Eichhorn SW, Vaughn E, Moore JD, Liu D, Lee D, DeNardo LA, Luo L, Zhuang X, Dulac C. Nature. 2022 Jun 8. doi: 10.1038/s41586-022-04793-z. Online ahead of print. PMID: 35676482.
Funding: NIH's National Institute of Neurological Disorders and Stroke (NINDS) and National Institute of Mental Health (NIMH); Simons Foundation; Howard Hughes Medical Institute.