You are here
September 12, 2023
Chronic traumatic encephalopathy in young athletes
At a Glance
In a study of brains from contact sport players who died before reaching 30, more than 40% had chronic traumatic encephalopathy, or CTE.
The findings confirm that CTE can occur even in young people, but more work is needed to determine how CTE relates to clinical symptoms.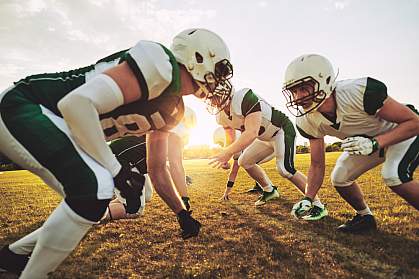 Ground Picture / Shutterstock
Millions of people worldwide get repetitive head impacts through various activities. These can lead to chronic traumatic encephalopathy (CTE), a progressive neurodegenerative disease that causes brain damage similar to that seen in Alzheimer's disease. CTE has been reported in people as young as 17. The incidence of CTE in young people, however, is unknown.
An NIH-funded research team, led by Dr. Ann McKee at Boston University and VA Boston Health Care, analyzed 152 brains (141 male and 11 female) that were donated to a brain bank. The brain donors had a history of repetitive head impacts from playing contact sports and were younger than 30 years old when they died. Researchers examined the brains and surveyed the donors' next of kin about clinical symptoms. Results were published in JAMA Neurology on August 28, 2023.
More than 40% of the donors (63 out of 152) had CTE based on established criteria. Nearly all cases of CTE were mild (stages 1 or 2 out of 4). Donors with CTE tended to be older than those without the disease. The most common cause of death among the donors was suicide, followed by unintentional drug overdose. The causes of death did not differ between those with and without CTE. Most of the donors with CTE were male, but one was female—a collegiate soccer player.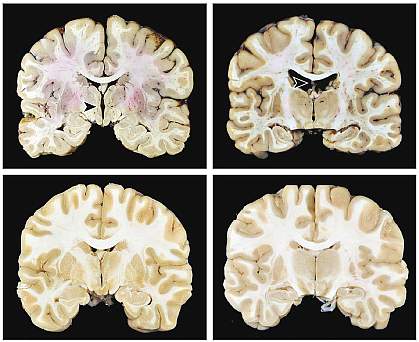 McKee lab, Boston University CTE Center
Most of the donors played sports only at the amateur level, including more than 70% of those with CTE. Three-quarters of those with CTE played American football. The rest participated in ice hockey, soccer, wrestling, or rugby. The football players with CTE tended to have had longer playing careers than those without the disease.
The team identified several abnormalities that occurred more often in the brains of people with CTE. These included structural differences as well as more macrophages (an immune cell) surrounding blood vessels in the white matter of the brain.
Clinical evaluations revealed frequent cognitive, behavioral, and mood symptoms. These included depression, apathy, impulsivity, and impaired decision-making. But the frequency of these symptoms didn't differ between those with and without CTE.
"This study clearly shows that the pathology of CTE starts early," McKee says. "The fact that over 40% of young contact and collision sport athletes in the UNITE Brain Bank have CTE is remarkable."
But the findings suggest that the donors' clinical symptoms were not caused by CTE alone. Instead, these symptoms might reflect a variety of factors. These may include different types of brain damage, environment, medical history, genetics, and mental health. To better understand which symptoms directly relate to CTE, further studies will need to compare the brain pathology and symptoms of people with and without a history of repetitive head impacts.
—by Brian Doctrow, Ph.D.
Related Links
References: Neuropathologic and Clinical Findings in Young Contact Sport Athletes Exposed to Repetitive Head Impacts. McKee AC, Mez J, Abdolmohammadi B, Butler M, Huber BR, Uretsky M, Babcock K, Cherry JD, Alvarez VE, Martin B, Tripodis Y, Palmisano JN, Cormier KA, Kubilus CA, Nicks R, Kirsch D, Mahar I, McHale L, Nowinski C, Cantu RC, Stern RA, Daneshvar D, Goldstein LE, Katz DI, Kowall NW, Dwyer B, Stein TD, Alosco ML. JAMA Neurol. 2023 Aug 28:e232907. doi: 10.1001/jamaneurol.2023.2907. Online ahead of print. PMID: 37639244.
Funding: NIH's National Center for Advancing Translational Medicine (NCATS), National Institute of Neurological Disorders and Stroke (NINDS), and National Institute on Aging (NIA); Andlinger Foundation; National Football League; Mac Parkman Foundation for Adolescent Concussive Trauma; National Operating Committee on Standards for Athletic Equipment; The Nick and Lynn Buoniconti CTE Research Fund; Alzheimer's Association; Concussion Legacy Foundation; World Wrestling Entertainment; US Department of Defense; US Department of Veterans Affairs.