You are here
April 13, 2021
Immune response to vaccination after COVID-19
At a Glance
After a single dose of the Pfizer-BioNTech vaccine, people with a prior COVID-19 infection had antibody levels similar to those of people without prior infection after two vaccine doses.

The results, which need to be confirmed in large, diverse populations, may point to a strategy to stretch the currently limited supply of vaccines against COVID-19.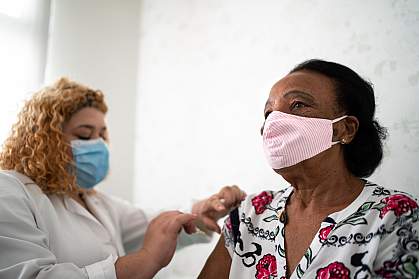 FG Trade / iStock / Getty Images Plus
Countries around the world are now racing to vaccinate people against SARS-CoV-2, the virus that causes COVID-19. It is one of the most ambitious vaccination programs ever.
Two of the vaccines being used in the U.S.—produced by Pfizer-BioNTech and Moderna—require two doses that are given several weeks apart. Small studies have suggested that people who previously had COVID-19 may get a strong immune response from only one dose of these vaccines. If such people get immunity from a single dose, that could free up more shots for others.
To look at this question in a larger group of people, researchers led by Drs. Jonathan Braun, Susan Cheng, and Kimia Sobhani from Cedars-Sinai Medical Center used blood samples donated by healthcare workers at their hospital. The team measured levels of antibodies in the blood before vaccination and then after each of the two vaccine doses. They compared levels in people with prior COVID-19 infection with those who never had the virus. Blood samples were taken between 7 and 21 days after each vaccination.
The study was funded in part by NIH's National Cancer Institute (NCI) and National Heart, Lung, and Blood Institute (NHLBI). Results were published on April 1, 2021, in Nature Medicine.
More than 1,000 people at Cedars-Sinai had received two doses of the vaccine at the time of the study. Almost all had provided blood samples before vaccination. About 500 gave samples after the first dose, 35 of whom had previously been infected with SARS-CoV-2. Just under 240 provided samples after the second dose, 11 of whom had previously had the virus.
Overall, those previously infected with SARS-CoV-2 had higher levels of antibodies at all three time points. The levels of antibodies taken before vaccination in people who were previously infected by the virus were similar to those seen in uninfected people after their first shot. Antibody levels in previously infected people after their first shot were as high as those from uninfected people after their second shot.
The researchers used two different tests to see whether the antibodies in people's blood had the potential to neutralize the virus. After a single vaccine dose, antibodies from previously infected people performed similarly to those from uninfected people after two doses.
"Overall, individuals who were previously infected with COVID-19 developed an antibody response after a single vaccine dose that was comparable to that seen after a two-dose vaccination course administered to individuals without prior infections," Sobhani says. "It appears that a single booster dose given to previously infected individuals offers the same benefit as two doses given to people without prior infection."
Additional research needs to be done before this strategy could be deployed in the general population. This includes long-term follow-up to see how long immunity lasts after a single dose in previously infected people. Larger samples from diverse populations are also needed to account for individual variation in immune responses to infection and vaccination.
—by Sharon Reynolds
Related Links
References: Antibody responses to the BNT162b2 mRNA vaccine in individuals previously infected with SARS-CoV-2. Ebinger JE, Fert-Bober J, Printsev I, Wu M, Sun N, Prostko JC, Frias EC, Stewart JL, Van Eyk JE, Braun JG, Cheng S, Sobhani K. Nat Med. 2021 Apr 1. doi: 10.1038/s41591-021-01325-6. Online ahead of print. PMID: 33795870.
Funding: NIH's National Cancer Institute (NCI) and National Heart, Lung, and Blood Institute (NHLBI); Cedars-Sinai Medical Center; Erika J. Glazer Family Foundation; F. Widjaja Family Foundation; Helmsley Charitable Trust.