You are here
February 5, 2019
Light activity may lower harmful effects of sitting
At a Glance
A study of almost 8,000 people found that even light-intensity movement for 30 minutes a day may reduce the risk of death incurred by sitting.
Replacing sitting with just a few minutes of movement at a time provided health benefits. The findings suggest simple strategies to improve health.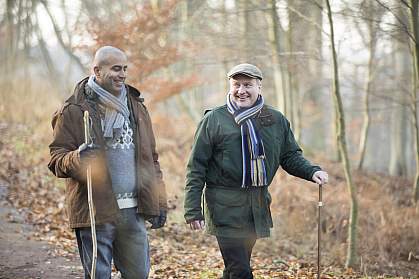 SolStock / E+ / Getty Images
For many people, life is largely sedentary. We sit in the car, at work, and when relaxing at home. A recent study estimated that American adults now spend an average of 11 to 12 hours a day sitting.
Research has shown that long periods of sitting increase the risk of heart disease and death overall. But the amount of activity needed to counter these dangers has been unclear.
To take a closer look, a research team led by Dr. Keith Diaz at Columbia University performed a study within the ongoing Reasons for Geographic and Racial Differences in Stroke (REGARDS) project. Their work was funded in part by NIH's National Institute of Neurological Disorders and Stroke (NINDS).
The study included almost 8,000 participants aged 45 and older. All participants wore an activity monitor for a week between 2007 and 2013. The device recorded how often they moved while awake and the intensity of their activities. Deaths were tracked through April 2017. The researchers then used this data to model how, when substituting for sitting, various amounts and intensities of activity affected the risk of death from any cause. Results were published on January 14, 2019, in the American Journal of Epidemiology.
The team found that any amount of activity was better than sitting. People who swap 30 minutes of sitting for 30 minutes of light-intensity activity per day would have a 17% lower risk of death. Light-intensity activities include walking and doing chores that require moving around.
People who swap 30 minutes of sitting for 30 minutes of moderate to vigorous physical activity per day would have a 35% lower risk of death from any cause. These types of activities can include jogging, bicycling, and playing sports.
But people didn't have to move for a full 30 minutes in a row to benefit. Even smaller intervals to break up periods of sitting—including from just 1 to 5 minutes of activity—reduced the risk of death.
The positive effects of movement were seen regardless of age, race, weight, smoking and drinking patterns, or existing health problems.
Small amounts of movement mainly benefitted people who didn't already have an active lifestyle. For people who had a low activity level overall, taking modest activity breaks made a big difference in the risk of death. For people who already had a high level of activity during the day, however, no additional benefit was seen from a little extra movement.
"Our findings underscore an important public health message that physical activity of any intensity provides health benefits," Diaz says. "If you have a job or lifestyle that involves a lot of sitting, you can lower your risk of early death by moving more often, for as long as you want and as your ability allows."
—by Sharon Reynolds
Related Links
References: Potential Effects of Replacing Sedentary Time With Short Sedentary Bouts or Physical Activity on Mortality: A National Cohort Study. Diaz KM, Duran AT, Colabianchi N, Judd SE, Howard VJ, Hooker SP. Am J Epidemiol. 2018 Dec 14. doi: 10.1093/aje/kwy271. [Epub ahead of print]. PMID:30551177.
Funding: NIH's National Institute of Neurological Disorders and Stroke (NINDS); Coca-Cola Company.