You are here
February 5, 2019
Ebola antibody treatment tested in people
At a Glance
A treatment for Ebola developed from a survivor's protective antibody was found safe in a study of healthy volunteers at the NIH Clinical Center.
The treatment is now being studied in the current Ebola outbreak in the Democratic Republic of the Congo.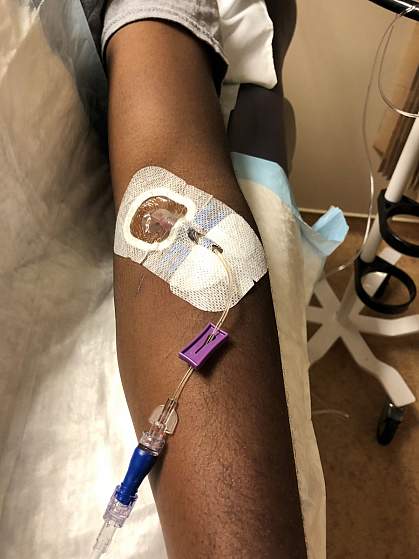 NIAID
The Ebola virus causes severe illness and is often fatal. Early symptoms include fever, headache, body aches, weakness, stomach pain, and lack of appetite. Later, it can cause vomiting, diarrhea, and severe bleeding. No treatments have been approved yet, but supportive care can improve survival.
Ebola outbreaks in Africa are challenging settings to deliver treatments, but researchers have made progress evaluating potential therapies. ZMapp, which is a combination of three proteins called monoclonal antibodies that were made in the lab, seems to help protect against death. ZMapp was tested during an outbreak from 2014-2016, but not enough people could be treated during the outbreak to establish whether ZMapp is more effective than supportive care.
Dr. Nancy J. Sullivan and colleagues at NIH's National Institute of Allergy and Infectious Diseases (NIAID) Vaccine Research Center developed a similar monoclonal antibody called mAb114 that was derived from the blood of an Ebola survivor. It can bind to the virus and prevent it from entering cells. Unlike ZMapp and other treatments undergoing testing, mAb114 is a single antibody rather than a combination. Also, one infusion, rather than several over multiple days, protected Ebola-infected rhesus monkeys from death. In addition, the freeze-dried form of mAb114 is easier than previous treatments to store.
After mAb114 showed effectiveness in monkeys, a team led by Dr. Julie E. Ledgerwood, head of the clinical trials program at the Vaccine Research Center, set out to evaluate whether mAb114 is safe to use in people. Eighteen healthy adults received mAb114 at the NIH Clinical Center. Results appeared in the Lancet on January 24, 2019.
After monitoring for side effects for 6 months, the researchers found that mAb114 was safe and well tolerated. The volunteers did not report any serious side effects. Mild reactions included headache (in four people), chills (in two), nausea (in two), and joint pain (in two). In addition, none of the volunteers developed an immune reaction against mAb114.
In November 2018, researchers in the Democratic Republic of the Congo began to compare several test treatments, including mAb114 and ZMapp. The projected end date for testing is 2023.
"Combatting Ebola requires a comprehensive response that draws on the strengths of all areas of public health," says NIAID Director Dr. Anthony S. Fauci. "Through scientifically and ethically sound clinical trials, we hope to efficiently and definitively establish the safety and efficacy of these investigational Ebola treatments, offering new ways to save lives."
Related Links
References: Safety, tolerability, pharmacokinetics, and immunogenicity of the therapeutic monoclonal antibody mAb114 targeting Ebola virus glycoprotein (VRC 608): an open-label phase 1 study. Gaudinski MR, Coates EE, Novik L, Widge A, Houser KV, Burch E, Holman LA, Gordon IJ, Chen GL, Carter C, Nason M, Sitar S, Yamshchikov G, Berkowitz N, Andrews C, Vazquez S, Laurencot C, Misasi J, Arnold F, Carlton K, Lawlor H, Gall J, Bailer RT, McDermott A, Capparelli E, Koup RA, Mascola JR, Graham BS, Sullivan NJ, Ledgerwood JE; VRC 608 Study team. Lancet. 2019 Jan 24. pii: S0140-6736(19)30036-4. doi: 10.1016/S0140-6736(19)30036-4. [Epub ahead of print]. PMID: 30686586.
Funding: NIH's National Institute of Allergy and Infectious Diseases (NIAID) Vaccine Research Center and the Defense Advanced Research Projects Agency.