You are here
March 5, 2019
Nutrition supplement increases infant birth size
At a Glance
Women in lower-income countries who received nutritional supplements before or early in pregnancy were more likely to give birth to healthy-sized babies.
Despite challenges in running the study, the results highlight the potential of targeting maternal nutrition to improve children's life-long health.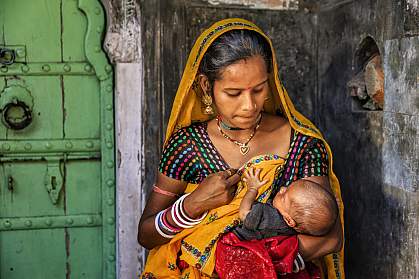 Hadynyah / E+ / Getty Images
When women are not well nourished at the start of pregnancy, their children are more likely to be small at birth and have ongoing impaired growth in height, called stunting. Stunting is associated with consequences that last into adulthood. These include a greater susceptibility to disease, poorer performance in school, and a higher risk of early death.
Studies have looked at whether supplementing undernourished women's diets during pregnancy makes it more likely that their babies will be born at a healthy weight. Most of these studies provided extra nutrients to women later in their pregnancies and showed modest results.
Researchers led by Drs. Michael Hambidge and Nancy Krebs of the University of Colorado wanted to look at the effects of supplementation that begins either before pregnancy or in the first trimester. The team recruited more than 7,300 women, aged 18 to 35, from rural areas in the Democratic Republic of the Congo (DRC), Guatemala, India, and Pakistan. Participants were not pregnant when joining the trial but expected to conceive within the next 18 months.
The trial was funded in part by NIH's Eunice Kennedy Shriver National Institute of Child Health and Human Development (NICHD). Results were published in the February issue of the American Journal of Clinical Nutrition.
The women were randomly assigned to one of three groups: supplements beginning at least 3 months before conception; supplements starting at the end of the first trimester; or no supplements given as part of the trial.
The primary supplement provided healthy fats, modest amounts of protein and calories, and vitamins and minerals. Women in the supplement groups who had a body mass index (BMI) of less than 20 during the study also received a second supplement that provided more protein and calories to help them gain weight. Community health workers visited participants every 2 weeks to check their health and pregnancy status and to record how many of the supplements they took.
Of the nearly 3,100 women who became pregnant during the study, about 2,500 gave birth and had their newborns' measurements taken within 2 days of birth. Women who received the supplements beginning either before pregnancy or in the first trimester were 31% less likely to have a child stunted at birth. They were also 22% less likely to have a child considered small for their gestational age.
The researchers encountered challenges that made combining the data from all four study sites difficult. For example, ultrasound to estimate gestational age was not available in the DRC. Overall, the results for combined sites or single sites alone were generally consistent in showing improved birth outcomes.
"In settings with high rates of poor growth in infants and young children and without targeting women with especially poor nutritional status, fetal growth was improved with maternal nutrition supplements commenced either before conception or by late in the first trimester," Krebs says.
"Since women often do not recognize they are pregnant until after the first trimester, these results support strategies to improve women's nutrition before they conceive," Hambidge says.
Related Links
References: A multicountry randomized controlled trial of comprehensive maternal nutrition supplementation initiated before conception: the Women First trial. Hambidge KM, Westcott JE, Garcés A, Figueroa L, Goudar SS, Dhaded SM, Pasha O, Ali SA, Tshefu A, Lokangaka A, Derman RJ, Goldenberg RL, Bose CL, Bauserman M, Koso-Thomas M, Thorsten VR, Sridhar A, Stolka K, Das A, McClure EM, Krebs NF; Women First Preconception Trial Study Group. Am J Clin Nutr. 2019 Feb 1;109(2):457-469. doi: 10.1093/ajcn/nqy228. PMID:30721941.
Funding: NIH's Eunice Kennedy Shriver National Institute of Child Health and Human Development (NICHD) and Office of Dietary Supplements (ODS); Bill & Melinda Gates Foundation.