You are here
March 2, 2021
Poor air quality across Northeastern public transit systems
At a Glance
Researchers found that fine particulate matter levels in the air of subway systems across the Northeastern U.S exceed air safety standards.
The results suggest a need for mitigation efforts in subway systems to reduce potential health hazards for commuters and subway workers.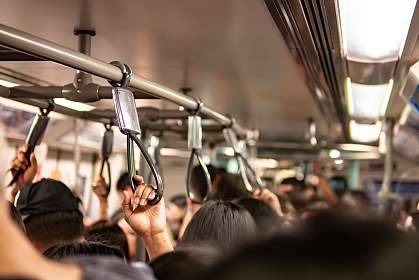 Wachiwit / iStock / Getty Images Plus
Air pollution is a mix of hazardous substances. These substances are released from both human-made and natural sources. These include vehicle and industrial emissions from fossil fuel combustion, cigarette smoke, and burning organic matter, such as wildfires. Air pollution can affect lung development and is linked to development of emphysema, asthma, chronic obstructive pulmonary disease (COPD), and other respiratory diseases. It can also have cardiac effects.
Fine particulate matter accounts for most health effects from air pollution in the U.S. These are fine inhalable particles with diameters of 2.5 micrometers and smaller. They're 30 times thinner than a human hair and can be inhaled deeply into the lungs. People exposed to more than the Environmental Protection Agency's (EPA's) annual standard of 12 micrograms per cubic meter (μg/m3) can be at risk for serious health hazards.
Those who ride or work in subways may inhale air pollutants while waiting on train platforms or riding in trains. To examine levels of fine particulates in U.S. public transit systems, a team of scientists led by Dr. Terry Gordon and David Luglio at NYU Langone and Dr. M. J. Ruzmyn Vilcassim at the University of Alabama at Birmingham took air samples from 71 subway stations across the Northeast. Samples were collected during morning and evening rush hours in stations located among 12 subway lines in Philadelphia, Boston, New York City, New Jersey, and Washington, D.C.
The study was funded by NIH's National Institute of Environmental Health Sciences (NIEHS). Results were published on February 10, 2021 in Environmental Health Perspectives.
Researchers collected air samples from both train cars and station platforms. Two subway systems in New York showed the highest fine particulate levels. The average concentrations in underground stations were 779 μg/m3 for the PATH line connecting New York City to New Jersey; 547 μg/m3 for New York's MTA; 341 μg/m3 for the D.C. WMATA metro; 327 μg/m3 for the "T" in Boston, 112 for Philadelphia's SEPTA, and 91 μg/m3 for the LIRR connecting Long Island to New York City.
Concentrations at the stations were about two to seven times the EPA's 24-hour air standard of 35 μg/m3, with one station even higher. In contrast, the average background fine particulate matter levels for samples taken from above ground outside these subway stations ranged from 10 to 24 μg/m3.
The researchers next analyzed the elements that made up the fine particulate matter. Iron and carbon made up the majority of the particulate matter. Friction from brakes, between the train wheels and rails, electricity-collection shoes, and the third rail are likely sources of the iron. Other elements, such as silicon and arsenic, varied among the subways.
"Our findings add to evidence that subways expose millions of commuters and tens of thousands of transit employees, on a daily basis, to air pollutants at levels known to pose serious health risks over time," Luglio says.
—by Tianna Hicklin, Ph.D.
Related Links
References: PM2.5 Concentration and Composition in Subway Systems in the Northeastern United States. Luglio DG, Katsigeorgis M, Hess J, Kim R, Adragna J, Raja A, Gordon C, Fine J, Thurston G, Gordon T, Vilcassim MJR. Environ Health Perspect. 2021 Feb;129(2):27001. doi: 10.1289/EHP7202. Epub 2021 Feb 10. PMID: 33565894.
Funding: NIH's National Institute of Environmental Health Sciences (NIEHS)