You are here
March 2, 2021
Antibody treatment for MERS coronavirus safe in people
At a Glance
A combination of two monoclonal antibodies prevented and effectively treated Middle East Respiratory Syndrome (MERS) in mice.
The antibodies were also safe when given to healthy human volunteers, paving the way for larger trials in people.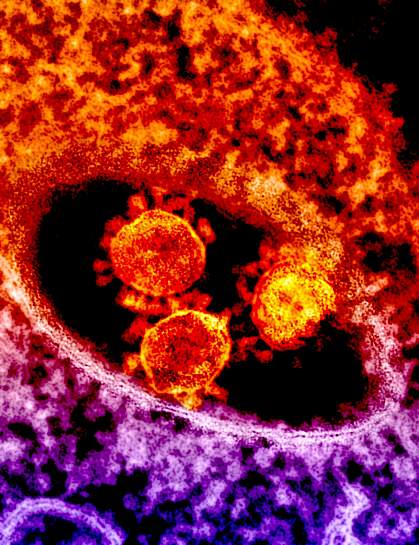 NIAID
Since emerging in late 2019, SARS-CoV-2, the virus responsible for the COVID-19 pandemic, has dominated biomedical research. But SARS-CoV-2 is not the only novel coronavirus to emerge this century. The first, called SARS-CoV, caused the outbreak of Severe Acute Respiratory Syndrome (SARS) in November 2002. MERS-CoV, which causes MERS, was the second.
MERS-CoV was identified in September 2012. There are still small outbreaks of this coronavirus today. While SARS-CoV-2 spreads much more easily than MERS-CoV, MERS-CoV is more dangerous. The virus that causes MERS kills about a third of the people who are infected.
Since 2012, researchers have been working to develop treatments for MERS. In a new study, researchers led by Dr. Sumathi Sivapalasingam from Regeneron Pharmaceuticals tested the ability of two monoclonal antibodies to prevent and treat MERS in mice. Monoclonal antibodies are similar to antibodies produced by the body to fight infections, but are instead designed and manufactured.
The two antibodies tested in the study, called REGN3048 and REGN3051, bind to a protein called the spike protein on the surface of MERS-CoV. Like SARS-CoV-2, MERS-CoV uses its spike protein to attach and get inside human cells.
The study was funded in part by NIH's National Institute of Allergy and Infectious Diseases (NIAID). Results were published on January 28, 2021, in the Journal of Infectious Diseases.
The research team first gave either one of the antibodies or a combination of the two to mice engineered to make the human target for the MERS-CoV spike. When given a day before infection with MERS-CoV, both antibodies reduced the ability of the virus to copy itself inside cells. REG3051 was much more potent—a dose only a tenth as large provided the same antiviral effect.
A combination of the two antibodies was even more effective at preventing infection. When given together, no virus could be detected in the mice by two days after infection.
The combination was also more potent than either antibody alone when used as a treatment. When medium or high doses were given to mice one day after exposure MERS-CoV, no virus could be found in the mice within a day. The combination also prevented damage to the lungs.
The researchers next performed safety tests of the combined treatment in people. Forty-eight healthy people received either the antibodies in six progressively larger doses or a placebo. No serious side effects were seen at any dose. One participant experienced substantial itching and a rash that went away with treatment.
Blood tests showed that the antibodies remained in the body for several weeks. None of the volunteers developed an immune reaction to the monoclonal antibodies.
"Monoclonal antibodies against the spike proteins have demonstrated efficacy in COVID-19. These results demonstrate the potential of monoclonal antibody therapies for the prevention or treatment of MERS," says Dr. John Beigel, an infectious disease expert at NIAID.
Related Links
References: Human Monoclonal Antibody Cocktail for the Treatment or Prophylaxis of Middle Eastern Respiratory Syndrome Coronavirus (MERS-CoV). Sivapalasingam S, Saviolakis GA, Kulcsar K, Nakamura A, Conrad T, Hassanein M, Sumner G, Elango C, Kamal MA, Eng S, Kyratsous CA, Musser BJ, Frieman M, Kantrowitz J, Weinreich DM, Yancopoulos G, Stahl N, Lipsich L. J Infect Dis. 2021 Jan 28:jiab036. doi: 10.1093/infdis/jiab036. Online ahead of print. PMID: 33507266.
Funding: NIH's National Institute of Allergy and Infectious Diseases (NIAID); U.S. Department of Health and Human Services; Regeneron Pharmaceuticals, Inc.