You are here
December 4, 2019
Building Trust in Vaccines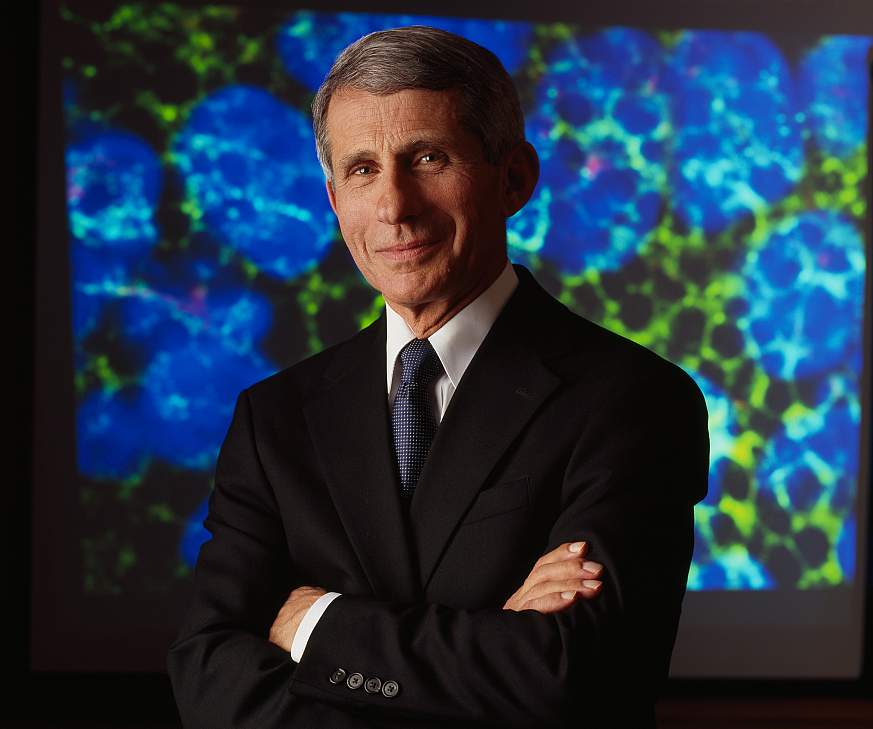 By Anthony S. Fauci, M.D.
Director, NIH's National Institute of Allergy and Infectious Diseases (NIAID)
As the director of NIAID, I oversee biomedical research on novel and improved vaccines for infectious diseases such as dengue, tuberculosis, malaria, influenza, respiratory syncytial virus, and HIV. Every day, scientists are advancing research on vaccine technologies that we hope will reduce disease and save lives. At the same time, misinformation is threatening to erode the public's trust in vaccines.
As communicators, it is our responsibility to remind people that vaccination remains one of the best ways to protect ourselves, our families, and our communities from serious infectious diseases. Vaccine side effects are extremely rare, and the benefits of getting vaccinated significantly outweigh the risks. However, with so many vaccine myths spreading online, some people are understandably confused. It is important to respond to earnest questions with patience, compassion, and a clear explanation of the science backing the safety and benefits of immunization.
People often ask me why they need to get vaccinated against diseases that they have never seen. For example, only five cases of diphtheria have been reported in the past decade. I explain that decades of widespread vaccination are precisely why certain infectious diseases are so uncommon in the U.S. The more people who get vaccinated, the harder it is for an infectious disease to spread. This is the concept known as herd immunity.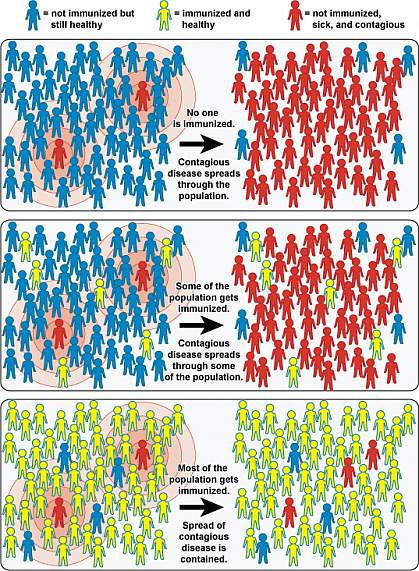 NIAID
Unfortunately, successful immunization programs may have diminished our sense of urgency to get vaccinated. People are less concerned about diseases such as polio or measles because most have not seen these debilitating illnesses. Yet, recent outbreaks of measles in the U.S. illustrate how gaps in vaccination coverage can allow a highly contagious respiratory disease to spread quickly. Thanks to widespread immunization, measles has not been endemic (constantly present) in the U.S. for more than 20 years. However, measles exists in other countries, and the disease can be brought to the U.S. by travelers and then spread to unimmunized people.
It can be helpful to ask people to think of vaccines like seatbelts. Although we do not expect to be in an accident every time we drive a car, we still buckle up and strap our children in car seats. Even though some vaccine-preventable diseases are uncommon in the U.S., it is important to continue to receive recommended immunizations. The recent resurgence of measles is a tragic reminder of what happens when people decide not to vaccinate.
Effective vaccination programs can completely eradicate certain diseases. Smallpox, which killed an estimated 300 million people in the 20th century alone, was eradicated in 1980 thanks to an unprecedented immunization campaign that remains one of the world's greatest public health achievements.
The CDC provides vaccine communication tips that note health care professionals should give patients their strong recommendation to vaccinate by explaining the importance of vaccines and by sharing their personal experiences with vaccination. Recently, I shared my flu shot experience to encourage people to get immunized (click to see video). As a public health official, I feel obliged to use every opportunity I have to emphasize the value of vaccination and dispel myths about vaccines.
As I emphasize in the video, it is misguided on both a personal and community level to skip getting a flu shot. Influenza can be a very serious illness. Even young, otherwise healthy people who become ill with influenza feel terrible and may miss days of work or school. Some may even need to be hospitalized. During the 2017-2018 influenza season, influenza caused an estimated 959,000 hospitalizations and 79,400 deaths in the U.S., according to the CDC. Studies show that flu vaccination can keep you from getting sick and can reduce your risk of flu-associated hospitalization should you become infected.
Not getting vaccinated also increases the risk of infection to vulnerable individuals in the community. We share a responsibility to protect not just ourselves, but our community from influenza. Babies under six months of age and people with certain health conditions who cannot be vaccinated are better protected from influenza when the community has widespread vaccination coverage, thus reducing influenza transmission.
As we research new vaccine technologies, it is important that we continue to clearly explain the rigorous process by which vaccines are tested. Vaccine candidates are first examined in the laboratory and advance to clinical trials only if they are shown to be safe in animals. In early-stage clinical trials, researchers test if the vaccine is safe and able to induce an immune response. Then, they test the vaccine in large groups to see if it effectively prevents disease. Before granting a license, the FDA evaluates all data to ensure the vaccine's benefits outweigh any potential side effects. Additional measures are in place to monitor adverse events post-licensure.
As research advances our understanding of how we can prevent and treat disease, we must continue to identify ways to increase the public's trust in vaccines. Vaccines can save lives, but only if people trust that they are safe and effective.