You are here
September 16, 2015
Building the Precision Medicine Initiative National Research Cohort — The Time is Now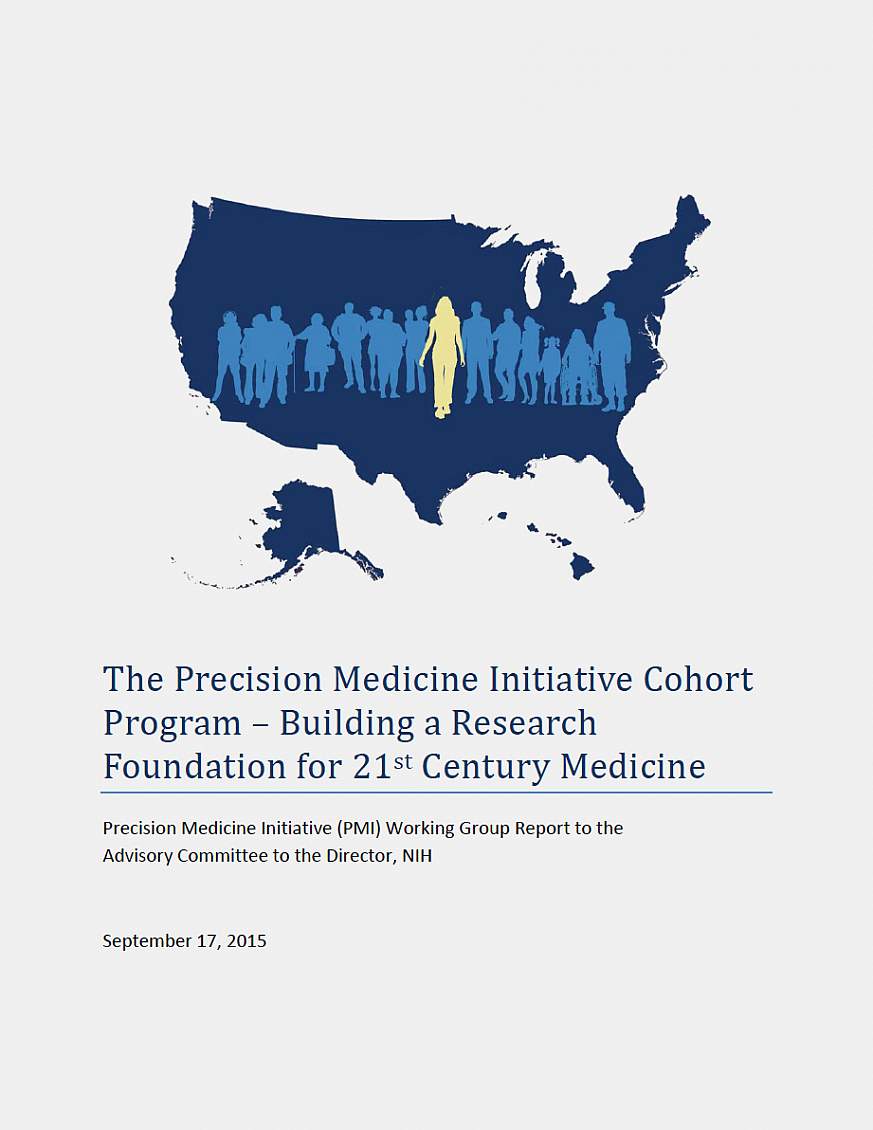 In 2004, I published a paper in Nature proposing a longitudinal, large-scale cohort in the United States to try to track all of the factors involved in health and disease. It landed with a loud thud. No one was ready to go there. The truth was we just weren't ready in the U.S. for such a large-scale, complex research endeavor. Fast forward to 2015, and it's inspiring to see how far we've come – Americans are engaging in improving their health and participating in health research more than ever before, electronic health records have been widely adopted, genomic analysis costs have dropped significantly, data science has become increasingly sophisticated and health technologies have become mobile. The stars have aligned to make now the ideal time to pursue this ambitious endeavor. So on January 20, in the State of the Union address, President Obama proposed the Precision Medicine Initiative. The goal is to enable a new era of medicine through research, technology and policies that empower patients, researchers and providers to work together toward development of individualized medicine.
There are many components of the President's Precision Medicine Initiative and many federal partners. NIH's contribution to the Precision Medicine Initiative has two components: one on accelerating dramatic new opportunities in cancer genomics to identify the precise DNA changes in individual cancers and choosing therapies accordingly; and the other on developing a long-term approach to all diseases. The second component has now reached a major inflection point.
Today, a working group of my Advisory Committee to the Director laid out a framework for enrolling 1 million or more Americans to expand our knowledge and practice of precision medicine. The Precision Medicine Initiative Cohort Program will be a broad, powerful resource for researchers working on a variety of important health questions. It will seek to extend precision medicine's success with certain types of cancers to many other diseases, including common diseases such as diabetes, heart disease, Alzheimer's, obesity, and mental illnesses like depression, bipolar disorder, and schizophrenia, as well as rare diseases. Importantly, the cohort will focus not just on disease, but also on ways to increase an individual's chances of remaining healthy throughout the lifespan.
Equally important, the Precision Medicine Initiative Cohort Program will change the way we do research. Participants will be partners in research, not subjects, and will have access to a wide range of study results. What we're doing with the Precision Medicine Initiative cohort is intersecting in a synergistic way with other fundamental changes in medicine and research to empower Americans to live healthier lives. I am so excited to see this dream come to life. I encourage you to learn more about the Precision Medicine Initiative Cohort Program by reading the report, news release and visiting the NIH Precision Medicine Initiative website (see related links).
Francis S. Collins, M.D., Ph.D.
Director, National Institutes of Health