You are here
November 17, 2023
Intent to Appoint Dr. W. Kimryn Rathmell as Director of the National Cancer Institute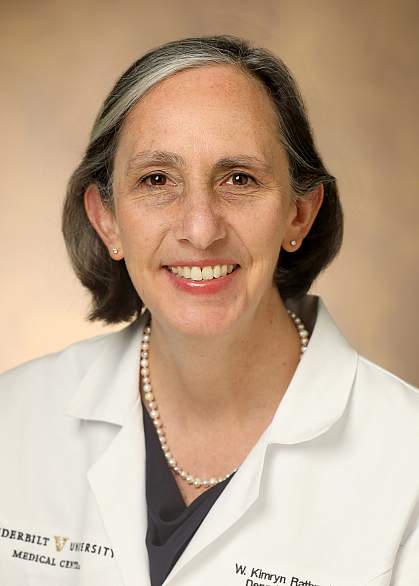 Vanderbilt University
I applaud President Biden's announcement that he intends to appoint W. Kimryn Rathmell, M.D., Ph.D., as the 17th Director of the National Cancer Institute (NCI). An internationally recognized expert in kidney cancer, Dr. Rathmell is an ideal candidate to lead NIH's efforts to end cancer as we know it. She has spent her career driving efforts to boost support and improve outcomes for those facing a cancer diagnosis, living the principles of President Biden's Cancer Moonshot Initiative.
Dr. Rathmell currently serves as the Hugh Jackson Morgan Chair in Medicine, Chair of the Department of Medicine and Physician-in-Chief at Vanderbilt University Medical Center (VUMC) in Nashville. A medical oncologist and translational scientist, Dr. Rathmell takes her work from the laboratory to the patient's bedside. Her translational research laboratory focuses on the molecular biology of kidney cancer and is integrated into a clinical research program at VUMC and Vanderbilt Ingram Cancer Center. This groundbreaking work has yielded better ways to detect and treat cancer using molecular biomarkers.
I especially admire Dr. Rathmell's dedication to mentorship and training the next generation of physician-scientists. She has led numerous training and career development programs at Vanderbilt and the University of North Carolina, where she previously served on the faculty. In 2022, Dr. Rathmell was elected to the National Academy of Medicine which recognized not only her many research achievements, but also her mentorship of physician-scientists.
Dr. Rathmell is very familiar with NCI, serving on NCI's Board of Scientific Advisors and as a member of The Cancer Genome Atlas program, and was recognized with the 2021 American Association for Cancer Research Team Science Award. Additionally, she has held leadership positions for the Kidney Cancer Research Foundation and the American Society for Clinical Investigation. She is a member of the Association of American Physicians and a fellow of the American Society of Clinical Oncology. 
After receiving her undergraduate degree in chemistry and biology at the University of Northern Iowa, Dr. Rathmell earned her Ph.D. in biophysics and M.D. from Stanford University. She participated in an internal medicine internship at the University of Chicago and completed an internal medicine residency and medical oncology fellowship at the University of Pennsylvania.
I want to thank my dear colleague Douglas R. Lowy, M.D., who will continue to serve as Acting NCI Director until Dr. Rathmell officially takes office.
Monica M. Bertagnolli, M.D.
Director, National Institutes of Health