You are here
September 6, 2016
Scientific Plan for Cancer Moonshot Moves Forward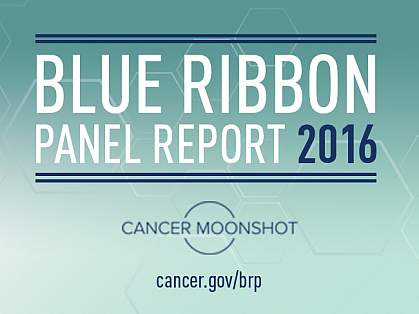 In his January 2016 State of the Union address, President Obama announced a Cancer Moonshot "for the loved ones we've all lost, for the families we can still save," and asked Vice President Joe Biden to lead it. The Cancer Moonshot set an ambitious goal to double our rate of progress in preventing, diagnosing, and treating cancer.  
NCI moved swiftly to take on this challenge, and established a visionary team of experts and leaders across fields, disciplines, and sectors through the Cancer Moonshot Blue Ribbon Panel. At the same time, NCI sought input from the public through an online feedback website, and the response was impressive. It was pretty clear from the overwhelming response that cancer and the desire to destroy it unifies all of us toward a common goal.
After several months of intense deliberations, the Panel shared their recommendations today with the National Cancer Advisory Board (NCAB) and the public. The recommendations, which were considered and accepted by the NCAB with revisions that reflect the NCAB's discussion, define 10 approaches that offer exceptional promise in tipping the odds in the favor of cancer patients. Building on research efforts already underway, the recommendations were embraced by NCI Acting Director Douglas Lowy, M.D. These critical approaches are most likely to achieve the goals of the Cancer Moonshot – to make a decade's worth of progress in five years.
The BRP recommendations are an important step in laying the scientific foundation for the broader Cancer Moonshot goals. This scientific roadmap will be bolstered by collaborative efforts of fellow government agencies on the White House Cancer Moonshot Task Force, partnerships with the private sector, and other activities under the leadership of Vice President Biden in a broad vision for the Cancer Moonshot to be released by the White House later this fall.
I encourage you to read the report to learn more about the research direction for the Cancer Moonshot, and the 10 approaches that will accelerate progress against cancer.
Francis S. Collins, M.D., Ph.D.
Director, National Institutes of Health