You are here
November 5, 2014
NIH Director's Statement on Dr. Lindberg's retirement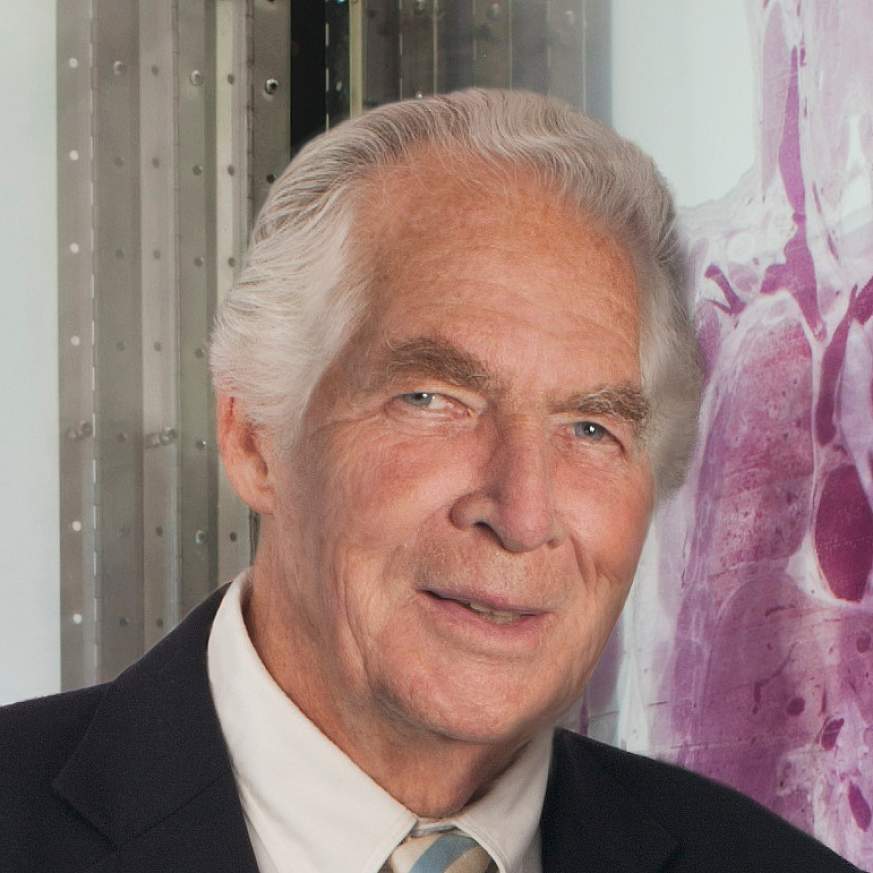 Jessica Marcotte
It is my honor to recognize and congratulate one of the longest-serving leaders at NIH and a pioneer in applying computer and communications technology to biomedical research, health care, and the delivery of health information wherever it is needed. Don Lindberg, M.D., who has been the director of the National Library of Medicine for more than 30 years, has informed me that he plans to retire at the end of March 2015. I want to thank Don for his outstanding service to NIH, to the global biomedical research community, and to health professionals, patients, and the public. Trained as a pathologist, Don re-invented himself as an expert and groundbreaking innovator in the world of information technology, artificial intelligence, computer-aided medical diagnosis, and electronic health records. As the first President of the American Medical Informatics Association, Don is considered by many to be the country's senior statesman for medicine and computers.
Don has created programs that changed fundamentally the way biomedical information is collected, shared, and analyzed. Think about it—when Don began, NLM had no electronic journals in its collection, few people owned personal computers, and even fewer had access to the Internet. He introduced numerous landmark projects such as free Internet access to MEDLINE via PubMed, MedlinePlus for the general public, the Visible Human Project, ClinicalTrials.gov, the Unified Medical Language System, and more. Don also created the National Center for Biotechnology Information (NCBI). NCBI has been a focal point for "Big Data" in biomedicine for decades, providing rapid access to the data generated by the Human Genome Project and now to massive amounts of genetic sequence data generated from evolving high-throughput sequencing technologies. GenBank, PubMed Central, and dbGaP are just some of the many NCBI databases that support and enable access to the results of research funded by NIH and many other organizations.
While serving as NLM's director, Don was drafted to lead important interagency programs. He was the founding Director of the National Coordination Office for High Performance Computing and Communications in the President's Office of Science and Technology Policy and was named by the HHS Secretary to be the U.S. National Coordinator for the G-7 Global Healthcare Applications Project. He has always been ahead of the curve in taking advantage of new developments in computing and networking, ensuring that the NLM computer center has the reliability, security, and high speed connections necessary to keep pace with rapidly rising demands.
Don has been equally concerned with delivering high quality health information to everyone, including health professionals and the public in disadvantaged rural areas and inner cities. He established NLM's important outreach initiatives, expanding the scope of the National Network of Libraries of Medicine and entering into longstanding and successful partnerships with minority serving institutions, tribal and community-based organizations, and the public health community. Don is not a self-promoter, so sometimes these trailblazing efforts seem to appear magically. Those of us who know better, however, understand they came about because of Don's tireless energy, scientific acumen, and unwavering focus and determination. We will miss Don as a preeminent leader at NIH, who brought NLM into the modern age of biomedical information. We also, however, will continue to benefit from his wisdom, drive, and accomplishments. Please join me in congratulating Don on a job extraordinarily well done and wishing him the best in his future pursuits.
Francis S. Collins, M.D., Ph.D.
Director, National Institutes of Health