You are here
November 8, 2017
Statement on the departure of Dr. Roderic Pettigrew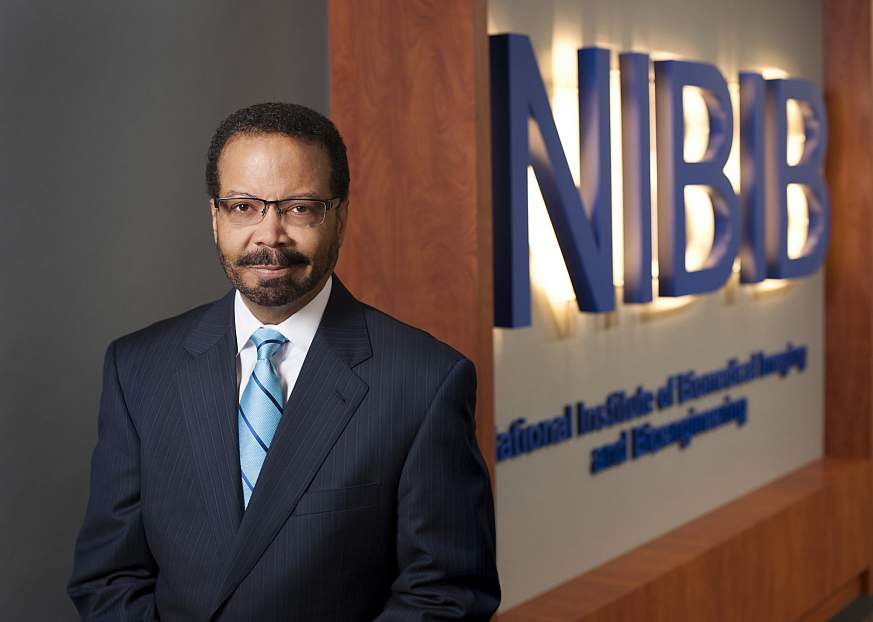 With a mixture of pride and sorrow, I announce that Roderic I. Pettigrew, Ph.D., M.D., will step down in mid-November as Director of the National Institute of Biomedical Imaging and Bioengineering (NIBIB) to assume two senior leadership positions at Texas A&M University, one in conjunction with Houston Methodist Hospital. Roderic will become the Chief Executive Officer of a bold, new program called "EnHealth," that will integrate engineering into all of the Texas A&M colleges within the university's system that are part of the healthcare enterprise. This will include the colleges of Medicine, Pharmacy, Dentistry, Veterinary Medicine, Nursing, and Public Health. In addition, he will be the Executive Dean of a new Houston-based engineering medicine track within the initiative, called "EnMed" that will train Texas A&M medical students to invent solutions to challenging medical problems. EnMed is a partnership with Houston Methodist hospital, and Dr. Pettigrew will have appointments at the hospital as the Welch Foundation Endowed Chair in the College of Medicine at Texas A&M. The EnMed program will use instructional and research space in the Texas Medical Center, including space in Houston Methodist Hospital, the Texas A&M Health Science Center's Institute of Biosciences and Technology, and a recently purchased building in the Texas Medical Center.
To truly appreciate what Dr. Pettigrew has accomplished in his 15 years as NIBIB director, we need to step back in time and recall that some within and outside of NIH did not feel it was necessary to have a new institute devoted to biomedical imaging/bioengineering. Despite the naysayers and the skeptics, Roderic left Atlanta, where he was professor of radiology and medicine at Emory University and professor of engineering at the Georgia Institute of Technology, and came to Bethesda to take on the challenge of being the founding NIBIB director, and establishing and building a brand-new enterprise at NIH. With an unwavering focus on the science, and deft skills as a leader, he led the creation of a research program that is now one of the signature institutions of the agency, leading the way in producing more U.S. patents per appropriated dollar than any other Federal agency. Roderic will leave behind a legacy of outstanding research and groundbreaking advances. The numerous awards that Roderic has received before and during his tenure at NIH, including the inaugural Gold Medal from the Academy of Radiology Research and this year's Gold Medal from one of the world's largest medical societies, the Radiological Society of North America, are a testimony to his sustained, universal impact on the field of medical science.
Among his many transformative accomplishments as NIBIB director are establishing a partnership with the Howard Hughes Medical Institute to create new interdisciplinary graduate training programs; creating the Quantum Grants program to achieve "medical moonshots" by pursuing high-risk, high-impact projects designed to solve major healthcare problems; championing a broad-based effort that included academic, industry, and government leaders to address paralysis by advancing technologies that partially restore voluntary motor and autonomic function following spinal cord injury; establishing an Indo-U.S. partnership to invent a new technology for passive, cuffless blood pressure monitoring; and creating the NIBIB Trailblazer grant award for early-stage investigators in exploratory, high-impact research.
I will miss having Roderic at the table during our Institute/Center Director meetings. I can always count on him to contribute insightful, incisive perspectives on the many issues we tackle as NIH leadership. I will also miss him as a friend. Our only solace is that he is moving on to create an entirely new kind of medical school, and to help make one of our distinguished grantee institutions even greater.
Following Roderic's departure and while we conduct a national search for a new NIBIB Director, Jill Heemskerk, Ph.D., will serve as Acting Director. Jill has held a number of leadership positions at the NIH, most recently as Deputy Director of NIBIB, and I deeply appreciate her willingness to lead the Institute in this transition period.
I want to congratulate Roderic on being an exemplary colleague and remarkably effective leader at NIH, and on his extraordinary career. I thank him for his steadfast devotion to our mission and for all he's done, and wish him the very best as he heads to the Lone Star State.
Francis S. Collins, M.D., Ph.D.
Director, National Institutes of Health