You are here
August 31, 2023
Statement on the retirement of Patricia Flatley Brennan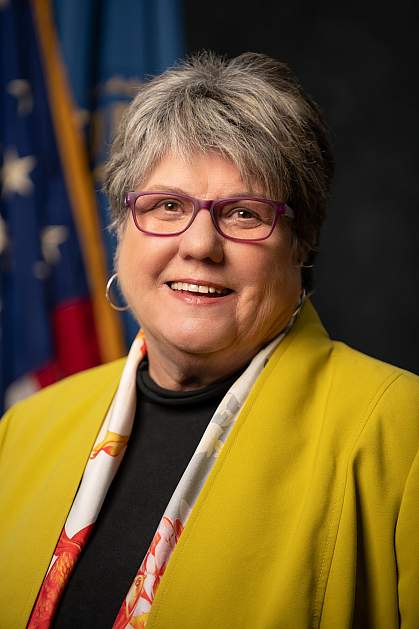 It is with immense gratitude and appreciation for her contributions to NIH that I announce the retirement of Patricia Flatley Brennan, R.N., Ph.D., Director of the National Library of Medicine (NLM), on September 30, 2023.
For the past seven years, Patti has done an outstanding job advancing the role of NLM as the epicenter for biomedical data science at NIH and across the biomedical research enterprise. As the first nurse, industrial engineer, and woman to lead NLM, her unique career path has guided her approach to integrate health information management with artificial intelligence (AI), machine learning, and deep learning to advance the future of health care.  
Under her leadership, Patti has positioned NLM as a global scientific research library with visible and accessible pathways to research and information that is universally actionable and meaningful to empower researchers, clinicians, patients, and caregivers. NLM has expanded its intramural and extramural research programs, extended access to credible and reliable health information, and further acquired and preserved globally available biomedical literature using modernized approaches to digital research and outreach. Patti led the development of a new strategic plan focused on NLM platforms to advance fundamental and translational science and provide access to data that can help inform clinical care decisions.
With an eye to the future, Patti directed NLM's efforts to modernize, strengthen, and expand mission-critical biomedical and information systems such as PubMed and PubMed Central (PMC), ClinicalTrials.gov, GenBank, and the Sequence Read Archive (SRA)—making SRA the world's largest publicly available repository for high-throughput sequencing data. She also advocated for and spearheaded NLM's efforts to undertake a major building restoration and renovation of the NLM's historical structure.
Patti also holds an appointment as Adjunct Investigator in NIH's National Institute of Nursing Research Division of Intramural Research where she directs the Advanced Visualization Laboratory. In the lab, she developed interactive virtual reality simulations to enable patients with a variety of complex health conditions to rehearse problem-solving behaviors that foster improved health outcomes within home-based care environments.
Patti has received numerous accolades recognizing her contributions to her field, including four honorary degrees. In 2020, she was inducted into the American Institute for Medical and Biological Engineering (AIMBE) College of Fellows. She is also a member of the National Academy of Medicine and a fellow of the American Academy of Nursing, the American College of Medical Informatics, and the New York Academy of Medicine.
I am personally going to miss Patti's vision and leadership in areas such as data science, medical informatics, and most recently on generative AI. Patti's guidance was often sought out not only by NIH leadership but by leaders across HHS and the federal government.  
Please join me in thanking Patti for her leadership at NIH, and in wishing her the very best for her retirement. Following Patti's departure and while we conduct a national search for replacement, Stephen Sherry, Ph.D., who currently serves as Director of NLM's National Center for Biotechnology Information and NLM Associate Director for Scientific Data Resources, has graciously agreed to serve as the Acting NLM Director.
Lawrence A. Tabak, D.D.S., Ph.D.
Acting Director, National Institutes of Health