You are here
News Release
Tuesday, July 25, 2017
The All of Us Research Program announces first community partner awards
Four organizations to support engagement of diverse communities in ambitious research effort.
The National Institutes of Health announced its first four community partner awards to begin building a national network of trusted leaders to motivate diverse communities to join the All of Us Research Program, part of the Precision Medicine Initiative. This initial group of awardees will receive a combined $1.7 million this fiscal year, with future support planned pending the availability of funds. These awardees will raise awareness about the program among seniors, Hispanics and Latinos, African Americans and the LGBTQ community, to complement other outreach efforts of the program. NIH anticipates making additional funding awards for community partners in the future, drawing on the lessons learned from this initial set of awardees.
All of Us is an ambitious effort to gather data over time from 1 million or more people living in the United States, with the ultimate goal of accelerating research and improving health. Unlike research studies that are focused on a specific disease or population, All of Us will serve as a national research resource to inform thousands of studies, covering a wide variety of health conditions. Researchers will use data from the program to learn more about how individual differences in lifestyle, environment and biological makeup can influence health and disease. By taking part, people will be able to learn more about their own health and contribute to an effort that will advance the health of generations to come.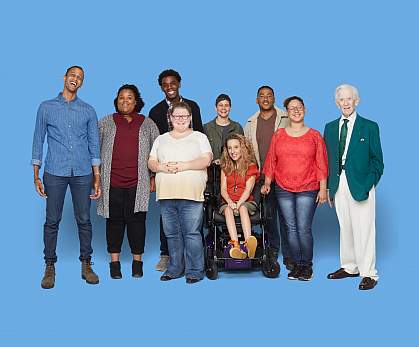 NIH
"Community partners are integral to All of Us," said Eric Dishman, director of All of Us at NIH. "This first-of-its-kind program seeks to include people from all walks of life, and these community partner awardees were selected to help achieve that goal."
"We're committed to ensuring that participant perspectives are considered throughout every aspect of the program," said Dara Richardson-Heron, M.D., All of Us chief engagement officer. "Guaranteeing a voice to those who are typically underrepresented in medical research is step one."
Awardees include the following:
Reviewers evaluated applications in response to this funding opportunity based on the applicant organizations' proposed community/population to be served, reach into historically underrepresented communities, proposed engagement approaches, past performance, key personnel and cost proposals.
"Medical breakthroughs have traditionally been based on findings from a limited portion of the U.S. population," said Richardson-Heron. "Our hope is for future research to include all of us, so that future health care can be more tailored to our individual differences. We're excited to have the support of these community organizations to help drive our mission and improve the health of all communities."
To learn more about the program and to sign up for updates, including announcements about future funding opportunities, please visit https://allofus.nih.gov. 
About the National Institutes of Health (NIH): NIH, the nation's medical research agency, includes 27 Institutes and Centers and is a component of the U.S. Department of Health and Human Services. NIH is the primary federal agency conducting and supporting basic, clinical, and translational medical research, and is investigating the causes, treatments, and cures for both common and rare diseases. For more information about NIH and its programs, visit www.nih.gov.
NIH…Turning Discovery Into Health®
Precision Medicine Initiative, All of Us, the All of Us logo, and "The Future of Health Begins with You" are service marks of the U.S. Department of Health and Human Services.