You are here
News Release
Wednesday, July 26, 2017
Discovery documentary First in Human gives an up-close look at how advances in medicine are made at the NIH Clinical Center
Three-part series airing in August portrays the hopes and setbacks of patients, doctors, and nurses seeking cures.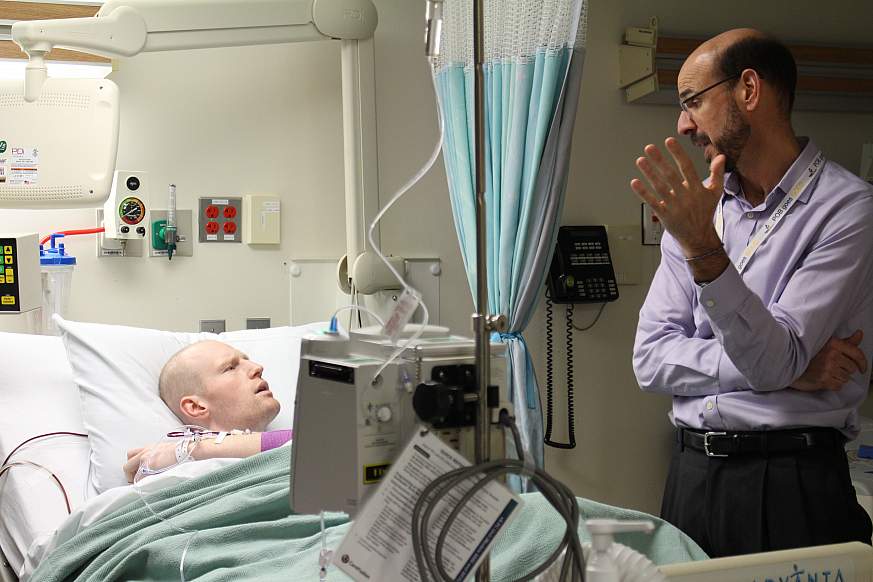 On August 10, Discovery will premiere First in Human, a three-part documentary on the National Institutes of Health Clinical Center, providing an unprecedented, first-hand look at the successes and setbacks that are a part of developing brand-new medicines that may ultimately benefit millions worldwide. Over a period of a year, film crews embedded within the hospital follow four patients who volunteered to participate in experimental treatments in the hopes they will help them, or others in the future. The series also follows the dedicated doctors and nurses who carry out the research while caring for the patients. Narrated by Jim Parsons ("The Big Bang Theory," "Hidden Figures,"), First in Human will air August 10, 17 and 24 at 9 p.m. ET/PT.
"For thousands of patients around the world, NIH is known as the National Institutes of Hope and I am delighted that Discovery's series will educate the public on the bravery of our volunteer patients who are our partners in scientific discovery," said NIH Director Francis S. Collins, M.D., Ph.D. "This film depicts, in a very poignant way, the difficult decisions faced by many suffering from disease, and the profound contribution of research participants to improving treatments for all."
Known as Building 10 on the Bethesda, Maryland, NIH campus, the NIH Clinical Center opened in 1953, and has seen more than half a million patients from all over the world who qualify for studies and come to be treated, often when no other options remain. Their participation in clinical research forwards the NIH Clinical Center's mission to rapidly translate scientific observations and laboratory discoveries into new ways to diagnose, treat and prevent disease. 
"The unique partnership and deep respect we have with our research volunteers, combined with our commitment to providing the highest quality care, is key to making the discoveries that improve medicine across the country and around the world," said NIH Clinical Center Chief Executive Officer James K. Gilman, M.D. "I am especially proud that we have this opportunity to educate viewers about clinical research and share with the American people how their investment in research provides a benefit to us all."
Among the many advances made at the NIH Clinical Center, some of the most notable include the discovery of biomarkers for cardiovascular disease, using fluoride gels to treat cavities, prescribing lithium to treat depression, developing the first drugs to treat HIV and AIDS, using immune therapy for metastatic melanoma, creating innovative imaging approaches for prostate cancer, and testing the first in human Ebola vaccines in addition to new vaccines for malaria, influenza and Zika.
"The patients at the NIH Clinical Center are an inspiration," said Terry J. Fry, M.D., head of the Hematologic Malignancies Section at the National Cancer Institute, one of 27 NIH institutes and centers. "Because they volunteer to participate in clinical trials, my colleagues and I are able to make progress and achieve breakthroughs that wouldn't have been possible otherwise. They're truly amazing and courageous individuals."
The NIH Clinical Center continues to work on cutting-edge treatments for the world's most deadly and damaging diseases, and is where thousands of researchers train for their careers in biomedical research and medical practice.
While the series focuses on a few brave patients and their doctors and nurses, more than 1,000 staff members across the intramural research program and 125 patients voluntarily participated in this production. For more than a year, NIH staff worked behind the scenes to enable this complicated production in ways that diligently protected the integrity of hospital operations as well as the safety and privacy of patients and staff.
For more information on NIH, the documentary series or how to participate in a clinical trial or to work or train at the NIH Clinical Center, go to https://www.cc.nih.gov/ocmr/firstinhuman/.
FIRST IN HUMAN is produced by McGee Media for Discovery. The series is directed by John Hoffman; produced by, John Hoffman, Beth Wichterich, and Michael Epstein; narrated by, Jim Parsons; executive producers Dyllan McGee, Jim Parsons, Todd Spiewak, and Eric Norsoph; producer, Jon Bardin; supervising producer, Stacia Thompson; senior editor, Adriana Pacheco; director of photography, Simon Schneider. For Discovery, supervising producer, Jon Bardin; executive producer, John Hoffman.
About the NIH Clinical Center: The NIH Clinical Center is the clinical research hospital for the National Institutes of Health. Through clinical research, clinician-investigators translate laboratory discoveries into better treatments, therapies and interventions to improve the nation's health. More information: https://clinicalcenter.nih.gov.
About the National Institutes of Health (NIH): NIH, the nation's medical research agency, includes 27 Institutes and Centers and is a component of the U.S. Department of Health and Human Services. NIH is the primary federal agency conducting and supporting basic, clinical, and translational medical research, and is investigating the causes, treatments, and cures for both common and rare diseases. For more information about NIH and its programs, visit www.nih.gov.
NIH…Turning Discovery Into Health®