You are here
News Release
Friday, August 25, 2017
Disease diagnostics take top honors of DEBUT biomedical engineering design competition
NIH and VentureWell support undergraduate biomedical engineering challenge seeking innovative devices to improve health globally.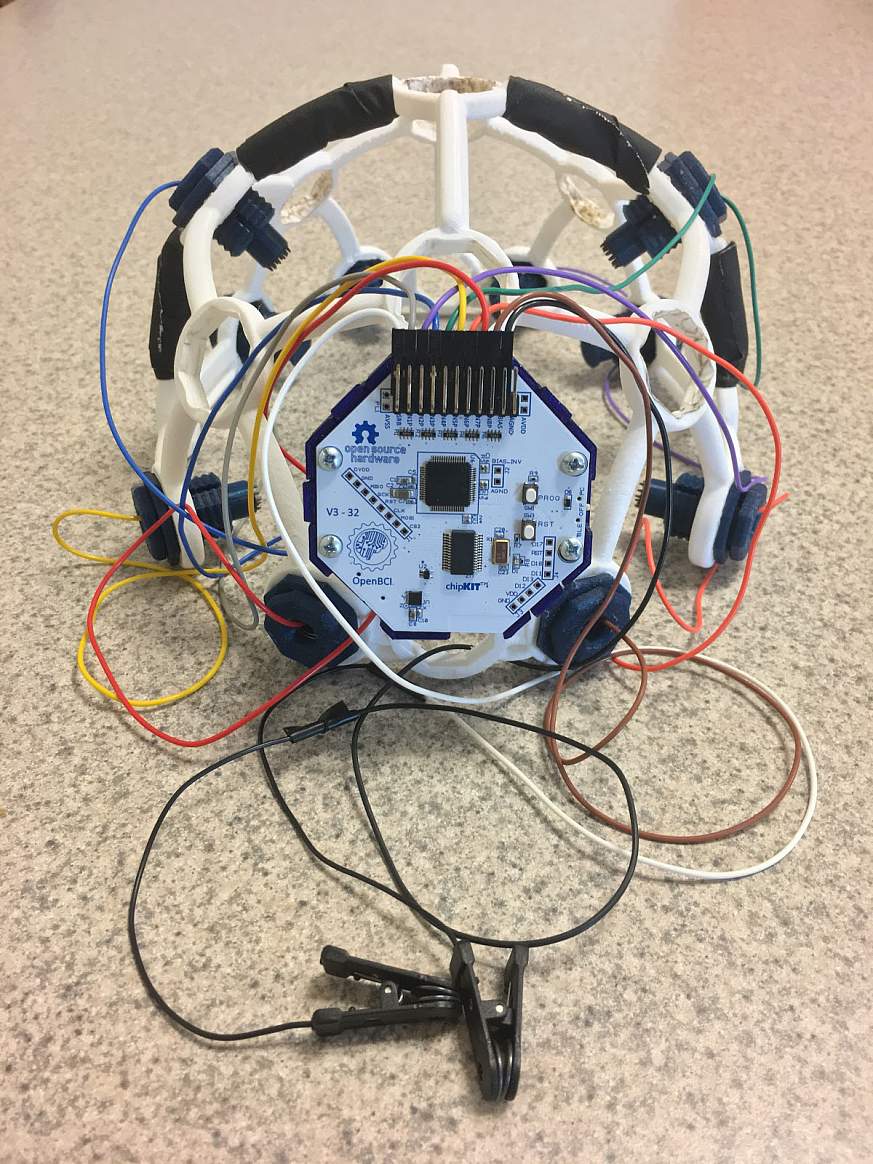 University of Maryland, College Park
Tools to diagnose Alzheimer's disease and latent tuberculosis are among the winning projects in the Design by Biomedical Undergraduate Teams (DEBUT) challenge, a biomedical engineering design prize competition for teams of undergraduate students. The teams developed prototypes of devices that advance technology and improve human health. The DEBUT challenge, with prizes worth $65,000, is supported by a public-private partnership between the National Institute of Biomedical Imaging and Bioengineering (NIBIB), part of the National Institutes of Health, and VentureWell, a non-profit higher-education network that cultivates revolutionary ideas and promising inventions. This is the second year that NIBIB has joined with VentureWell, extending the collective reach and impact of the DEBUT awards.
Of the 41 eligible entries received from 22 universities in 16 different states, NIBIB selected three winning teams based on the significance of the problem being addressed; the impact on clinical care; the innovation of the design; and the evidence of a working prototype. VentureWell selected two additional teams based on market potential and patentability. The prizes will be awarded in a ceremony at the annual Biomedical Engineering Society (BMES) conference in Phoenix on October 12th.
"Undergraduates are the future of biomedical research," said NIBIB Director Roderic I. Pettigrew, Ph.D., M.D. "The winning teams illustrate how fresh perspectives can solve old problems in creative ways. We are pleased to join with VentureWell to encourage undergraduates to create new and viable technologies that can be taken from bench to bedside. This year, the sixth of the competition, is especially inspiring because many of the DEBUT projects were among some of the most promising solutions to healthcare problems we have seen."
NIBIB's first place prize of $20,000 went to a team from the University of Maryland, College Park, that developed a device to help diagnose Alzheimer's disease. Currently, PET scans, MRIs, and spinal taps are the most commonly used methods to diagnose Alzheimer's disease. These methods are expensive and can be invasive, and so many patients are diagnosed based only on their symptoms. This can mean that up to 50 percent of Alzheimer's patients do not receive a proper diagnosis and therefore don't have adequate access to treatment, care, or support.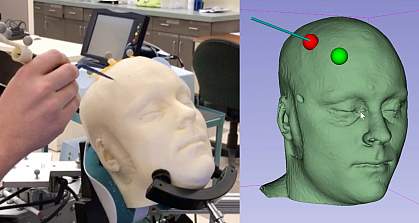 Arizona State University
The winning project incorporates a portable electroencephalogram (EEG) that uses a specially designed headset and a new software analysis tool to achieve detection of Alzheimer's disease before clinical symptoms are displayed. The device exploits changes observed in the brainwaves of Alzheimer's patients in response to special auditory tones. The end result is a noninvasive and relatively inexpensive tool with the potential to detect Alzheimer's disease with a high level of accuracy. The device could make dementia diagnosis more quantitative, systematic, and less costly — allowing doctors to use it at regular check-ups.
Zeynep Erim, Ph.D., program director managing the DEBUT challenge at NIBIB, said the project impressed the judges, not only with its potential for high impact on a large portion of the elderly population, but also with the wide range of competencies it incorporated. "The team demonstrated skills in electronic and mechanical design as well as in implementing software to process EEG signals and detect Alzheimer-related changes in the brainwaves, using machine learning algorithms," she said.
The second place NIBIB prize of $15,000 was awarded to a team from Arizona State University, Tempe, for developing a 3D tracking-assisted functional region-mapping tool to help doctors performing brain surgery while a patient is awake. Operating on an awake patient is often required for epilepsy and glioma surgeries. Doctors must determine the precise location of critical brain regions that control motor, vision, and language functions by stimulating a region and observing the patient's response. Currently, to tag the identified regions, they use sterile paper which is imprecise, time consuming, and prone to accidental displacement. 
This new device would digitize the brain mapping process and allow doctors to simultaneously test whether the brain tissue controls a critical area and apply digital tags to the surface of the brain. The digital tag system would provide physical, auditory, and visual warning cues when certain surgical tools encroach on tagged areas, so the surgeon knows where the targeted areas are, as well as those to avoid. This would allow the surgeon to operate without looking away from the surgical process while still being aware of the location of critical brain regions.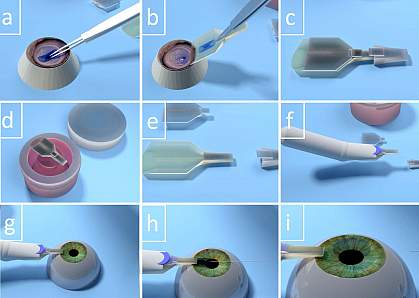 NIBIB's third place prize for $10,000 was awarded to a team from Johns Hopkins University, Baltimore, for their device called Treyetch. It was designed to facilitate the insertion of healthy cornea tissue grafts to replace damaged tissue, in a corneal transplant procedure called Descemet's Membrane Endothelial Keratoplasty. The operation can completely restore a patient's vision, but is difficult to perform correctly because corneal tissue is fragile, easily damaged upon contact, and tends to fold up on itself once inserted. The Treyetech technology tri-folds the tissue and places it in a special inserter device before it reaches the operating room. Then surgeons use the inserter to place the tissue without damaging it. Once in place, it naturally unfolds by itself thanks to the special tri-folding. The tool could help reduce the total time of surgery and limit potential problems.
The Venture Prize of $15,000 was awarded by VentureWell to a team from George Mason University, Fairfax, Virginia, who designed a device to diagnose latent tuberculosis (LTBI). According to the Center for Disease Control and Prevention, one-third of the world's population is estimated to have some form of tuberculosis (TB). Many of those people have LTBI — which means they do not currently have an active infection, but may develop it in the near or remote future, a process called TB reactivation. To fully eliminate its incidence, a reliable and inexpensive method to identify those with LTBI is needed. Current diagnostic tests available to individuals at risk for latent and active tuberculosis are invasive (requiring blood sample or an injection), expensive, and time consuming. The team developed a paper-based immunoassay that uses nanoparticles to identify tuberculosis biomarkers in a urine sample. This could make diagnosis simple and inexpensive and help health professionals limit the spread of the disease.
VentureWell's Design Excellence Prize of $5,000 went to a team from Johns Hopkins University for the AssistENT, a comfortable and discreet nasal dilator that can be inserted into obstructed nostrils to open the airways and facilitate breathing. Current nasal dilators are intended to be used only during sleeping hours, can be difficult to use, and are uncomfortable after prolonged use. They are also visible, making it unlikely that those needing help breathing during the day would use them. The AssistENT device is made from flexible, form-fitting materials that do not cause discomfort. It is also not visible when in use, eliminating the social stigma associated with existing dilators. AssistENT the first intranasal dilator that is fully suitable for use during the day, and it could present a viable alternative to reconstructive surgery to enhance nasal breathing.
"This year's submissions represent a broad cross section of universities and colleges and demonstrate the diversity of approaches to improving health and healthcare outcomes," VentureWell CEO Phil Weilerstein said. "Submissions went through rigorous external review by panels of industry and technical experts. The volume of high quality submissions made the selection of the awardees a challenging process. The winners of the Venture and Design Excellence prizes are addressing the diagnosis and treatment of two major challenges. The sophistication of their solutions and the potential that these innovations represent demonstrates the impact of bringing the focus of BME undergraduates to real world needs."
Descriptions and videos of the winning projects can be found here: https://www.nibib.nih.gov/training-careers/undergraduate-graduate/design-biomedical-undergraduate-teams-debut-challenge/2017-debut-challenge-winners
The mission of the National Institute of Biomedical Imaging and Bioengineering (NIBIB) is to improve health by leading the development and accelerating the application of biomedical technologies. The Institute is committed to integrating the physical and engineering sciences with the life sciences to advance basic research and medical care. For more information about the NIBIB, visit https://www.nibib.nih.gov. 
About the National Institutes of Health (NIH): NIH, the nation's medical research agency, includes 27 Institutes and Centers and is a component of the U.S. Department of Health and Human Services. NIH is the primary federal agency conducting and supporting basic, clinical, and translational medical research, and is investigating the causes, treatments, and cures for both common and rare diseases. For more information about NIH and its programs, visit www.nih.gov.
NIH…Turning Discovery Into Health®