You are here
Media Advisory
Thursday, May 3, 2018
Essential malaria parasite genes revealed
NIAID-funded research could aid antimalarial drug development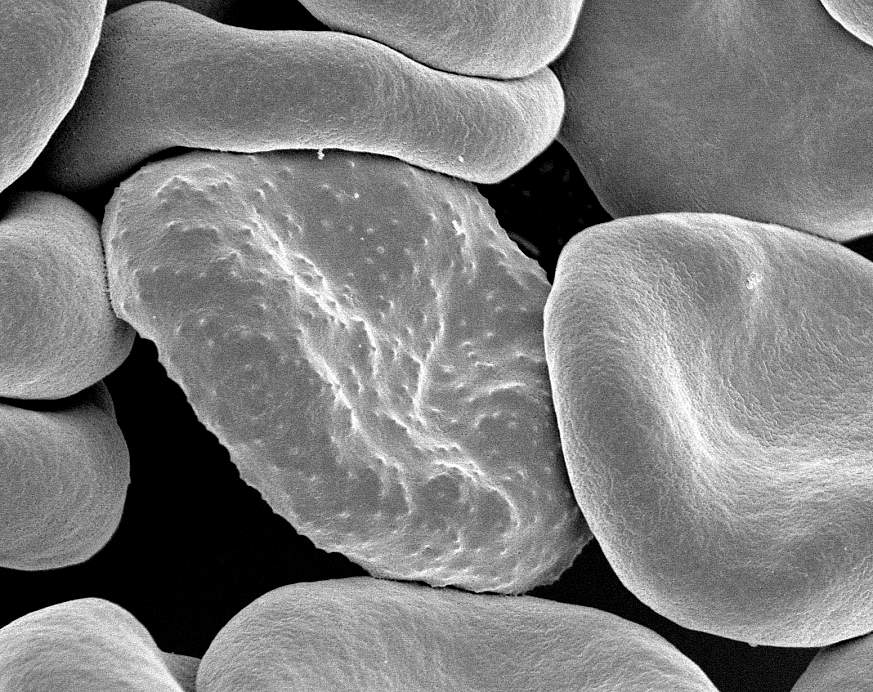 Rick Fairhurst and Jordan Zuspann, National Institute of Allergy and Infectious Diseases, National Institutes of Health
What
Researchers have exploited a quirk in the genetic make-up of the deadly malaria parasite, Plasmodium falciparum, to create 38,000 mutant strains and then determine which of the organism's genes are essential to its growth and survival. P. falciparum is responsible for about half of all malaria cases and 90 percent of all malaria deaths. New information about the parasite's critical gene repertoire could help investigators prioritize targets for future antimalarial drug development.
The international research team led by John H. Adams, Ph.D., of the University of South Florida, was supported by the National Institute of Allergy and Infectious Diseases (NIAID), part of the National Institutes of Health. The study appears in the May 4 issue of Science. Rays H.Y. Jiang, Ph.D., of University of South Florida, and Julian C. Rayner, Ph.D., of the Wellcome Trust Sanger Institute, U.K., collaborated with Dr. Adams in this research.
The complete genetic sequence of P. falciparum was determined more than a decade ago, but the functions of most of its genes remain unknown, and until now only a few hundred mutant strains had been created in the lab. The difficulties in manipulating P. falciparum stem in part from the extremely high percentage of adenine or thymine (two of the four chemical building blocks that make up DNA) in its genome. Standard methods for creating mutants rely on more variation in gene sequences and so do not work on P. falciparum. In the new research, Dr. Adams and his colleagues created mutated versions of nearly all the parasite's 6,000 genes with a technique that preferentially targets areas rich in adenine and thymine, thus exploiting the very feature that had foiled previous attempts at genetic manipulation.
The team used computational analysis to distinguish non-essential genes (those that could be mutated) from essential, non-mutable ones. About 2,600 were identified as indispensable for growth and survival during the parasite's asexual, blood stage. These included ones associated with P. falciparum's ability to resist antimalaria drugs, highlighting them as high-priority targets for new or improved antimalarial compounds, the researchers note.
Article
M Zhang et al. Uncovering the essential genes of the human malaria parasite Plasmodium falciparum by saturation mutagenesis. Science DOI:10.1126/science.aap7847 (2018).
Who
NIAID Director Anthony S. Fauci, M.D., is available to discuss this research.
Deidre Joy, Ph.D., of NIAID's Parasitology and International Programs Branch, is also available.
Contact
To schedule interviews, please contact Anne A. Oplinger, (301) 402-1663, aoplinger@niaid.nih.gov.
This research was supported, in part, by NIAID grants R01 AI094973, R01 AI117017 and F32 AI112271.
This news release describes a basic research finding. Basic research increases our understanding of human behavior and biology, which is foundational to advancing new and better ways to prevent, diagnose, and treat disease. Science is an unpredictable and incremental process — each research advance builds on past discoveries, often in unexpected ways. Most clinical advances would not be possible without the knowledge of fundamental basic research. 
NIAID conducts and supports research — at NIH, throughout the United States, and worldwide — to study the causes of infectious and immune-mediated diseases, and to develop better means of preventing, diagnosing and treating these illnesses. News releases, fact sheets and other NIAID-related materials are available on the NIAID website. 
About the National Institutes of Health (NIH): NIH, the nation's medical research agency, includes 27 Institutes and Centers and is a component of the U.S. Department of Health and Human Services. NIH is the primary federal agency conducting and supporting basic, clinical, and translational medical research, and is investigating the causes, treatments, and cures for both common and rare diseases. For more information about NIH and its programs, visit www.nih.gov.
NIH…Turning Discovery Into Health®