You are here
Media Advisory
Tuesday, October 17, 2017
Experts Outline Pathway to a Universal Influenza Vaccine
NIH-Led meeting identifies knowledge gaps, development goals.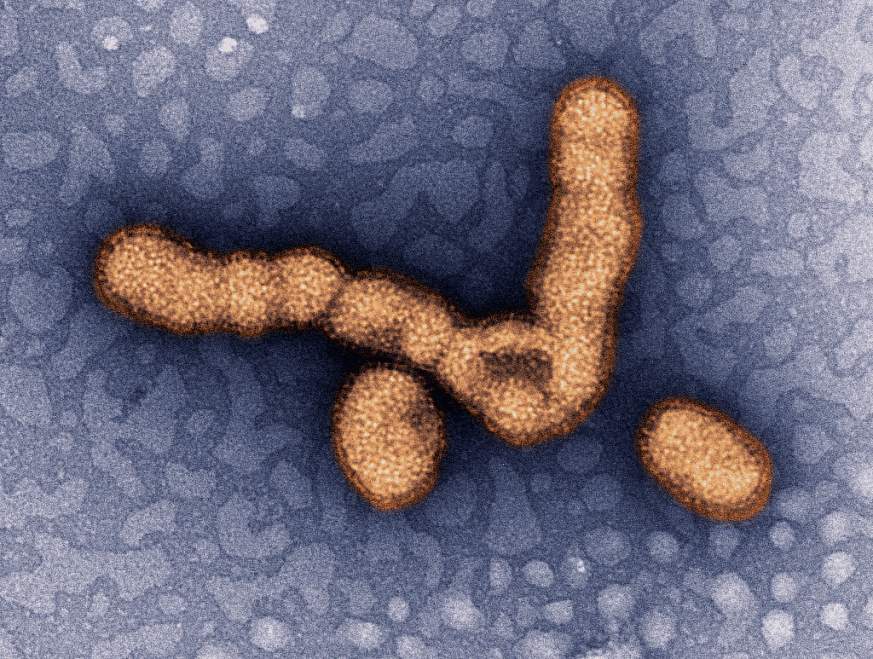 NIAID
What
Scientists and clinicians from the National Institute of Allergy and Infectious Diseases (NIAID), part of the National Institutes of Health, and the California Institute of Technology discuss key considerations for developing a universal influenza vaccine in a meeting report appearing in the October 17 issue of Immunity. The report summarizes discussions from a workshop NIAID held June 28-29, 2017, in Rockville, Maryland, entitled, "Pathway to a Universal Influenza Vaccine." The workshop brought together U.S. and international experts from academia, industry and government to identify knowledge gaps in influenza research and to set goals to fill these knowledge gaps. NIAID will use the report to develop a strategic plan and research agenda aimed at the development of a universal influenza vaccine.
Licensed influenza vaccines provide suboptimal protection against seasonal influenza, must be updated regularly to match circulating influenza strains, and offer little or no protection against newly emerged pandemic influenza strains. Thus, a key public health goal is to develop a universal influenza vaccine that would protect against most or all seasonal strains of influenza virus and potential pandemic strains. Scientists have been developing universal influenza vaccine strategies, including vaccines that target conserved areas of the influenza virus that remain relatively unchanged season-to-season. However, critical scientific questions remain unanswered and must be addressed to accelerate this research.
Meeting attendees noted the need for improved influenza surveillance (especially in certain regions and subpopulations), as well as a better characterization of how influenza viruses are transmitted. They also encouraged more research on immune responses to influenza vaccination and infection, including the impact of pre-existing immunity on responses to future vaccinations or influenza exposures. One way to address these questions, the report notes, would be to conduct long-term natural history studies that include people of various ages from different regions of the world. Such studies could also help define other factors that affect host immunity and delineate mediators of viral pathogenesis. Standardized human challenge models—studies in which healthy adult volunteers are purposely infected with influenza under careful medical supervision in an inpatient setting—could serve as another tool to help understand immunity to influenza and rapidly assess new vaccine candidates.
Meeting attendees discussed limitations in current influenza diagnostics, and the report calls for improved techniques to define and measure correlates of protection against influenza infection. They also debated the pros and cons of using various animal models to test vaccine candidates, study influenza transmission and better understand viral pathogenesis and the immune response to influenza. The report concludes by emphasizing the need for improved coordination among various scientific disciplines to prioritize and ultimately realize shared research goals.
Article
CI Paules et al. The Pathway to a Universal Influenza Vaccine. Immunity DOI: 10.1016/j.immuni.2017.09.007 (2017).
Who
NIAID Director Anthony S. Fauci, M.D., co-author of the report, is available for comment.
Contact
To schedule interviews, please contact Jennifer Routh, (301) 402-1663, NIAIDNews@niaid.nih.gov.
NIAID conducts and supports research — at NIH, throughout the United States, and worldwide — to study the causes of infectious and immune-mediated diseases, and to develop better means of preventing, diagnosing and treating these illnesses. News releases, fact sheets and other NIAID-related materials are available on the NIAID Web site at www.niaid.nih.gov.
About the National Institutes of Health (NIH): NIH, the nation's medical research agency, includes 27 Institutes and Centers and is a component of the U.S. Department of Health and Human Services. NIH is the primary federal agency conducting and supporting basic, clinical, and translational medical research, and is investigating the causes, treatments, and cures for both common and rare diseases. For more information about NIH and its programs, visit www.nih.gov.
NIH…Turning Discovery Into Health®