You are here
Media Advisory
Wednesday, May 17, 2017
FDA-approved drug helps treat rare immunologic disease, study finds
NIH co-funded clinical trial tested alternative treatment for eosinophilic syndrome.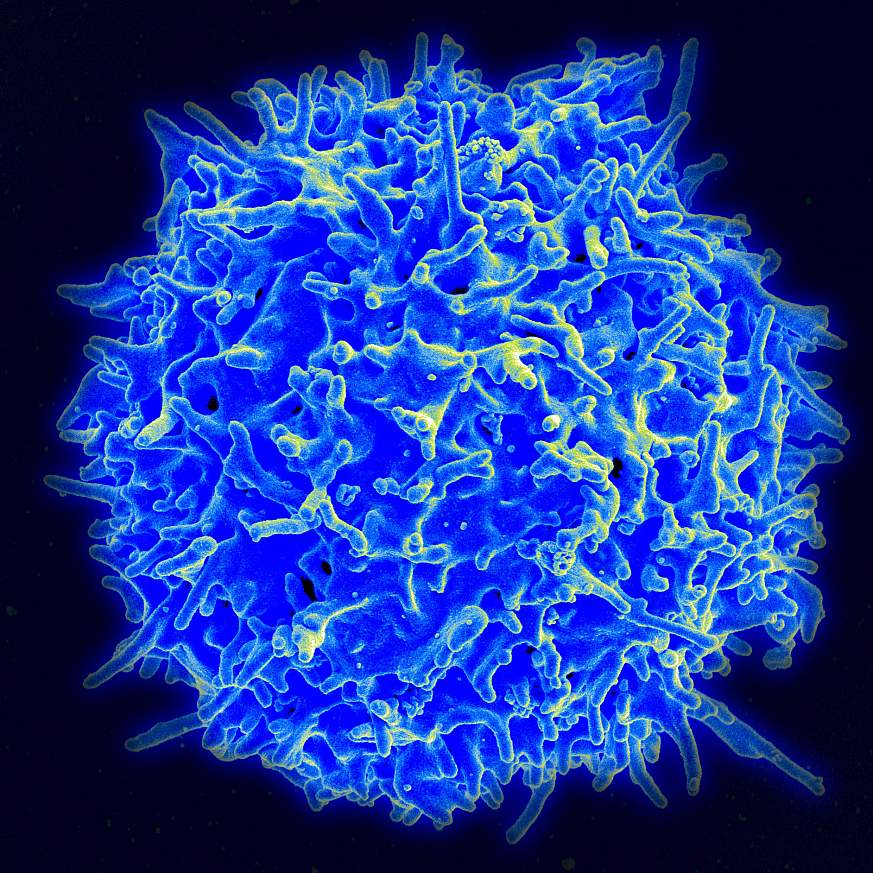 NIAID
What
Adding the injectable drug mepolizumab to standard treatment for eosinophilic granulomatosis with polyangiitis (EGPA), a rare immunologic disease, significantly improved clinical outcomes among participants in an advanced clinical trial, scientists report.
The study was funded jointly by the National Institute of Allergy and Infectious Diseases (NIAID), part of the National Institutes of Health (NIH), and the pharmaceutical company GSK, which makes mepolizumab. The trial took place at 31 research sites in nine countries, including the NIH Clinical Research Center in Bethesda, Maryland. Mepolizumab is already approved by the U.S. Food and Drug Administration to treat people with severe eosinophilic asthma.
In EGPA, previously known as Churg-Strauss Syndrome, the number of a type of white blood cell called an eosinophil increases dramatically. People affected usually experience severe asthma first and later develop multi-organ damage as eosinophils accumulate in the walls of blood vessels. The eosinophils release toxic proteins that cause inflammation of and damage to blood vessel walls, leading to restricted blood flow and tissue damage.
People with EGPA are currently treated with oral steroids, which usually must be taken continuously, but their long-term use has serious side effects. Additionally, the steroids do not help everyone, and relapses are common. To try to prevent recurrent relapses, doctors can add medications that suppress the immune system, but these drugs also can have serious side effects.
In the Phase 3 clinical trial, scientists tested the efficacy of adding mepolizumab to steroid treatment for EGPA, with or without immunosuppressants, in 136 patients who either had not responded to treatment or had relapsed. For one year, half the participants received injections of mepolizumab and half received injections of a placebo every 4 weeks. Neither the investigators nor the participants knew who had received which until the end of the trial.
EGPA was in remission cumulatively for at least 24 weeks in 28 percent of participants who received mepolizumab but in only 3 percent who received placebo. In addition, the disease was in remission at weeks 36 and 48 in 32 percent of participants who received mepolizumab but in only 3 percent who received placebo. Roughly half of participants who received mepolizumab did not achieve remission, compared to 81 percent of those who received placebo. An NIAID-funded study is under way to learn what biological markers distinguish those who benefitted from mepolizumab from those who did not.
More information about the completed trial is available at ClinicalTrials.gov under study identifier NCT02020889.
Article
ME Wechsler et al. Mepolizumab or placebo for eosinophilic granulomatosis with polyangiitis. New England Journal of Medicine DOI: 10.1056/NEJMoa1702079 (2017).
Who
Alkis Togias, M.D., chief of the Allergy, Asthma, and Airway Biology Branch in the NIAID Division of Allergy, Immunology and Transplantation, is available for interviews.
Contact
To schedule interviews, please contact Laura S. Leifman, (301) 402-1663, laura.sivitz@nih.gov.
NIAID conducts and supports research — at NIH, throughout the United States, and worldwide — to study the causes of infectious and immune-mediated diseases, and to develop better means of preventing, diagnosing and treating these illnesses. News releases, fact sheets and other NIAID-related materials are available on the NIAID website.
About the National Institutes of Health (NIH): NIH, the nation's medical research agency, includes 27 Institutes and Centers and is a component of the U.S. Department of Health and Human Services. NIH is the primary federal agency conducting and supporting basic, clinical, and translational medical research, and is investigating the causes, treatments, and cures for both common and rare diseases. For more information about NIH and its programs, visit www.nih.gov.
NIH…Turning Discovery Into Health®