You are here
Media Advisory
Thursday, October 18, 2018
Genomic analysis offers insight into 2018 Nigeria Lassa fever outbreak
Findings helped inform Nigeria's public health response.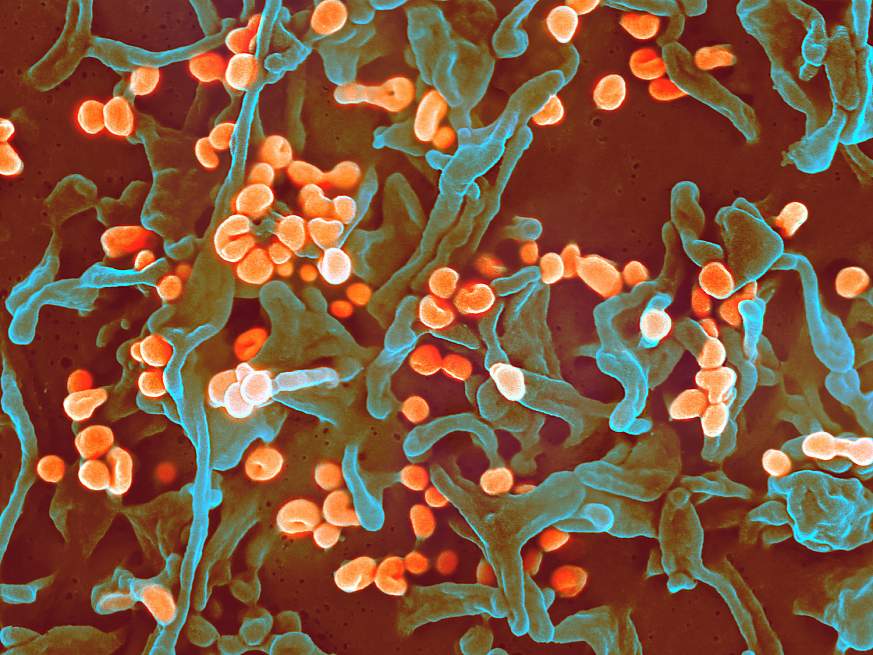 NIAID
What
A surge in Lassa fever cases in Nigeria in 2018 does not appear to be linked to a single virus strain or increased human-to-human transmission, according to a genomic analysis published in The New England Journal of Medicine. Multiple institutions collaborated on the report, including the African Center of Excellence for Genomics of Infectious Diseases at Redeemer's University in Ede, Nigeria; the Broad Institute of MIT and Harvard in Cambridge, Massachusetts; the Scripps Research Institute in La Jolla, California; and Tulane University in New Orleans, among others. The research was supported in part by the National Institute of Allergy and Infectious Diseases (NIAID), the National Human Genome Research Institute (NHGRI), and the NIH Common Fund's Human Heredity and Health in Africa Program, all components of the National Institutes of Health (NIH).
The Nigeria Centre for Disease Control (NCDC) reported an unusually large increase in Lassa fever cases in 2018, with 523 laboratory-confirmed cases and 135 deaths from January 1 through October 7. Lassa fever is endemic to West Africa, where Mastomys natalensis rodents, a primary animal reservoir of Lassa virus, are common. The rodent is often found in or around human habitats, and people become infected with Lassa virus through direct contact with rodent urine and stool. People with Lassa fever also can transmit the virus to other people through close contact, although experts believe this is rare. About 15 to 20 percent of people hospitalized with Lassa fever die from the disease, but only 1 percent of all Lassa virus infections result in death, according to the U.S. Centers for Disease Control and Prevention.
Public health officials were concerned that the Lassa fever outbreak in Nigeria in 2018 might be driven by a previously unknown factor, such as a new or more virulent Lassa virus strain, according to the authors. This prompted the research team to analyze Lassa virus genomes from patient samples to determine if genomic data signatures could explain the surge in cases.
The authors analyzed Lassa virus genomes of 129 patients from the 2017-2018 outbreak and from 91 patients from the 2015-2017 seasons. They discovered that Lassa genomes from 2018 were drawn from a diverse range of viruses previously observed in Nigeria rather than from a single dominant strain. This indicates that a single virus strain was not driving the surge in cases in 2018. Additionally, dating of the most recent ancestors of samples from 2018 showed limited support for human-to-human transmission. Rather, the dataset had features consistent with many, independent zoonotic transmissions (humans becoming infected through contact with rodent feces or urine).
The research team reported their findings in real time to the NCDC and local health authorities to support the public health response to the outbreak. The research serves as a model for investigating infectious disease emergencies by combining genomic information with traditional epidemiological data to inform response strategies, the authors note.
Article
KJ Siddle et al. Genomic Analysis of Lassa Virus during an Increase in Cases in Nigeria in 2018. The New England Journal of Medicine DOI: 10.1056/NEJMoa1804498 (2018).
Who
Eun Mi Lee, M.S., M.P.H., a health specialist in the Office of Genomics and Advanced Technologies (OGAT), part of NIAID's Division of Microbiology and Infectious Diseases, is available for comment. Liliana Losada Brown, Ph.D., a program officer in OGAT, is also available for comment.
Contact
To schedule interviews, please contact Jennifer Routh, (301) 402-1663, NIAIDNews@niaid.nih.gov.
NIAID conducts and supports research — at NIH, throughout the United States, and worldwide — to study the causes of infectious and immune-mediated diseases, and to develop better means of preventing, diagnosing and treating these illnesses. News releases, fact sheets and other NIAID-related materials are available on the NIAID Web site at www.niaid.nih.gov.
About the National Institutes of Health (NIH): NIH, the nation's medical research agency, includes 27 Institutes and Centers and is a component of the U.S. Department of Health and Human Services. NIH is the primary federal agency conducting and supporting basic, clinical, and translational medical research, and is investigating the causes, treatments, and cures for both common and rare diseases. For more information about NIH and its programs, visit www.nih.gov.
NIH…Turning Discovery Into Health®