You are here
News Release
Thursday, April 6, 2006
Landmark Discovery of a Kaposi's Sarcoma-Associated Herpesvirus Receptor Provides New Perspectives on Disease Associated with HIV/AIDS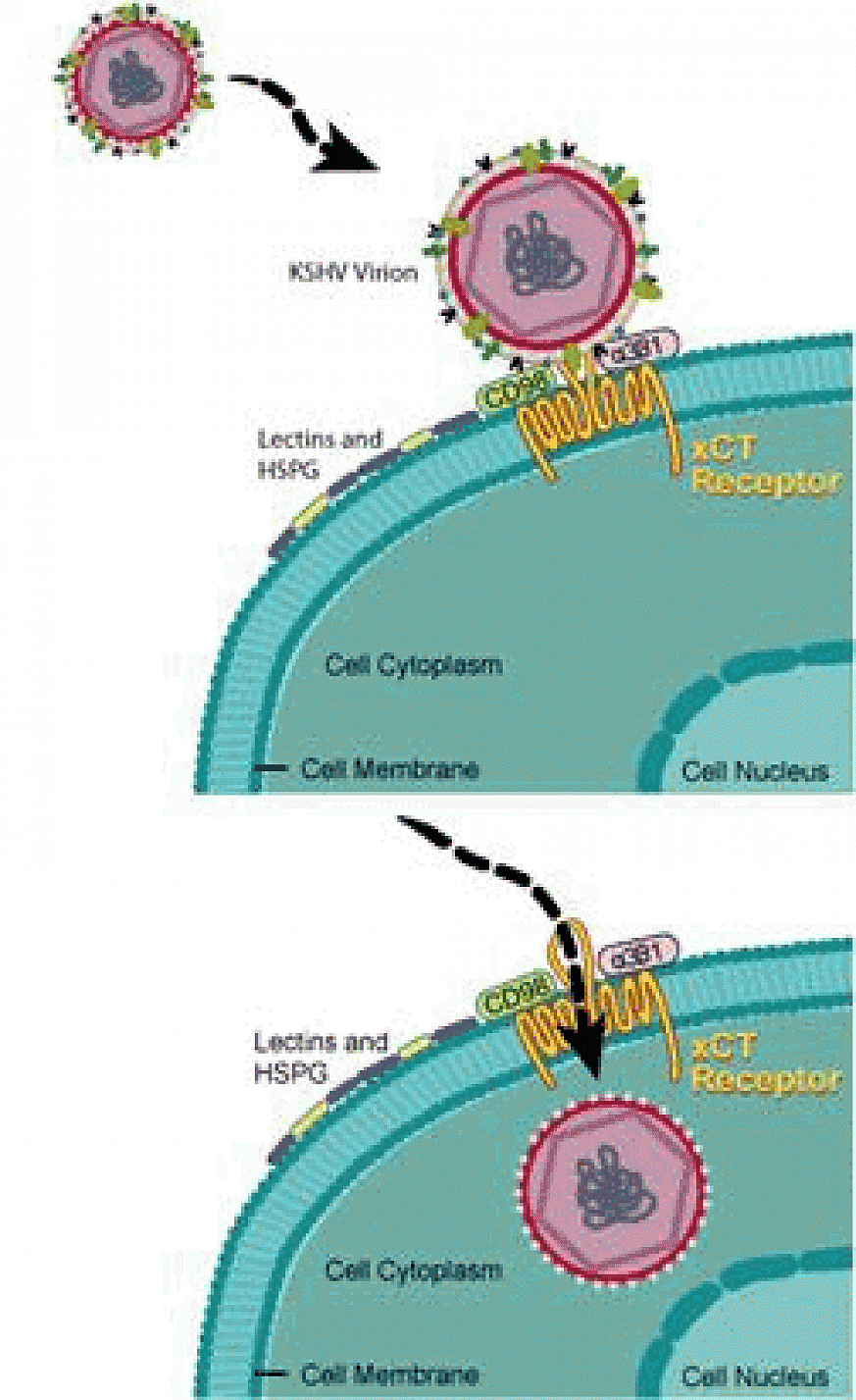 NIAID
Researchers at the National Institute of Allergy and Infectious Disease (NIAID), a component of the National Institutes of Health (NIH), have identified a critical human cell surface molecule involved in infection by Kaposi's sarcoma herpesvirus (KSHV), the virus that causes Kaposi's sarcoma and certain forms of lymphoma. Kaposi's sarcoma is a major cancer associated with HIV/AIDS, and it typically manifests as multiple purple-hued skin lesions.
In the March 31, 2006 issue of Science, NIAID research fellow Johnan Kaleeba, Ph.D. and senior investigator Edward A. Berger; Ph.D., describe how the molecule xCT is a major gateway that KSHV uses to enter human cells. The molecule may also play a role in the development of Kaposi's sarcoma and other syndromes associated with the virus.
The natural function of xCT in the body is to transport molecules necessary for protecting against stress into cells. When cells are stressed, they express more xCT on their surfaces. Of note, this sort of stress can be caused by KSHV itself. This suggests that the virus may facilitate its own infectivity and dissemination in the body by inducing a physiological state that results in increased numbers of its own receptor.
"The advancement of knowledge achieved in this study highlights the outstanding intramural research that takes place here on the NIH campus," says Elias A. Zerhouni, M.D., NIH director.
"Understanding the mechanisms of cell entry of Kaposi's sarcoma herpesvirus is a landmark achievement in and of itself," says NIAID director Anthony S. Fauci, M.D. "But the connection between the virus and expression of its own receptor on a cell is even more provocative because it might change the way we think about KSHV-associated diseases and their treatment."
Although less common in the United States now than early in the AIDS pandemic, Kaposi's sarcoma is still the most common cancer associated with HIV infection. Prior to the AIDS pandemic, it was an obscure disease. First identified as a multi-pigmented skin disease by a Hungarian doctor named Moritz Kaposi in 1872, it was considered to be quite rare — a medical curiosity usually found in particular populations such as older Italian men, transplant patients and young men in certain parts of sub-Saharan Africa. But then at the dawn of the AIDS pandemic in the early 1980s, the small purplish Kaposi's sarcoma skin lesions began appearing on the bodies of young American men, many of whom went on to develop opportunistic infections.
Dr. Berger became interested in KSHV because of his interest in how viruses enter cells. A decade ago, his research team was the first to identify CXCR4 as one of the coreceptors that allows HIV to gain entry into cells of the immune system. This discovery quickly led to the identification by Dr. Berger's group and several other research teams of CCR5 as the other HIV coreceptor.
By applying the same technology used to identify CXCR4, Drs. Kaleeba and Berger ultimately identified the protein xCT as the receptor that can make cells permissive for KSHV fusion.
The NIAID discovery may lead to new avenues for treating KSHV, says Dr. Berger. Moreover, their finding should enable scientists to determine whether levels of xCT determine disease severity. It also will allow researchers to study whether the expression of xCT on cells varies among different groups of people and whether these variations are genetic or environmental. This research may ultimately explain why certain groups are more at risk for Kaposi's sarcoma.
"Our finding provides a new perspective on the disease," says Dr. Kaleeba, who is originally from Uganda where Kaposi's sarcoma accounts for at least 10 percent of known tumors. "Hopefully this will be the beginning of exciting new directions in this field, as it is likely to provide a useful framework for integration of the cell biology and epidemiology of this clinically important virus."
News releases, fact sheets and other NIAID-related materials are available on the NIAID Web site at http://www.niaid.nih.gov.
NIAID is a component of the National Institutes of Health. NIAID supports basic and applied research to prevent, diagnose and treat infectious diseases such as HIV/AIDS and other sexually transmitted infections, influenza, tuberculosis, malaria and illness from potential agents of bioterrorism. NIAID also supports research on basic immunology, transplantation and immune-related disorders, including autoimmune diseases, asthma and allergies.
About the National Institutes of Health (NIH): NIH, the nation's medical research agency, includes 27 Institutes and Centers and is a component of the U.S. Department of Health and Human Services. NIH is the primary federal agency conducting and supporting basic, clinical, and translational medical research, and is investigating the causes, treatments, and cures for both common and rare diseases. For more information about NIH and its programs, visit www.nih.gov.
NIH…Turning Discovery Into Health®
Reference
JAR Kaleeba and EA Berger. Kaposi's sarcoma-associated herpesvirus fusion-entry receptor: cystine transporter xCT. Science DOI: 10.1126/science.1120878 (2006).