You are here
News Release
Wednesday, November 12, 2014
National Diabetes Education Program releases Guiding Principles for diabetes care
A newly published set of 10 guiding principles highlights areas of agreement for diabetes care that could be clinically useful in diabetes management and prevention. Presented by the National Diabetes Education Program (NDEP), Guiding Principles for the Care of People With or at Risk for Diabetes is aimed at assisting with identification and management of the disease, self-management support for patients, physical activity and blood glucose control, among other topics. More than a dozen federal agencies and professional organizations support the document.
"There are a lot of diabetes guidelines out there, and practitioners and patients can get confused about which they should follow," said Judith Fradkin, M.D., director of the Division of Diabetes, Endocrinology and Metabolic Diseases in the National Institute of Diabetes and Digestive and Kidney Diseases, part of the National Institutes of Health. "With these Guiding Principles, we aren't creating new guidelines, but clarifying where there is general agreement across myriad diabetes guidelines. Guiding Principles represents a set of sound practices. Our goal in developing this resource is to help clinicians help their patients with diabetes."
"Guiding Principles is the result of a major collaborative effort from a varied group of experts who are committed to improving the care for people with or at risk for diabetes," said NIDDK Director Griffin P. Rodgers, M.D. "These principles represent the cornerstone of diabetes management and prevention."
Diabetes has placed a health care and financial burden on Americans. More than 29 million Americans have diabetes and another 86 million – over one in three adults – have prediabetes. Diabetes costs the country $245 billion annually, estimates the American Diabetes Association.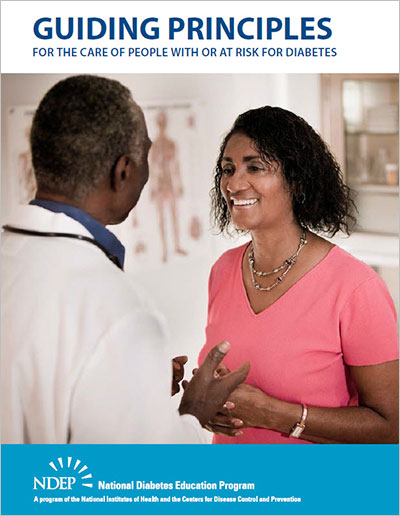 Media Folder
Title
Woman with doctor
Caption
Description
The National Diabetes Education Program's newly released Guiding Principles outlines 10 clinically useful principles for health care professionals that highlight areas of agreement in diabetes management and prevention and is supported by more than a dozen federal agencies and professional organizations.
Site_Section
Alt Text
Woman with doctor
NDEP is a partnership between the NIH and the Centers for Disease Control and Prevention. The following organizations and U.S. agencies support Guiding Principles:
Academy of Nutrition and Dietetics
Agency for Healthcare Research and Quality
American Academy of Ophthalmology
American Academy of Physician Assistants
American Association of Clinical Endocrinologists
American Association of Diabetes Educators
American Association of Nurse Practitioners
American College of Obstetricians and Gynecologists
American Diabetes Association
American Heart Association
American Optometric Association
American Podiatric Medical Association
Department of Defense
Endocrine Society
Health Resources and Services Administration
Indian Health Service
National Council of Asian Pacific Islander Physicians and AANPHI Diabetes Coalition
Office of Minority Health
The NDEP works with more than 200 partners and offers materials and resources to the public, people diagnosed with diabetes, health care professionals and business professionals. To view or download NDEP resources, visit www.YourDiabetesInfo.org "
The NIDDK, a component of the National Institutes of Health (NIH), conducts and supports research on diabetes and other endocrine and metabolic diseases; digestive diseases, nutrition and obesity; and kidney, urologic and hematologic diseases. Spanning the full spectrum of medicine and afflicting people of all ages and ethnic groups, these diseases encompass some of the most common, severe, and disabling conditions affecting Americans. For more information about the NIDDK and its programs, see wwww.niddk.nih.gov.
About the National Institutes of Health (NIH): NIH, the nation's medical research agency, includes 27 Institutes and Centers and is a component of the U.S. Department of Health and Human Services. NIH is the primary federal agency conducting and supporting basic, clinical, and translational medical research, and is investigating the causes, treatments, and cures for both common and rare diseases. For more information about NIH and its programs, visit www.nih.gov.
NIH…Turning Discovery Into Health®