You are here
News Release
Monday, February 27, 2017
NCI launches study of African-American cancer survivors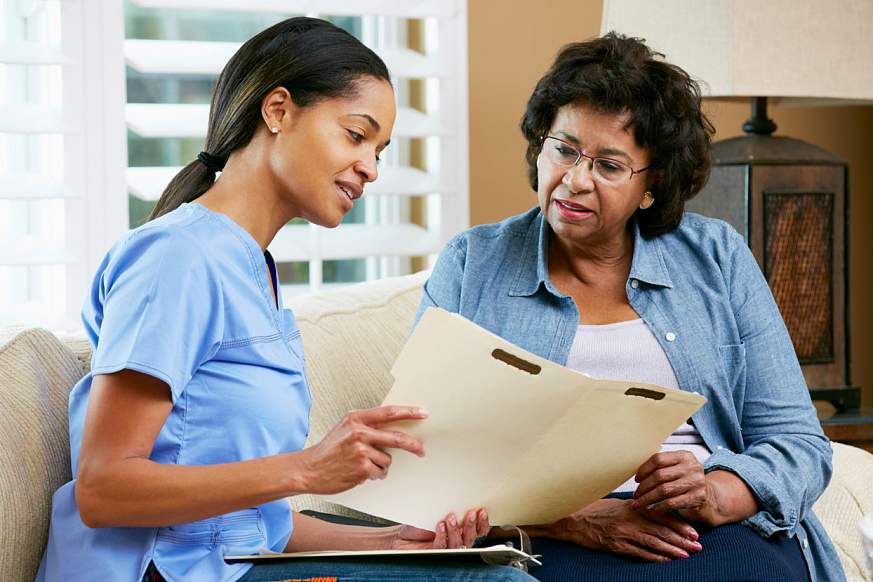 The largest study to date of African-American cancer survivors in the United States is underway. The Detroit Research on Cancer Survivors (ROCS) study, which will include 5,560 cancer survivors, will support a broad research agenda looking at the major factors affecting cancer progression, recurrence, mortality, and quality of life among African-American cancer survivors. The effort is funded by the National Cancer Institute (NCI), part of the National Institutes of Health.
The grant, for $9 million over five years, has been awarded to Ann G. Schwartz, Ph.D., M.P.H., deputy center director, and Terrance Albrecht, Ph.D., associate director for Population Sciences of the Wayne State University School of Medicine and the Karmanos Cancer Institute, Detroit.  
African Americans continue to experience disproportionately higher cancer incidence rates than other racial/ethnic groups in the United States for most cancer types. They are also more likely to be diagnosed with more advanced stage disease and experience higher cancer mortality rates than other groups. The Detroit ROCS study will focus on lung, breast, prostate, and colorectal cancers—the four most common types of cancer — each of which is marked by poorer survival rates among African Americans than whites.
Multiple factors may contribute to poorer outcomes among African Americans with cancer, but most studies lack enough participants to adequately study these factors. The Detroit ROCS study will investigate the myriad factors that may affect cancer survival, including type of treatment, coexisting diseases, genetics, social structure, support, neighborhood context, poverty, stress, racial discrimination, literacy, quality of life, and behavioral factors such as smoking, alcohol use, diet, and physical activity. A unique aspect of this study is the inclusion of 2,780 family members to help researchers understand how a cancer diagnosis affects the mental, physical, and financial health of those providing care. 
"This study is uniquely poised to investigate the major factors affecting African-American cancer survivors," said Douglas R. Lowy, M.D., acting director of NCI. "Efforts like this will help us move toward bridging the gap of cancer disparities, ensuring that advances in cancer prevention, diagnosis, and treatment reach all Americans."
Detroit ROCS will collect comprehensive data through interviews with participants, information from medical records, and collection of biospecimens from participants who live in the three counties surrounding Detroit. These counties account for more than 70 percent of Michigan's African-American population, and approximately 21,000 people in these counties are diagnosed with cancer every year.
"Investigating the complex factors that lead to disparities in cancer among underserved populations should lead to a greater understanding of the social and biological causes of such differences," said Robert Croyle, Ph.D., director of NCI's Division of Cancer Control and Population Sciences (DCCPS). "And our hope is that this knowledge will lead to better outcomes."
The study leverages the Detroit area population-based cancer registry, which is part of NCI's Surveillance, Epidemiology and End Results (SEER) Program, to identify African Americans who have recently been diagnosed with cancer. NCI's SEER Program supports cancer registries and provides information on cancer statistics in an effort to reduce the cancer burden among the U.S. population.
"Detroit ROCS' use of the SEER Program is a great example of an efficient use of an existing structure to rapidly recruit cancer survivors into research studies," said Joanne Elena, Ph.D., M.P.H., scientific program director for this grant in DCCPS's Epidemiology and Genomics Research Program.
"There is still much to understand about the poorer outcomes experienced by African-American cancer survivors," Dr. Elena said. "We hope that information collected in the Detroit ROCS study will facilitate research that explains the interaction among environmental, genomic, social, and behavioral factors in this understudied population and ultimately identify ways for cancer survivors to live healthier lives." 
About the National Cancer Institute (NCI): NCI leads the National Cancer Program and the NIH's efforts to dramatically reduce the prevalence of cancer and improve the lives of cancer patients and their families, through research into prevention and cancer biology, the development of new interventions, and the training and mentoring of new researchers. For more information about cancer, please visit the NCI website at cancer.gov or call NCI's Cancer Information Service at 1-800-4-CANCER.
About the National Institutes of Health (NIH): NIH, the nation's medical research agency, includes 27 Institutes and Centers and is a component of the U.S. Department of Health and Human Services. NIH is the primary federal agency conducting and supporting basic, clinical, and translational medical research, and is investigating the causes, treatments, and cures for both common and rare diseases. For more information about NIH and its programs, visit www.nih.gov.
NIH…Turning Discovery Into Health®