You are here
News Release
Monday, August 20, 2007
NHGRI Funds Two Centers of Excellence in Genomic Science
Dana Farber Cancer Institute, Stanford to Receive Five-Year Grants.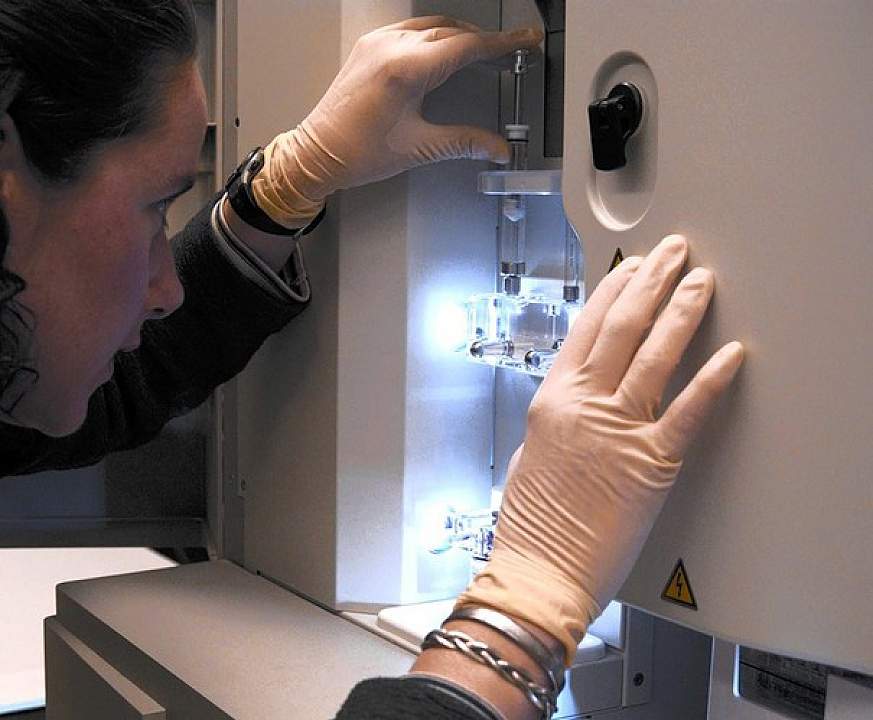 The National Human Genome Research Institute (NHGRI), part of the National Institutes of Health (NIH), today announced grants expected to total approximately $30 million to establish one, new Center of Excellence in Genomic Science at the Dana Farber Cancer Institute (DFCI) and continue its support of the center at Stanford University.
Begun by NHGRI in 2001, the Centers of Excellence in Genomic Science program assembles multi-institution, interdisciplinary teams dedicated to making critical advances in genomic research. The new center at DFCI in Cambridge, Mass., will receive about $16 million and the center at Stanford University in Stanford, Calif., will receive about $14 million.
"Our goal is to foster the development of creative collaborations that will use genomic tools and technologies to expand our understanding of human biology," said NHGRI Director Francis S. Collins, M.D., Ph.D. "These new centers will explore some of the most important questions facing biology today. We look forward to seeing what exciting findings and innovative approaches arise from their efforts."
At Stanford the Center for Excellence in Genomic Science led by David M. Kingsley, Ph.D., will continue work done in the previous funding period using the stickleback fish as a model to explore the genomic mechanisms that have led to the diversity in the vertebrate group of animals. Vertebrates, which include fish, humans and other organisms with backbones, share many of the same fundamental biological pathways and gene networks. However, despite these similarities, considerable differences exist among vertebrate species in size, shape, body function and behavior.
To build a tool to study the genomic basis for such differences, the Stanford researchers will crossbreed different strains of stickleback fish to produce a genome-wide map. This map will be used to help uncover the genetic mechanisms that underlie the broad range of traits seen in the fish. Researchers will then search for specific genetic signatures that may have served as the basis of adaptive changes in size, shape, body function and behavior in many different fish populations around the world.
Preliminary data suggest that genetic mechanisms identified as the basis of adaptive changes in fish may be broadly predictive of similar mechanisms across a surprisingly large range of animals, including humans. Consequently, researchers will compare the stickleback genome to equivalent regions thought to be sites of adaptive change, also referred to as variation, in the human genome. Ultimately, the regions of the human genome predicted to play a role in variation and disease susceptibility will be used to create lines of laboratory mice that can be used as models for testing those predictions.
At the DFCI, the Center for Excellence in Genomic Science led by Marc Vidal, Ph.D., will test the hypothesis that both human genetic variations and pathogens, such as viruses, can influence cellular networks to cause disease.
The sequencing of the human genome and subsequent production of a map of common patterns of human genetic variation, known as the HapMap, have accelerated the discovery of genetic variations associated with a wide range of human diseases. However, because the function of genetic variations are mediated by a dynamic network of multiple gene products and metabolites, researchers still face a daunting challenge in figuring out how to use this new information to treat and prevent disease.
Working with viral infections as a model system, the DFCI researchers will investigate in a comprehensive manner how genetic and environmental disruptions in complex cellular networks interact to cause disease. Specifically, the team will analyze network-level disruption and protein-protein interactions in cells caused by particular viruses and apply what is learned to genome-wide variation datasets for related human diseases.
The center's ultimate goal is to develop general principles for data integration and network prediction. The knowledge gained will be used to develop better models to interpret genome-wide genetic variations in the context of human disease. The DFCI research team will collaborate closely with researchers from Brigham and Women's Hospital and Harvard Medical School, both located in Boston, and the University of Notre Dame in Notre Dame, Ind.
Besides carrying out their research missions, Centers for Excellence in Genomic Science also serve as a focal point for providing education and training about genomic research opportunities to members of under-represented minorities. Participants span a wide spectrum of ages and educational levels, ranging from college undergraduates to post-doctoral fellows. More information on this program is available at www.genome.gov/14514219.
In addition to the Centers of Excellence in Genomic Science at DFCI and Stanford, other current participants in the program are:
Roger Brent, Ph.D., Molecular Sciences Institute, Berkeley, Calif.
Marianne Bronner-Fraser, Ph.D., California Institute of Technology,Pasadena, Calif.
George Church, Ph.D., Harvard Medical School, Boston.
Andrew Feinberg, M.D., Johns Hopkins University School of Medicine, Baltimore.
This CEGS is co-funded by NHGRI and the National Institute of Mental Health.
Deirdre R. Meldrum, Ph.D., Arizona State University, Tempe, Ariz.
Michael P. Snyder, Ph.D., Yale University, New Haven, Conn.
Michael Waterman, Ph.D., University of Southern California, Los Angeles.
For more details about the research being conducted by the centers, go to http://www.genome.gov/10001771.
NHGRI is one of the 27 institutes and centers at NIH. The NHGRI Division of Extramural Research supports grants for research and training and career development at sites nationwide. Additional information about NHGRI can be found at www.genome.gov.
About the National Institutes of Health (NIH): NIH, the nation's medical research agency, includes 27 Institutes and Centers and is a component of the U.S. Department of Health and Human Services. NIH is the primary federal agency conducting and supporting basic, clinical, and translational medical research, and is investigating the causes, treatments, and cures for both common and rare diseases. For more information about NIH and its programs, visit www.nih.gov.
NIH…Turning Discovery Into Health®