You are here
News Release
Friday, November 28, 2014
NIAID/GSK experimental Ebola vaccine appears safe, prompts immune response
Results from NIH Phase 1 clinical trial support accelerated development of candidate vaccine.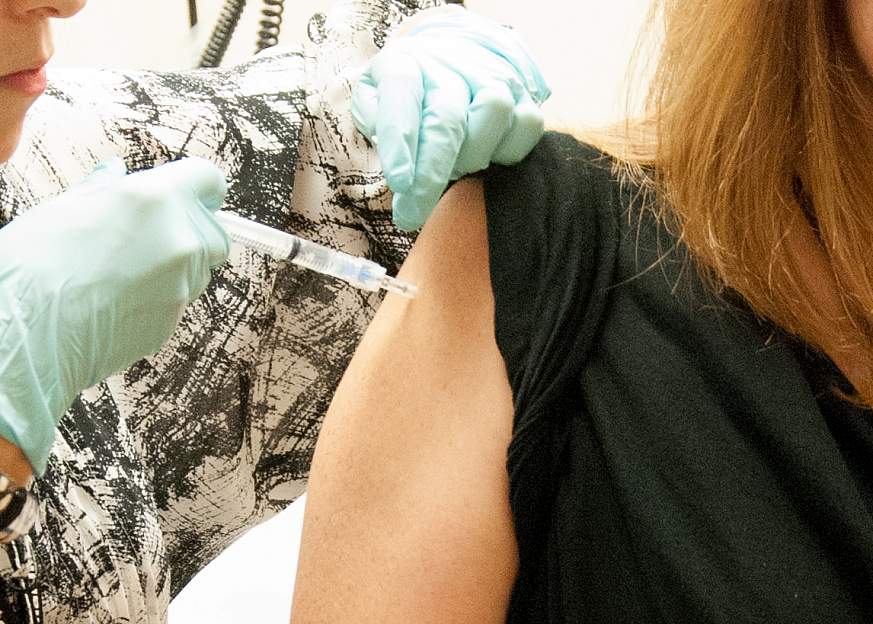 An experimental vaccine to prevent Ebola virus disease was well-tolerated and produced immune system responses in all 20 healthy adults who received it in a phase 1 clinical trial conducted by researchers from the National Institutes of Health. The candidate vaccine, which was co-developed by the NIH's National Institute of Allergy and Infectious Diseases (NIAID) and GlaxoSmithKline (GSK), was tested at the NIH Clinical Center in Bethesda, Maryland. The interim results are reported online in advance of print in the New England Journal of Medicine.
"The unprecedented scale of the current Ebola outbreak in West Africa has intensified efforts to develop safe and effective vaccines, which may play a role in bringing this epidemic to an end and undoubtedly will be critically important in preventing future large outbreaks," said NIAID Director Anthony S. Fauci, M.D. "Based on these positive results from the first human trial of this candidate vaccine, we are continuing our accelerated plan for larger trials to determine if the vaccine is efficacious in preventing Ebola infection."
The candidate NIAID/GSK Ebola vaccine was developed collaboratively by scientists at the NIAID Vaccine Research Center (VRC) and at Okairos, a biotechnology company acquired by GSK. It contains segments of Ebola virus genetic material from two virus species, Sudan and Zaire. The Ebola virus genetic material is delivered by a carrier virus (chimpanzee-derived adenovirus 3 or cAd 3) that causes a common cold in chimpanzees but causes no illness in humans. The candidate vaccine does not contain Ebola virus and cannot cause Ebola virus disease.
The trial enrolled volunteers between the ages of 18 and 50. Ten volunteers received an intramuscular injection of vaccine at a lower dose and 10 received the same vaccine at a higher dose. At two weeks and four weeks following vaccination, the researchers tested the volunteers' blood to determine if anti-Ebola antibodies were generated. All 20 volunteers developed such antibodies within four weeks of receiving the vaccine. Antibody levels were higher in those who received the higher dose vaccine.
The investigators also analyzed the research participants' blood to learn whether the vaccine prompted production of immune system cells called T cells. A recent study by VRC scientist Nancy J. Sullivan, Ph.D., and colleagues showed that non-human primates inoculated with the candidate NIAID/GSK vaccine developed both antibody and T-cell responses, and that these were sufficient to protect vaccinated animals from disease when they were later exposed to high levels of Ebola virus.
The experimental NIAID/GSK vaccine did induce a T-cell response in many of the volunteers, including production of CD8 T cells, which may be an important part of immune protection against Ebola viruses. Four weeks after vaccination, CD8 T cells were detected in two volunteers who had received the lower dose vaccine and in seven of those who had received the higher dose.
"We know from previous studies in non-human primates that CD8 T cells played a crucial role in protecting animals that had been vaccinated with this NIAID/GSK vaccine and then exposed to otherwise lethal amounts of Ebola virus," said Julie E. Ledgerwood, D.O., a VRC researcher and the trial's principal investigator. "The size and quality of the CD8 T cell response we saw in this trial are similar to that observed in non-human primates vaccinated with the candidate vaccine."
There were no serious adverse effects observed in any of the volunteers, although two people who received the higher dose vaccine did develop a briefly lasting fever within a day of vaccination.
Additional details about this trial, VRC 207, are available at http://www.clinicaltrials.gov using the identifier NCT02231866.
For more information about early-stage Ebola vaccine clinical trials, see Questions and Answers: Phase 1 Clinical Trials of NIAID/GSK Investigational Ebola Vaccine.
NIAID conducts and supports research — at NIH, throughout the United States, and worldwide — to study the causes of infectious and immune-mediated diseases, and to develop better means of preventing, diagnosing and treating these illnesses. News releases, fact sheets and other NIAID-related materials are available on the NIAID Web site at http://www.niaid.nih.gov.
About the National Institutes of Health (NIH): NIH, the nation's medical research agency, includes 27 Institutes and Centers and is a component of the U.S. Department of Health and Human Services. NIH is the primary federal agency conducting and supporting basic, clinical, and translational medical research, and is investigating the causes, treatments, and cures for both common and rare diseases. For more information about NIH and its programs, visit www.nih.gov.
NIH…Turning Discovery Into Health®
References
JE Ledgerwood et al. Safety and immunogenicity of chimpanzee adenovirus vector Ebola vaccine: preliminary report. New England Journal of Medicine DOI: 10.1056/NEJMoa1410863 (2014).
DA Stanley et al. Chimpanzee adenovirus vaccine generates acute and durable protective immunity against ebolavirus challenge. Nature Medicine DOI: 10.1038/nm.3702 (2014).