You are here
News Release
Monday, January 25, 2010
NIGMS Awards Contract to Expand Human Genetic Cell Repository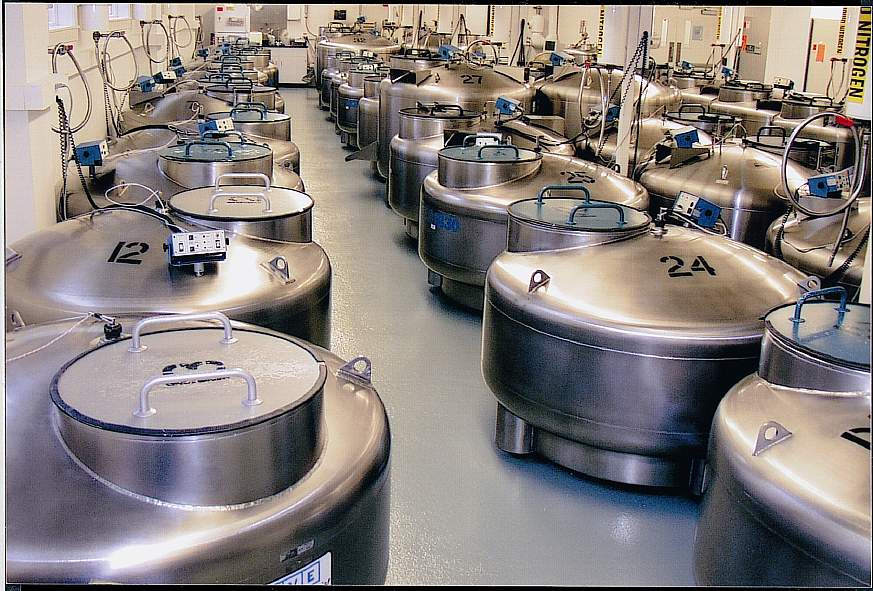 Coriell Institute for Medical Research
The National Institute of General Medical Sciences (NIGMS) has awarded a $27 million, five-year contract to the Coriell Institute for Medical Research in Camden, N.J., to continue and expand operation of the NIGMS Human Genetic Cell Repository (HGCR). Under the new contract, the HGCR plans to enhance its collection of carefully maintained human cell lines by adding induced pluripotent stem (iPS) cells that carry disease gene mutations.
"The addition of iPS cells will make the repository an even more valuable resource," said Jeremy M. Berg, Ph.D., director of NIGMS. "In addition to teaching important lessons about biology, these cells hold great promise for studying — and maybe one day treating — a wide range of diseases."
Established in 1953, the Coriell Institute for Medical Research distributes cell lines and DNA samples to researchers around the world. Shown here are Coriell's cryogenic tanks filled with liquid nitrogen and millions of vials of frozen cells. Credit: Coriell Institute for Medical Research
Established by NIGMS in 1972, the HGCR provides human cell lines and DNA for use in genetic and genomic research. Scientists use the cells and DNA to identify genes and biochemical changes associated with a wide range of conditions and to study rare genetic diseases. The repository's materials have helped scientists gain important insights into a number of disorders, including Huntington's disease, cystic fibrosis and Fragile X syndrome.
The HGCR collection currently contains over 10,000 cell lines, each of which has been comprehensively characterized, tested to ensure genetic integrity and maintained free of contaminants. The largest part of the repository is the inherited disease collection, which represents more than 1,000 disorders.
To aid understanding of human genetic variation, the HGCR collection also includes cell lines and DNA samples from populations around the world and from several ethnic groups within the United States.
Under the new contract, the HGCR will also begin meeting custom orders, such as for panels of RNA samples or cells grown under specific conditions.
The HGCR distributes samples for a nominal fee through a Web-based catalog. Each entry includes detailed information about the clinical characteristics of the donor as well as the genetic and biochemical features of the cell line.
Samples in the repository come with informed consent from people with inherited diseases and from healthy donors. The repository protects the privacy of donors by stripping its records of personally identifying information.
To arrange an interview with HGCR program director Richard A. Anderson, M.D., Ph.D., contact the NIGMS Office of Communications and Public Liaison at 301-496-7301 or info@nigms.nih.gov. To learn more about the Coriell Institute for Medical Research, go to http://www.coriell.org/. To access the HGCR catalog, go to http://ccr.coriell.org/Sections/Collections/NIGMS/?SsId=8.
NIGMS is a part of NIH that supports basic research to increase our understanding of life processes and lay the foundation for advances in disease diagnosis, treatment and prevention. For more information on the Institute's research and training programs, see http://www.nigms.nih.gov.
About the National Institutes of Health (NIH): NIH, the nation's medical research agency, includes 27 Institutes and Centers and is a component of the U.S. Department of Health and Human Services. NIH is the primary federal agency conducting and supporting basic, clinical, and translational medical research, and is investigating the causes, treatments, and cures for both common and rare diseases. For more information about NIH and its programs, visit www.nih.gov.
NIH…Turning Discovery Into Health®
Note
At the request of the institute, on 1/25/10, an image was added to this release.