You are here
News Release
Tuesday, November 2, 2010
NIH alerts caregivers to increase in SIDS risk during cold weather
Extra blankets, warm clothes, may lead to dangerous overheating.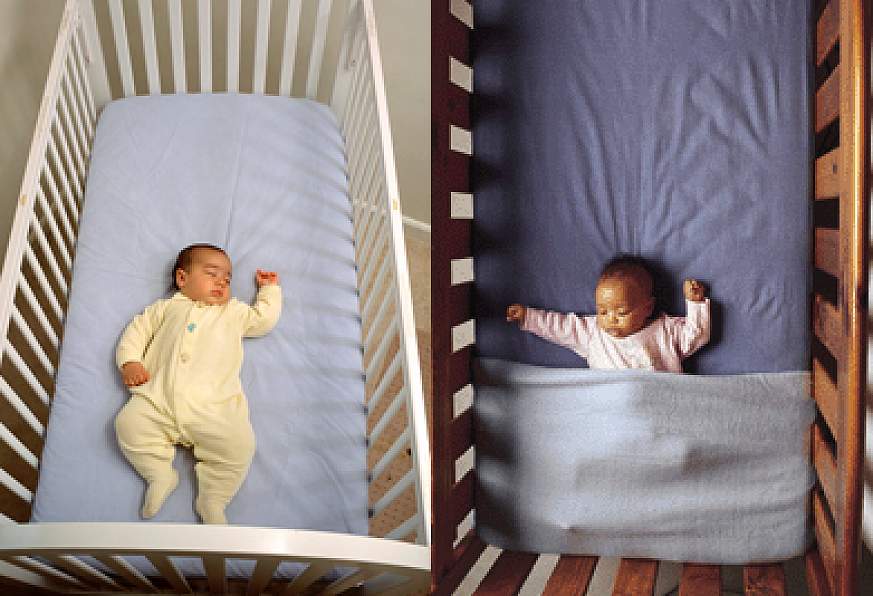 Parents and caregivers can take steps to reduce the risks of Sudden Infant Death Syndrome (SIDS) during the colder months, when infants are at higher risk, according to the National Institutes of Health.
These include avoiding overheating an infant during nap or sleep time; placing the infant on his or her back to sleep; placing infants to sleep on a firm, safety approved mattress; keeping toys, blankets, and other loose objects out of the crib, and never smoking around an infant.
In cold weather, parents and caregivers often place extra blankets or clothes on infants, to keep them warm. But over bundling may cause infants to overheat, increasing their risk for SIDS, according to the National Institutes of Health.
"Parents and caregivers should dress infants in light clothing for sleep and keep rooms at a temperature comfortable for adults," said Alan E. Guttmacher, M.D., director of the NIH's Eunice Kennedy Shriver National Institute of Child Health and Human Development (NICHD). "They should also know that the single most effective way to reduce the risk of SIDS is to always place infants to sleep on their backs, for naps and at night."
Infants are sensitive to extremes in temperature and cannot regulate their body temperatures well. Studies have shown that multiple layers or heavy clothing, heavy blankets, and warm room temperatures increase SIDS risk. Infants who are in danger of overheating feel hot to the touch.
For more than a decade, the NICHD and its partners, the American Academy of Pediatrics, the Maternal and Child Health Bureau of the Health Resources and Services Administration, the First Candle (formerly SIDS Alliance) and the Association of SIDS and Infant Mortality Programs, have led the Back to Sleep campaign. Back to Sleep advises parents and caregivers on how to reduce the risk of SIDS.
Unless there's a medical reason not to, infants should be placed on their backs to sleep, on a firm, safety–approved crib mattress covered by a fitted sheet with no blankets or fluffy bedding under or over them. If a blanket must be used, it should reach no higher than the baby's chest and be tucked in under the crib mattress. The baby's crib and sleep area should be free of pillows and stuffed toys, and the room temperature should be kept at a level that feels comfortable for an adult.
Since the NICHD campaign began, the overall SIDS rate in the United States has declined by more than 50 percent.
According to the National Center for Health Statistics, SIDS is the third leading cause of infant death, claiming more than 2,300 lives in 2006 (http://www.cdc.gov/NCHS/data/nvsr/nvsr57/nvsr57_14.pdf). SIDS is the sudden and unexpected death of an infant under 1 year of age, which cannot be explained after a complete autopsy, an investigation of the scene and circumstances of the death, and a review of the medical history of the infant and his or her family. Most SIDS deaths happen when babies are between two and four months of age. The causes of SIDS are still unknown, but it is possible to reduce factors that increase SIDS risk.
An NICHD-funded study identified three principal factors that account for why families fail to place infants on their backs to sleep: having concerns about an infant choking, having concerns about infant comfort, and not receiving a recommendation from a physician to do so (http://www.nichd.nih.gov/news/releases/120709-infant_sleep_position.cfm).
"For the vast majority of infants, concerns about choking while back sleeping are unfounded," said Marian Willinger, Ph.D., special assistant for SIDS research at the NICHD.
Certain health conditions might prompt a physician to consider recommending against back placement for a specific infant. However, such recommendations are arrived at only after careful deliberation and after taking into account all the potential risks and benefits for the infant involved.
Information on reducing the risk of Sudden Infant Death Syndrome is available on the NICHD Web site (http://www.nichd.nih.gov/health/topics/Sudden_Infant_Death_Syndrome.cfm.)
In addition to avoiding infant overheating by dressing an infant in light sleep clothing and keeping the room at a temperature that is comfortable for an adult, other steps parents and caregivers can take to reduce SIDS Risk are:
Always place babies on their backs to sleep — Infants who sleep on their backs are less likely to die of SIDS than babies who sleep on their stomachs or sides. Placing an infant on his or her back to sleep is the number one way to reduce the risk of SIDS.
Use the back sleep position every time — Infants who usually sleep on their backs but who are then placed on their stomachs, perhaps for a nap, are at very high risk for SIDS. So it is important for babies to sleep on their backs every time, for naps and at night.
Place infants on a firm sleep surface, such as a safety-approved crib mattress covered with a fitted sheet - Never place an infant to sleep on a pillow, quilt, sheepskin, or other soft surface. Information on crib safety and regulatory requirements for infant cribs is available from the Consumer Product Safety Commission at http://www.cpsc.gov/info/cribs/index.html.
Keep soft objects, toys, and loose bedding out of an infant's sleep area — Don't use pillows, blankets, quilts, sheepskins, or pillow-like bumpers in your baby's sleep area. Keep all items away from the infant's face. If a blanket must be used, the infant should be placed with feet at the foot of the crib; tuck ends of the blanket under the crib mattress and cover the baby no higher than chest level; keep the blanket away from the infant's face; use only light sleep clothing.
Do not allow smoking around an infant. Don't smoke before or after the birth of an infant, and don't others to smoke around an infant.
Think about using a clean, dry pacifier when placing an infant down to sleep, but don't force the baby to take it. (For breastfeeding infants, wait until the child is 1 month old, or is used to breastfeeding before using a pacifier.)
The NICHD sponsors research on development, before and after birth; maternal, child, and family health; reproductive biology and population issues; and medical rehabilitation. For more information, visit the Institute's Web site at http://www.nichd.nih.gov/.
About the National Institutes of Health (NIH): NIH, the nation's medical research agency, includes 27 Institutes and Centers and is a component of the U.S. Department of Health and Human Services. NIH is the primary federal agency conducting and supporting basic, clinical, and translational medical research, and is investigating the causes, treatments, and cures for both common and rare diseases. For more information about NIH and its programs, visit www.nih.gov.
NIH…Turning Discovery Into Health®