You are here
Media Advisory
Monday, April 29, 2019
NIH All of Us Research Program symposium to highlight progress and next steps in building largest, most diverse health research effort ever undertaken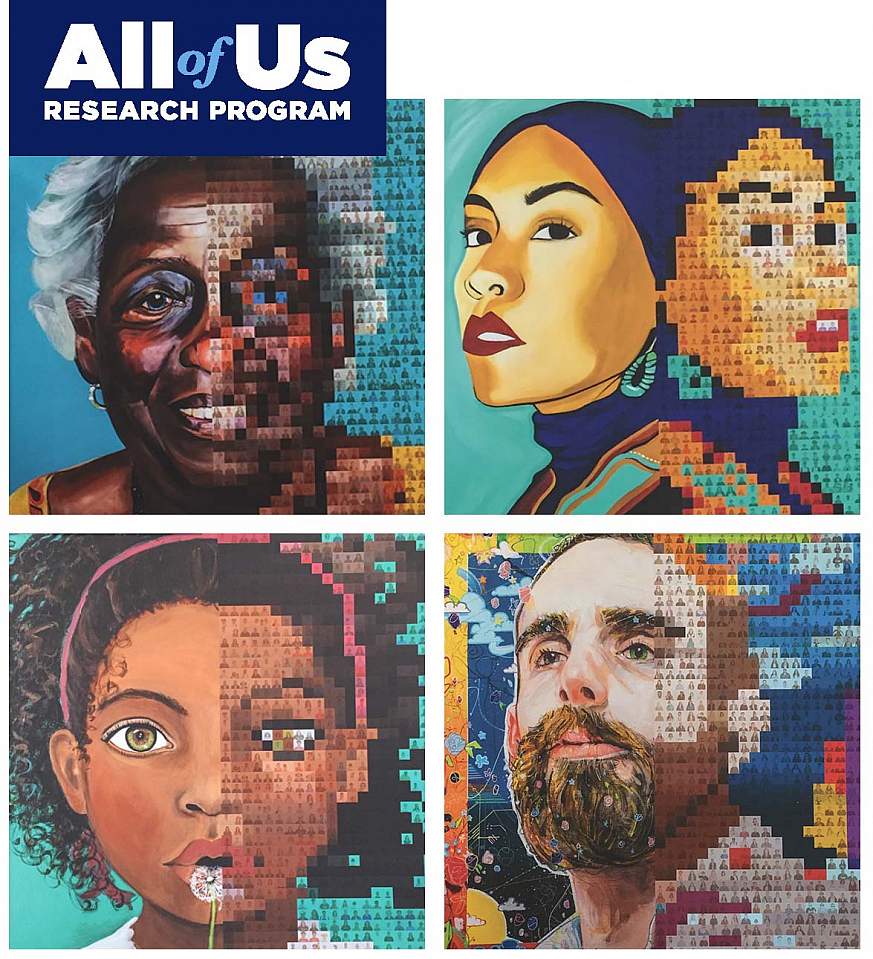 What
The All of Us Research Program at the National Institutes of Health is hosting a special symposium, "From Data to Discoveries: Creating a Research Program for All of Us." Marking 1 year from the program's national launch, speakers will identify the building blocks of a meaningful research program, including an engaged and diverse participant community, and forecast the program's scientific possibilities. Also at the event, the program will introduce the All of Us Data Browser, an interactive tool available to the public that provides summary statistics from the program's growing database, with information from participants' surveys, physical measurements, and electronic health records.
Who 
Speakers include:
Francis S. Collins, M.D., Ph.D., Director, National Institutes of Health
Eric Dishman, Director, All of Us Research Program
Gary H. Gibbons, M.D., Director, National Heart, Lung, and Blood Institute
Nora D. Volkow, M.D., Director, National Institute on Drug Abuse
with
Elizabeth Cohn, Ph.D., R.N., Rudin Professor of Nursing, Hunter-Bellevue School of Nursing, City University of New York
David Glazer, Engineering Director, Verily
Deven McGraw, J.D., General Counsel and Chief Regulatory Officer, Ciitizen
Ana Pavón, Program Coordinator, PASOs-Midlands
Robert A. Winn, M.D., Associate Vice Chancellor for Community Based Practice; Director, University of Illinois Cancer Center; and Professor of Medicine, University of Illinois at Chicago
When
Monday, May 6, 2019; 10:00­–11:30 a.m. EDT
Where
Masur Auditorium, NIH Clinical Center (Building 10), NIH Campus, Bethesda, MD
Please see NIH Visitor Information for a map and details about campus access. The event also will be streamed via NIH Videocast and Facebook Live.
Background
 For far too long, biomedical research has been based on a small subset of the United States population, leading to prevention and treatment methods that are often one-size-fits-all. To address this issue, the All of Us Research Program is working to build a cohort of one million or more participant partners that reflects the diversity of the United States. The program has a special focus on engaging communities that have been historically underrepresented in research, including racial and ethnic minorities, sexual and gender minorities, older adults, people with disabilities and others. Program participants provide data that will be broadly accessible to researchers for a wide range of studies. By taking into account individual differences, researchers will uncover paths toward delivering precision medicine — or individualized prevention, treatment, and care—for all of us.
Contact
Members of the press interested in attending should contact Katie Rush or Veronica Anderson at AllofUsPress@mail.nih.gov with any questions or to discuss interview, filming and photography opportunities.
About the All of Us Research Program: The mission of the All of Us Research Program is to accelerate health research and medical breakthroughs, enabling individualized prevention, treatment, and care for all of us. The program will partner with one million or more people across the United States to build the most diverse biomedical data resource of its kind, to help researchers gain better insights into the biological, environmental, and behavioral factors that influence health. For more information, visit www.JoinAllofUs.org and www.allofus.nih.gov.
About the National Institutes of Health (NIH): NIH, the nation's medical research agency, includes 27 Institutes and Centers and is a component of the U.S. Department of Health and Human Services. NIH is the primary federal agency conducting and supporting basic, clinical, and translational medical research, and is investigating the causes, treatments, and cures for both common and rare diseases. For more information about NIH and its programs, visit www.nih.gov.
NIH…Turning Discovery Into Health®