You are here
News Release
Tuesday, November 6, 2018
NIH, Amgen Foundation, and FNIH renew support for undergraduate research opportunities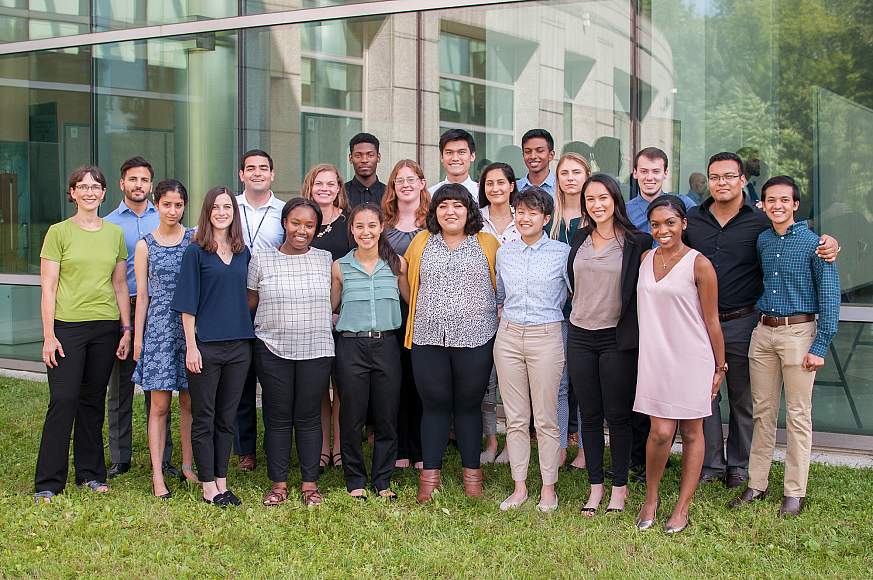 A program at the National Institutes of Health to provide hands-on laboratory experience to undergraduate students from across the United States will continue for another four years, thanks to a grant from the Amgen Foundation to the Foundation for the National Institutes of Health (FNIH). The Amgen Scholars Program at NIH aims to break down barriers for many students who otherwise would not have the opportunity to engage in science at the world's top educational and research institutions. Financial support for students is a critical component of the program, which seeks to ensure that eligible students, regardless of their financial status, can participate.
Through the Amgen Scholars Program up to 15 undergraduates each year will be provided with financial support and hands-on summer research opportunities in biomedical and biotechnology fields.
Amgen Scholars at NIH work side-by-side with some of the world's leading scientists, in an environment devoted exclusively to biomedical research at the NIH campus in Bethesda, Maryland. Scholars work on a research project with the mentorship of NIH faculty, participate in seminars and networking events, and take part in a symposium where they meet their peers and learn about biotechnology from leading scientists in industry and academia.
"Our goal is to train highly diverse students for graduate education and the personal, professional, and scientific skills to succeed in a collaborative and complex global research community," said Dr. Sharon Milgram, director of the NIH Office of Training and Education. "Science education must include more career information earlier in the teaching arc, with a greater focus on self- and relationship-management to promote better team science, a deeper understanding of the interdisciplinary approaches needed to solve research problems, and a greater understanding of the impact of science on society."
Since 2015, the Amgen Scholars Program at NIH has provided 79 scholars with research opportunities in the NIH intramural research program. These 79 students represented 69 colleges and universities. Of the 49 Amgen program alumni who have completed their undergraduate studies, nearly 22 are currently pursuing an advanced graduate degree in a scientific field. Ten alumni are employed in scientific fields across the United States, with 100 percent of surveyed alumni saying the program impacted their academic or professional direction. Alumni of the program are beginning to make a growing impact across academia, industry and government, garnering numerous awards and recognitions such as the Rhodes Scholarship, Medical Student Training in Aging Research Program, Indian Health Service Scholarship, AISES A.T. Anderson Memorial Scholarship, National Congress of American Indians Fellowship, Global Health Corps Fellowship, and Harvard Medical School Dean's REACH Scholarship.
NIH will begin accepting applications for the 2019 Amgen Scholars Program at NIH from Nov. 26, 2018 through Feb. 1, 2019. For more information about the Amgen Scholars Program, or to complete an application, visit www.AmgenScholars.com.
About the Foundation for the NIH (FNIH): The Foundation for the National Institutes of Health creates and manages alliances with public and private institutions in support of the mission of the NIH, the world's premier medical research agency. The Foundation, also known as the FNIH, works with its partners to accelerate key issues of scientific study and strategies against diseases and health concerns in the United States and across the globe. The FNIH organizes and administers research projects; supports education and training of new researchers; organizes educational events and symposia; and administers a series of funds supporting a wide range of health issues. Established by Congress in 1996, the FNIH is a not-for-profit 501(c)(3) charitable organization. For additional information, visit www.fnih.org.
About the Amgen Foundation:  The Amgen Foundation seeks to advance excellence in science education to inspire the next generation of innovators and to invest in strengthening communities where Amgen staff members live and work. To date, the Foundation has donated over $300 million to local, regional and international nonprofit organizations that impact society in inspiring and innovative ways. For more information, visit www.AmgenInspires.com and follow on Twitter at @AmgenFoundation.
About the National Institutes of Health (NIH): NIH, the nation's medical research agency, includes 27 Institutes and Centers and is a component of the U.S. Department of Health and Human Services. NIH is the primary federal agency conducting and supporting basic, clinical, and translational medical research, and is investigating the causes, treatments, and cures for both common and rare diseases. For more information about NIH and its programs, visit www.nih.gov.
NIH…Turning Discovery Into Health®