You are here
News Release
Tuesday, October 22, 2013
NIH announces 15 Clinical and Translational Science Awards to help translate scientific discoveries to improved health
Support expands the consortium's reach to New Hampshire.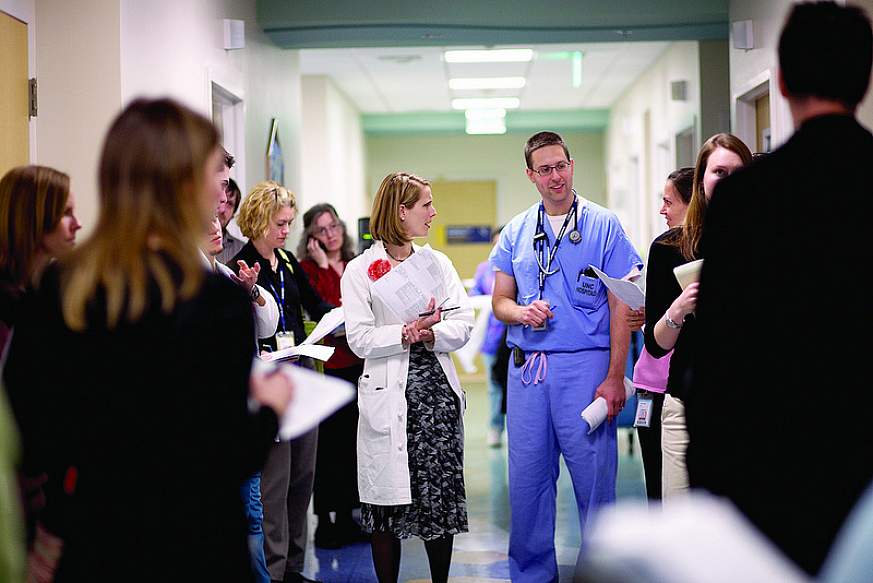 Translating basic discoveries into new treatments that tangibly improve human health requires innovative collaborations and resources, as well as a diverse, highly trained workforce. To help meet these needs, the National Institutes of Health today announced more than $79 million in fiscal year 2013 funding to support 15 Institutional Clinical and Translational Science Awards (CTSA).
Led by the National Center for Advancing Translational Sciences (NCATS), the CTSA program catalyzes improvements across the entire spectrum of translational research through efforts to broadly develop, demonstrate and disseminate health interventions. It serves as a connector to engage key partners including other NIH institutes and centers, patient groups, communities, health care providers, industry, and regulatory organizations.
"Science and technology are progressing at an unprecedented pace, and the CTSA program — which represents NIH's largest single investment in clinical research — is helping researchers harness these innovations and deliver improved diagnostics, treatments and cures for disease," said NIH Director Francis S. Collins, M.D., Ph.D.
These latest awards represent NIH's commitment to the CTSA program, which supports a consortium of more than 60 research institutions across the country that is focused on strengthening translational research. Under NCATS' leadership, the program is focused on solving roadblocks common to clinical translational efforts for all diseases.
"The CTSA Consortium is leading national efforts to enhance the efficiency, quality, and safety of translational research, no matter the disease or condition," said NCATS Director Christopher P. Austin, M.D. "This aligns with the NCATS mission to create new technologies and methods that can be applied widely to streamline development and implementation of interventions that improve human health."
The 2013 awards expand consortium representation to New Hampshire with an award to Dartmouth, extending the network to 31 states and the District of Columbia. The institutions receiving five-year awards are:
Albert Einstein College of Medicine, New York City
Dartmouth College, Hanover, N.H.
Duke University, Durham, N.C.
Harvard Medical School, Boston
Indiana University, Indianapolis
Johns Hopkins University, Baltimore
Ohio State University, Columbus
Scripps Research Institute, La Jolla, Calif.
Stanford University, Stanford, Calif.
Tufts University, Boston
University of Colorado, Denver
University of North Carolina at Chapel Hill
University of Texas Health Science Center, San Antonio
University of Texas Southwestern Medical Center, Dallas
University of Utah, Salt Lake City
View descriptions of these awardees and other CTSA institutions at http://www.ncats.nih.gov/ctsa-funded.html.
To learn more about how CTSA-supported investigators are translating basic discoveries into improved health, visit http://www.ncats.nih.gov/ctsa.html.
The grant numbers are as follows: UL1 TR001073-01; UL1 TR001086-01; UL1 TR001117-01; UL1 TR001102-01; UL1 TR001108-01; UL1 TR001079-01; UL1 TR001070-01; UL1 TR001114-01; UL1 TR001085-01; UL1 TR001064-01; UL1 TR001082-01; UL1 TR001111-01; UL1 TR001120-01; UL1 TR001105-01 and UL1 TR001067-01.
The National Center for Advancing Translational Sciences (NCATS) is a distinctly different entity in the research ecosystem. Rather than targeting a particular disease or fundamental science, NCATS focuses on what is common across diseases and the translational process. The Center emphasizes innovation and deliverables, relying on the power of data and new technologies to develop, demonstrate and disseminate improvements in translational science that bring about tangible improvements in human health. For more information, visit http://www.ncats.nih.gov.
About the National Institutes of Health (NIH): NIH, the nation's medical research agency, includes 27 Institutes and Centers and is a component of the U.S. Department of Health and Human Services. NIH is the primary federal agency conducting and supporting basic, clinical, and translational medical research, and is investigating the causes, treatments, and cures for both common and rare diseases. For more information about NIH and its programs, visit www.nih.gov.
NIH…Turning Discovery Into Health®