You are here
News Release
Monday, February 9, 2015
NIH-funded research lays groundwork for next-generation prosthetics
New DARPA initiative builds on basic research.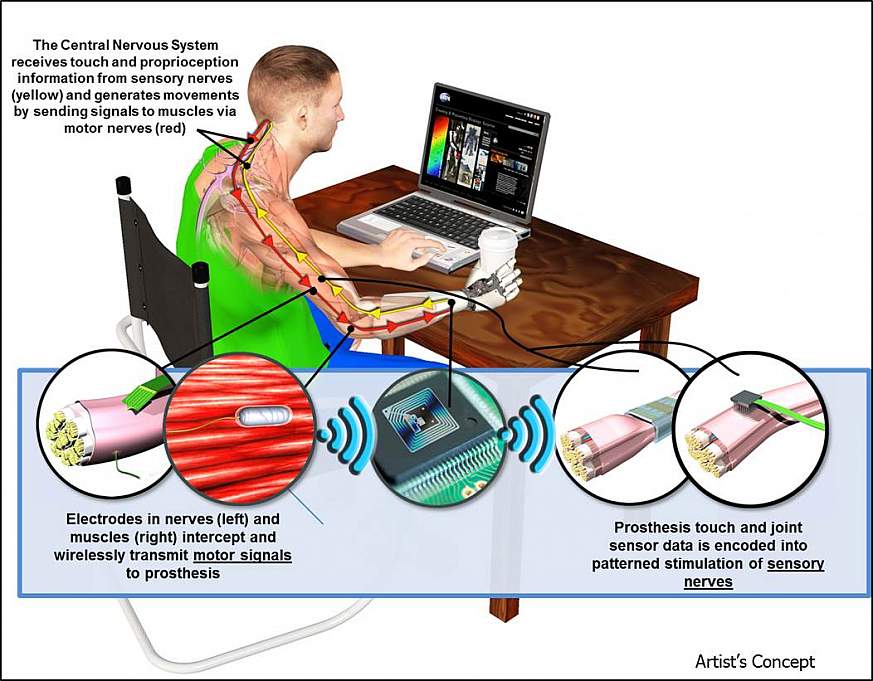 Three groups of researchers who have received support from the National Institutes of Health will obtain funding from the President's BRAIN Initiative to improve artificial limb technology. The new awards will be funded and administered by the Defense Advanced Research Projects Agency (DARPA) and will build on the fundamental discoveries that were made possible by NIH support.
"These projects speak to the power of integrated government-funded science. NIH support enables bright inquisitive scientists to develop whole new areas of research. Now, as part of ambitious DARPA projects, these groups will have the opportunity to turn their discoveries to benefit amputees, particularly those brave men and women who lost their limbs defending our country," said Walter Koroshetz, M.D., acting director of the NIH's National Institute of Neurological Disorders and Stroke (NINDS), one of the institutes that supported the research.
The new awards are part of Hand Proprioception and Touch Interfaces (HAPTIX), a DARPA program to enhance neural prosthetics by improving their ability to realistically sense touch and movement.
"The BRAIN Initiative provides a wonderful platform for collaboration between NIH and DARPA as well as other federal agencies to work towards the common goal of improving the lives of wounded service members. By joining forces we can quickly move this important technology from the lab to the clinic," said Dr. Koroshetz.
"This is a wonderful example of how NIH's investment in the development of novel biomedical technologies opens up a range of possibilities for treating different medical conditions," said Roderic Pettigrew, Ph.D., M.D., director of the National Institute of Biomedical Imaging and Bioengineering (NIBIB), an NIH institute that supported the research. "We are thrilled to see this technology move forward with new and impactful applications."
Summaries of NIH-supported research that will contribute to the HAPTIX effort are included below.
Implantable Myoelectric Recording Array for Control of Prostheses; Daniel McDonnall, Ph.D.; Ripple LLC., Salt Lake City; NS067784-04
Prosthetic arms are available that control muscle activity with surface electrodes placed on the skin. However, the resulting movements are slow and not well controlled, leading many patients to stop using their prostheses. Dr. McDonnall and his colleagues at Ripple have developed a wireless device to be implanted directly into muscles that may help improve the reliability of prosthetic limbs. Their goal is to develop a device that will be convenient for patients to use and will create a more natural feeling of prosthesis control. Compared to surface electrodes, the implant created by Dr. McDonnall's team should allow users to freely move multiple joints in the prosthetic limb at the same time. The implant collects information from the muscles and sends that information wirelessly to an external receiver built into the prosthetic limb. Ripple has developed a prototype of this device and showed in early studies that it is safe, requires minimal surgery, and effectively records from muscles. The team is developing a smaller version of the device, which will soon be used in clinical studies.
Multisite, Intrafascicular Stimulation for Stance; Richard A. Normann, Ph.D.; University of Utah, Salt Lake City; NS039677-07
Good things come in small packages, and the Utah Slanted Electrode Array (USEA) technology developed by Dr. Normann and his colleagues is no exception. This tiny device, a square grid of 100 microelectrodes, can be implanted in peripheral nerves to communicate with nerve fibers and control muscle movement. This technology was based on a device originally developed for recording signals within the brain. Dr. Normann's team took the original flat structure and modified it into a 3-D electrode arrangement (the USEA), which is better for recording from peripheral nerves because it ensures uniform coverage of a specific area. The USEA can receive information from a large number of fibers, while activating a select few, resulting in smooth and specific muscle movements. Dr. Normann's group has conducted a series of animal studies to further refine the USEA technology. Results of those studies have suggested that the USEA implant does not cause side effects and may be effective for long-term use. The data suggests that the device should be capable of creating natural movements while minimizing muscle fatigue.
Enhancing Neuroprosthesis Performance with Nerve Cuff Electrodes; Dustin Tyler, Ph.D.; Case Western Reserve University, Cleveland; EB001889-08A1
More than a decade of NIBIB and NINDS-supported research has led Dr. Tyler and his teams to develop, implant, and test high-density electrode nerve cuffs in patients with spinal cord injuries in an effort to return some mobility. The cuffs wrap around major nerves in the arms or legs and stimulate them electrically, which results in muscle contraction and simple movements. These cuffs will now be tested to stimulate nerves in the residual limb directly above a prosthetic arm so that a user can control the prosthesis more naturally and also experience sensation. In the latter case, multiple sensors on a prosthesis provide information about pressure to the nerve cuff, which then activates the nerve in a particular pattern so that the user experiences a pressure sensation in a specific part of the hand. The significance of the high-density electrode cuff is that multiple electrodes, implanted chronically, allow the nerve to be stimulated in a wide variety of patterns that can be interpreted as sensation at many different locations.
NINDS is the nation's leading funder of research on the brain and nervous system. The mission of NINDS is to seek fundamental knowledge about the brain and nervous system and to use that knowledge to reduce the burden of neurological disease.
NIBIB's mission is to improve health by leading the development and accelerating the application of biomedical technologies. The Institute is committed to integrating the physical and engineering sciences with the life sciences to advance basic research and medical care. NIBIB supports emerging technology research and development within its internal laboratories and through grants, collaborations, and training. More information is available at the NIBIB website: http://www.nibib.nih.gov.
About the National Institutes of Health (NIH): NIH, the nation's medical research agency, includes 27 Institutes and Centers and is a component of the U.S. Department of Health and Human Services. NIH is the primary federal agency conducting and supporting basic, clinical, and translational medical research, and is investigating the causes, treatments, and cures for both common and rare diseases. For more information about NIH and its programs, visit www.nih.gov.
NIH…Turning Discovery Into Health®